Karimun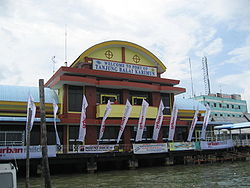 Karimun
is a small island offering a range of tourist activities in the
Riau Islands
province of
Indonesia
. It is also the name of a group of islands and regency (
kabupaten
) to which it belongs.
Karimun is just off the east coast of
Sumatra
, guarding the southern entrance of the busy Straits of Malacca. It lies west of
Batam
and to the southwest of
Singapore
and is the furthest west of the
Riau Islands
.
Its proximity to Singapore has made the islands quite affluent and busy. Its main town,
Tanjung Balai
is a bustling port town with a lot of commerce, boosted by tourists from Singapore and
Malaysia
. Note that it must not be confused with
Tanjung Balai
in North
Sumatra
province, a much larger city also known as Tanjung Balai Asahan and an international port. Like
Batam
and
Bintan
, Karimun is also listed as a Free Trade Zone area.
Get in
Visa
For details on visa requirements for visiting Karimun, please see the
Indonesia
page. Karimun's Tanjung Balai port is designated as a visa-free and visa-on-arrival entry point for the 7-days visa (that only costs US$10), as of 2014.
By boat
Karimun does not have an operational airport, so travellers' only option is to get in by boat from other countries. Karimun has good ferry connections with
Singapore
and Kukup in the southwestern tip of
Johor
,
Malaysia
as well as the other
Riau Islands
and the
Sumatra
"mainland".
Ferry terminals
There are
two
ferry terminals in Tanjung Balai. The main one (to
Singapore
,
Batam
,
Bintan
,
Malaysia
) is at the easternmost part of the island. The other one (to local destinations such as
Kundur
) is 500 m further towards the city center.
From Singapore
Sindo Ferry
Formerly Penguin Ferry Services (Tel:
+62-777
-324355 in Tanjung Balai;
+65
-62714866 in HarbourFront) and
Indofalcon
(Tel: +65-62783167 in Harbourfront) ferry companies operate ferries between Tanjung Balai and
Singapore
's HarbourFront Centre. Between them, they run 4 trips. From Singapore: 08:00, 11:40, 15:00, 18:20 (Singapore time). From Tg. Balai: 07:30, 11:00, 14:00, 17:00 (Tg. Balai time). From Singapore, tickets cost S$56 return before Indonesian port taxes (60,000 Rp as of 2014) or S$31 one-way before Indonesian port taxes (Rp 60,000 as of 2014) from Tanjung Balai. Journey time is about one and a half hours.
The two companies' code-sharing agreement that allows you to board any ferry at Tanjung Balai for the return leg to Singapore is no longer available. If you do not have a confirmed timing to go back, you are not advised to buy return ticket.
You can still use an open ticket, and pick up your boarding pass 1 hour before returning to Singapore.
From Malaysia
Several companies operate frequent ferries between Tanjung Balai and
Kukup
, in the southwestern part of
Johor
.
MV Ocean Indoma ferries leave Kukup at 11:45 and 17:00. From Tanjung Balai, ferries leave at 09:30 and 14:30.
There is also a
ferry service
between Tanjung Balai and
Puteri Harbour International Ferry Terminal
, Nusajaya, Johor, Malaysia. There are four daily trips each way .
From the other Riau Islands
Numerous companies offer ferry services to/from
Bintan
,
Batam
and the other
Riau Islands
.
From Batam: Regular ferries link Tanjung Balai with Sekupang domestic ferry terminal on Batam. Many of these ferries originate from or are heading to the Sumatra mainland or Kundur Island. Tickets cost Rp. 70.000 one-way (excluding Rp. 1.000 port tax & Rp. 1.000 insurance)
From Bintan: Ferry company Arena operate regular ferries between Tanjung Balai and Tanjung Pinang, the main town on Bintan. The ferries also stop at Sekupang on Batam enroute.
From Kundur Island: The Miko Natalia 3 links Tanjung Balai with Tanjung Batu, the main town on Kundur Island several times daily. Tickets cost Rp. 46,000 one-way before port taxes. Journey time is over one hour, longer if stops are made at islands along the way. The ferry continues its journey to Sekupang on Batam.
There are also very frequent ferries (about every 30 minutes) to
Selat Beliah
, at the North-most point of
Kundur
island. 15 minutes and 20,000 Rp.
From the Sumatra mainland
Warning:This info may be confused with Tanjung Balai Asahan
Regular ferries link Sumatra port cities like
Dumai
,
Pekanbaru
, Selat Panjang (all in
Riau
province), and Kuaka Tungkal in
Jambi
with Tanjung Balai. Most of these ferries continue to
Tanjung Pinang
, the main town in
Bintan
, stopping at Sekupang on
Batam
enroute.
From other parts of Indonesia
KM Kelud

phone: +62-777-324132

address: Jalan Nusantara No. 1, Tanjung Balai, Pulau Karimun

A Pelni boat, leaves Tanjung Balai every Wednesday at 8am for Jakarta, taking 31 hours (Ekonomi/Class III Wisata Rp 255.000/Rp 375.000). The same boat leaves Tanjung Balai every Saturday at 7pm for Belawan, the port for Medan, taking 17 hours (Ekonomi/Class III Wisata Rp 180.000/Rp 260.000).
Many ferries (up to 10 a day) for the neighboring islands such as
Kundur
.
Get around
By mikrolet
The cheapest way to travel in Karimun is by mikrolet. These small minibuses run a fairly standard route and pick up and drop off passengers anywhere along the way. By the way, the locals call them "oplet". You can get almost anywhere in Tanjung Balai for Rp. 3.000. Tanjung Balai to Meral is 2.500rp. However, they do not run outside of the main city.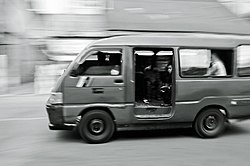 By bicycle
This would be one of the ideal ways to explore Karimun. There is a bicycle rental shop named ORDI along Jalan Ahmad Yani, which rents out mountain bicycles and has at least one electric bicycle available for rental.  Alternatively, most of the ferry companies will take your bicycle for a SG$5 fee, so if you are coming from Singapore, just bring one over.
See
Vihara Bodhi Maitreya, Jalan A.yani
Baitul Karim Mosque, Tanjung Balai.
Klenteng Tua Pek Kong 大伯公庙, Jalan Athena Meral
Vihara Cetiya Vidya Sagara 朱王庙, Jalan Jenderal A. Yani, Meral. This chinese temple was built in 1926.
Vihara Sasana Diepa 妈祖宫, Jalan Jenderal A. Yani, Meral.
Palawan Beach, a beautiful beach. There are many small restaurants under the palm trees, overlooking the sea. On Sundays and holidays, it is a popular destination for the locals. Renting a motorbike with driver from Tanjung Balai to Palawan costs around 100,000 Rp (2014), including about 2-3 hours on site.
Pongkar Beach, another nice and beautiful beach. It is very refreshing and relax place that you have to visit when you are in Karimun
Waterfall usually call Air Terjun, climbing to the top of the waterfall. Have a nice and clear water, barbecue at there, etc. Really fun
Pawai Jalan, twice annually, parade of the local Muslims on the eve of Hari Raya Idul Fitri and Hari Raya Idul Adha.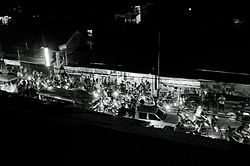 Jade Emperor Festival, an annual festival of praying to the Chinese Jade Emperor in Meral Kota. Visit Meral Kota at night on the 8th night of Chinese New Year to witness the local Chinese (Hokkien Clan) doing their praying to the Jade Emperor outside their houses with the younger ones enjoying their activity with firecrackers and fireworks.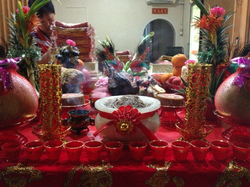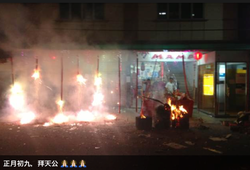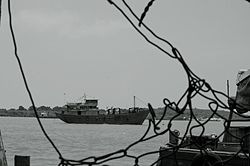 Do
Stroll around Tanjung Balai, which is the main town on Karimun Island, and one of the busiest towns in the Riau Islands. You can walk around and explore on your own or you can take a mikrolet (small public bus) for Rp. 2,000.
To enjoy the rural lifestyle on a tropical Indonesian island, you need to get away from Tanjung Balai and go to some local kampung areas in Meral or Pasir Panjang.
Visit the Chinese temples of Klenteng Tua Pek Kong, Vihara Cetiya, Vidya Sagara and Vihara Sasana Diepa in Meral. Take your time to look at the temple drawings such as "General Xue and Lady Fan" and "Lady Warriors of the Yang Family".
Visit the "Air Terjun" (waterfall in Indonesian) which is not far away from Pantai Palawan. You can bath in the man-made pools built to capture the water flowing from the mountain. It's definitely refreshing.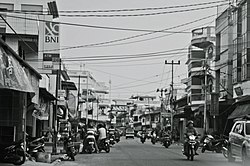 Buy

Karimun's main department store is Indo A. Yani Swalayan & Dept. Store in Tanjung Balai. Pasar Swalayan means supermarket in Bahasa Indonesia. This 3 storey department store offers food, clothing, housewares, stationary and basic necessities. Not too expensive.
Padimas Department Store another shopping area in Karimun. Beside it, there is a game centre suitable for the families. Opposite it, is the Padimas Hotel, which is reasonably priced. There is a new Village Cafe also.
Cosy ambiance with reasonable priced food and drinks. A large Heineken beer cost Rp. 28 000 only. Do try their new menu. The Cafe is similar to the ones found in Singapore. Great place to chill out and relax.
You can obtain 250g Karimun Utama coffee (Kopi Karimun Utama) for Rp. 7.150 (Agent: Toko Utama, Jalan Nusantara No. 43, Tanjung Balai, Pulau Karimun. ), local produced Kerupuk, deep fried fish crackers, can be found at Bona Kerupuk Atom 50 and cost Rp. 7.000 per packet. This said, it is much cheaper in the Indo A. Yani Swalayan & Dept. Store.

Eat
Bakso
, a meatball made from low quality meat is just as popular as nasi goreng. Both are sold from street side stalls, or push carts that make their rounds through the neighborhoods.
Several Chinese restaurants can be found along Jalan Trikora Laut (opposite Holiday Karimun Hotel). This is probably the central area for Teochew-style Bak Kut Teh. Noodles are also available.
The long stretch of open-air food and drink vendors that convenes outside the ferry terminal after 5pm is a great place to try out authentic, cheap Indonesian food.
Restaurant Seafoods 188, Baran 1, +6277731372, +628127092047. Offers a variety of live seafood such as lobster, crab, fish, shell and a lot more. oh ya, they also have "HEKHO" which u cannot find in singapore. if you happen to go there, remember to order the pepper crab, sauce crab, kangkung belacan, ALL the grilled seafood, hekho, fried chicken, cereal prawn, fried sotong, lobster and a lot more. Located on the beach so it is very windy at night. Accepts cash, Visa and Masterpark.
粿汁( kue chap)
, address=Pujasera. Traditional food a la Tiochiu. Nice and black soup with white kue.
Pujasera Padimas

address: jl. Pertambangan

a special SeaFood restaurants with a lot variety food and low price
Drink
Try
Lasegar
, an Indonesian refreshing soft drink for Rp. 3.500 per can. One can of
Carlsberg
beer costs Rp. 5.500. Try
Sosro
, an Indonesian refreshing tea, or Chinese traditional herbal tea @ Jl. Trikora no. 15 (next to kedai kopi Ahiang's coffee shop) only cost RP.2000,-
D'Bestanother Softdrink from Tanjung Balai Karimun

Warung Yonada

address: Kp Tanjung

they sale nice food western and Traditional food from Jogjaa

Yonada

address: Jln Kp Tanjung

Western Food and Traditional Food From Jogja,
Sleep
Most hotels are in the very center of the city. Prices are quite similar. Just avoid Paragon, a bit closer to the ferry terminal, but very old and dirty from inside.
Paradise Hotel(旅店天堂):

phone: +62-777-23111

23222, 23333, 23555. Jalan Setia Budi Tg.Balai/K, Kepri
Padi Mas Hotel: has upgrade to Aston Karimun City Hotel:.
Gabion Hotel: Jalan Nusantara No. 45, Tanjung Balai. Close to the ferry terminal but hotel offers free terminal pickup and drop off. Tel: +62-777-326222, 326250, 31874. Prices from S$22 or Rp. 120,000 inclusive of breakfast.

Horizon

phone: +62-777-324008

address: Jl Setia Budi

It's a great hotel with good and friendly services. The chauffeur can bring guests to the great seafood places.

Holiday Karimun Hotel:

phone: +62-777-21065

Jalan Trikora Laut No. 1 Tanjung Balai (very near to the ferry terminal). Between Rp. 120.000 and Rp. 140.000.

H3 Hotel

phone: +62-777-326788

address: Jl. Ampera, Tanjung Balai Karimun

A very nice hotel in the center of the town. Clean and quiet rooms, nice breakfast, good Wi-Fi. Very helpful staff: can help you to book tickets and rent motorbikes with driver. They speak good English, and Chinese. Only drawbacks: the lobby is not non-smoking, and the cheapest rooms have no window.

Maximillian

phone: +62-777-328028

A new hotel opened, it is 7 storeys high and offers a karaoke lounge. Quite expensive compared to other hotels (at least 350,000 Rp per room).

Paragon Hotel

phone: +62-777-31488

address: Jalan Trikora No. 38D, Tanjung Balai Karimun 29161

Claims to be the best hotel in Tanjung Balai, but is rather the worst. Despite looking relatively nice from outside, no air-con in lobby, horrible rooms full of cockroaches, ants and mosquitoes, horrible breakfast. No Wi-Fi. Staff speaking only bahasa (no Chinese, no English). Just walk 200 meters further, and pick one of the numerous hotels of much better quality for the same price.
Aston Karimun City Hotel: Jalan Pertambangan, Tanjung Balai (2Km from the ferry terminal). A night cost Sing$70 for a Deluxe room. Rate includes buffet breakfast which has a good variety. LCD TV 32" Samsung & mini bar fridges can be found in Deluxe rooms. Just 5 minutes walk from the hotel lies a good SeaFood restaurants, Padimas Dept Store, Fast Food restaurant, Cafe, etc with friendly service. Tel: +62-777-325555.

Victoria:

phone: +62-777-325777

Next to Gabion Hotel.

Wisma King Star

phone: +62-777-22348

address: Jl Setia Budi

This motel is small yet cozy and has friendly serving staffs. From this place, you can access easily to great food and pubs. Breakfast is provided free. Transport services to harbour and restaurant are provided.
Hotel Rasa Indah: Jalan Nusantara No.127 B, Tanjung Balai Karimun-kepri,Indonesia. A five story hotel with economy prices from as low as S$18-S$25 or Rp.100,000-Rp.130,000 inclusive of breakfast (prices many varies). For more Information, please contact:+62-777-327687,27689.

Nirwana

phone: +62 777-31820

address: Jln.Nusantara no.12

21 Karimun Hotel: A new 6-storey hotel consists of 100 standard king size rooms. It is situated along the seafront in the coastal area, within walking distance from the ferry terminal. 21 Coastal Area, Tanjung Balai, Karimun-Kepri, Indonesia. Soft launching from 3rd April 2016. Room rates from Rp.280.000. For reservations http://www.21karimunhotel.com or +62 777 21221 or +62 822 8817 1221 (Janrin Harry).
Connect
Telephone numbers

The country code for Indonesia is 62. The area code for Tanjung Balai is 777.

Postal services

Post office (known as kantor pos in Bahasa Indonesia) in Tanjung Balai is open daily except Sundays and public holidays. Sending a postcard costs Rp. 5.000.

Go next
The nearest airport is on Palau
Batam
, so you'll need to head back there for domestic flights. For International flights heading to
Singapore
or
Kukup
(Pontian, Malaysia) would be the best option. International seaport tax is 60,000 IDR (2014).
Connections by sea are limited to one Pelni boat per week and various fast boat services to different Sumatran ports.