Karimunjawa
Karimunjawa
is a chain of 27 islands north of
Semarang
, off the coast of
Central Java
,
Indonesia
.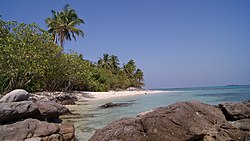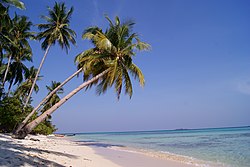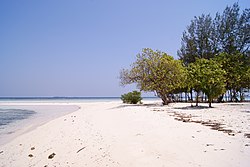 Understand
Designated as a national marine park. Karimunjawa consists of 27 small islands, the main ones being Karimunjawa, Kemujan, Menjangan Besar and Menjangan Kecil.
Since June 2016, there is 24-hour electricity in most places in Karimunjawa Island, though some other islands may receive as few as six hours per day.

Orientation
Most facilities for travelers are found on the largest island, also called Karimunjawa. The main settlement is at the southern end of that island. It is where ferries dock and most services are to be found. Accommodation is scattered across the island.
Travel out to the furthest islands in the archipelago will take two or more hours depending on the type of boat used.

Climate
Tropical. It is very hot here in the dry season (approximately April to October) and wet and humid in the rainy season (December till March).

History
According to a local legend, Karimun means not clear or obvious, because in clear weather the islands can be seen from the coast of mainland Java, but not clearly.
Karimunjawa was originally settled by Sunan Nyamplungan, the son of Sunan Muria, one of the Muslim Saints (Sunan) who introduced Islam to Java.
Karimunjawa is more famous than Bali (who was only a base for pirates for long) since centuries... The island has been known by navigators worldwide as a haven on the trade roads trough java sea to Borneo or Spices Islands and can be found under different names (Tortuga, Chirimao, Carimon jawa...) on all Antique portulans and maps of the area.
Historical Sources relate the discovery of the Archipelago by Chinese Army sent by emperor Kubhilai Khan in 1293 (they named it CHI-LI-MEN) , followed by Ottoman Turkish navigators in 1403, Portuguese, Dutch, French (Bouguinville...), English etc... Recent Archeological researches found porcelains from the Ming dynasty.
Many Yachtmen stop now in Karimunjawa on their way from Australia to Thailand or China sea or back....

Landscape
Mostly low-lying islands with sandy beaches. There is some fringing mangrove around Kemujan. The highest point as Bukit Gajah at 506m.

Flora and fauna
One can find various kinds of sea animals, like turtles, sharks, and fishes, in the watery territory of Karimunjawa. On land, birds, deer, monkeys and snakes. Entrance to the natural forest requires a National Park guide.

Talk
Javanese
is the most common language of communication between local residents, with
Indonesian
widely used and understood as the national language. English is not widely understood, so knowledge of some
Indonesian
is recommended.
Get in
By boat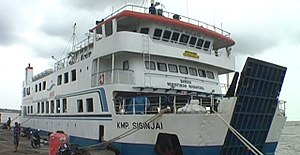 There are regular ferries from
Jepara
,
Semarang
and Kendal, except during the monsoon season from December to February when the waves may be too high for a day or two, except in severe cases like on December 31, 2014 when about 500 tourists could not go back to Java due to 3.5 meters high waves and the ATMs ran out of money after 3 days, because some of the coal cargos also landed to avoid high waves and its crew also use the ATMs. Cash for at least 5 days should be prepared, because vendors still have their merchandises.
From Jepara
There is a regular ferry, travelling 5 hours from Jepara (Rp 60.000) to Karimunjawa Island. Be at the port before 6 a.m., as the ferry sometimes departs earlier than scheduled. The ferry departs at 7 a.m, four times a week.
There is also a speedboat, travelling 2 hours from Jepara to Karimunjava (Express Bahari, Rp 150.000). It departs at 9 a.m., four times a week. In high season it may need to be booked in advance. Go to the office along the street to Jepara port or ask your hotel to do it for you.
All boats are only operational if the waves are none to medium.
From Semarang
From Kendal
Express Bahari

phone: +62 822 4180-0700 (Kendal), +62 297 312333 (Karimunjawa)

Kendal is the town immediately to the west of Semarang, reachable by bus and train. The crossing is scheduled to take two and a half hours; traveler feedback indicates three to four hours is more realistic. Schedules are not reliable and services may be cancelled at the last minute if there are not enough ticket sales.
By plane
Dewandaru AirportThere are flights with Airfast from Surabaya. Travel from the airport to town takes about 45 minutes.
phone: +62 812 3777-9610 (Surabaya ), +62 812 3777-9614 (Karimunjawa)

Tickets may be ordered over the phone but must be paid for and collected in person at the airport of departure. The system seems to be the one who pays first gets the ticket, so even if you order a ticket over the phone, it is not yours until you pay for it. Cost for a taxi from the airport to the Karimunjawa town is around Rp350,000.
There are direct flights from Jakarta to Karimunjawa and flights via Semarang. The second option is considered to be cheaper.
Get around

On Karimunjawa and Kemujan islands you can rent cars or motorcycles. Boats are available to get to the other islands. It might be a good idea to book a rental car before you arrive in Karimunjawa because there are few cars.

See
Beaches and beautiful coral reefs.

Do
Diving and snorkelling. There are many interesting spots for diving like Taka Panyawangan and Gosong Cemara. There are some shipwrecks that attract fish and divers alike.
You can also go hiking around the island to find many places where there is a beautiful panorama

Buy
The best known handicrafts in Karimunjawa are its wood carvings, and many shops sell them.
Many people also go to Karimunjawa to find the dewandaru plant, believing it can prolong life.

Eat
Surrounded by sea, Karimunjawa offers lots of seafood. Fresh fish and prawns are staples in the island diet. Restaurants are located within hotels. Other eateries, or
warungs
, provide decent cheap food like fried rice, fish, or an assortment of veggies. Be flexible and you'll do fine.
Eat & Meet

phone: +62 297 319-1103

address: Jl H Dr Soetomo RT01 RW02, Karimunjawa

Wood-fired pizza, pasta, beer, ice-cream
Drink
There are no clubs and only one lounge bar, the Cumibar. It is difficult to find alcohol, but can be found at Breve Azurine (Cumibar & Lumba Beach Snack Bar), the Eat & Meet restaurant and The Happinezz hostel. A beer costs about Rp45.000.
Bottled water can be bought readily. At meals, seasonal fresh fruit juice is a treat (mango, orange, avocado).

Sleep
There are various kinds of accommodation, from four star hotels to homestays and campsites.
Hostels
The HappinezzThe Happinezz is one of the nicest hostels in the centre of Karimunjawa. They offer five clean and comfortable rooms with private bathroom, fan, WiFi, 24 hours electricity and breakfast. In the common area they have a large shared kitchen. The indoor/outdoor lounge area is a relaxing and cosy place to meet other travellers, share experiences, make music and watch movies.
Homestay
Lodging
Roemah Emak Villaa relaxing home for family, next to the beach
Mid-range
Melati hotel
Blue Lagoon hotel
Dewandaru hotel
Wisma Apung floating hotel
Splurge
phone: +62 24 7663-2510

On Menyawakan Island. Shaded by coconut trees and surrounded by white sand beaches and pristine coral reefs. A high class hotel with scuba facilities.

phone: +62 297 319-1059

Five minutes to the east of Karimunjawa town, on Lele lagoon. Twelve rooms, 2 restaurants and bars.
Go next