Karkala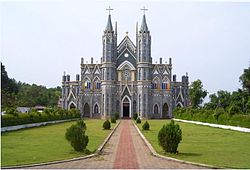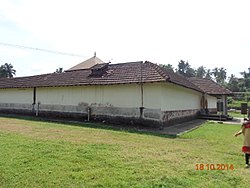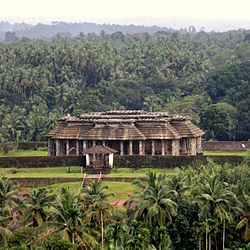 Karkala
is a small town about 60 km from
Mangalore
. It is famous for Gomateshwara statue the theerthankara of Jain community.It is also famous for the Venkatramana temple which is famous as Paduthirupathi. Its main population is Konkani and Jain communities.
Get in
See
Gomateshwara statue situated on top of a hill Gomata-betta, it is 44 feet tall-second only to that in Shravanabelgola. Archeological society of India has estimated its time somewhere in 14th century A.D.
The Venkataramana temple is famous for the "Lakshadepostava" a festival of lights worth seeing.The idols of Lord Venkateshwara are marvelous pieces of art.
The Veeramaruti temple situated opposite to Sri Venkataramana Temple is favmous for single stone 16 feet height Hanuman Statue.
Ananthashayana temple Another temple worth visiting.The statue of Lord Vishnu in this temple resembles that in Thiruvananthapuram.

Chathurmukha Basatithis basati is made up of rock an sculptures are most beautiful.

St Laurence Church is an old Catholic church at Attur, 5 km from Karkala. The pond there is miraculous and the miracle idol of infant Jesus also notable.
Do
Do visit Ramasamudra lake, Attur Church, Chaturmukh Basadi, Taluk stadium .
For the best view of Western ghats and Kudremukh Range visit S.K. border point on National Highway 169 via Bajagoly and Mudar.
Also visit the numerous temples in and around Karkala.
Buy
Pickles, jackfruit, coconut oil, sweets and savouries. Also, minor forest produce like dalchin and soapnuts.

Eat
Traditional Jain and Konkani food!
A meal at Hotel Sagar is a must. The food in Hotel Sagar is good and comparatively inexpensive.

Drink
Tender coconut.

Sleep
Go next