Karlovy Vary
Karlovy Vary
(also known as
Karlsbad
, its German name or
Carlsbad
, its English name) is a city in
Bohemia
, in the western
Czech Republic
.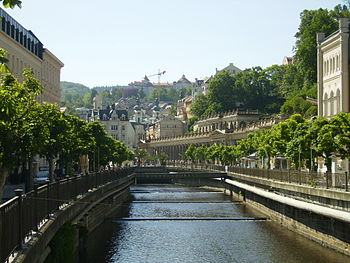 Understand
Karlovy Vary, meaning "Charles' Bath", was named after Charles IV, King of Bohemia and Holy Roman Emperor, who founded the city in 1370. It is famous for its hot springs and its colorful and whimsical architecture. For these reasons, it was a popular tourist destination in the 18th century with guests including Tsar Peter the Great, Emperor Franz Josef I, Beethoven, Goethe, Wagner, Brahms, Leo Tolstoy, and Karl Marx. Tourism grounded to a halt during World War I and the city never regained its former glory. After World War II, the largely German-speaking city was cleared of its inhabitants and replaced with Czech settlers. Czech remains the major language today but the signs of German culture and heritage are still very evident.
The town, along with
Prague
, was the filming location of many scenes identified as being in
Montenegro
in the 2006 movie
Casino Royale
.
Get in
By bus
Student Agency
operates hourly buses to/from
Prague
's Florenc and Dejvicka stations 05:00-20:00. The trip takes 2 hours and costs 155 Kč for adults.
Other bus companies also run services from Prague's Florenc station but they are more expensive and not as comfortable as Student Agency's buses.
Czechshuttle.com
offers daily transport between Karlovy Vary and Cesky Krumlov, among other places.
By train
Karlovy Vary is well connected to a regional and long-distance train network. The vast majority of trains in
Karlovy Vary Region
are modern and very comfortable. Also, some of the railways are quite scenic. When planning your journey, use journey planner
IDOS
. For more details see
Rail travel in the Czech Republic
.
Prague: 3h10min, long-distance Rx trains on line leave Prague Main Train Station every 2 hours, 7 times a day, trains on this route are slower than buses, however, you can experience the diverse character of the Czech Republic: industrial areas in North Bohemia and scenic sections like Lovosice - Ústí nad Labem or Kadaň - Karlovy Vary. SuperAction ticket costs from 159 CZK, Ordinary ticket costs 331 CZK.
Nuremberg: 2h40min, 1 change, regional RE trains on line depart from Nuremberg Main Train Station every 2 hours, in Cheb you have to change to long-distance Rx train on line , 5 times a day. First Minute Europe ticket costs from 235 CZK, Basic international fare ticket costs 981 CZK.
Dresden: 3h30min, 1 change, long-distance EC trains on line leave Dresden Main Train Station every 2 hours, in Ústí nad Labem you have to change to long-distance Rx train on line , 6 times a day. Includes scenic sections like Dresden - Ústí nad Labem or Kadaň - Karlovy Vary. First Minute Europe ticket costs from 235 CZK, Basic international fare ticket costs 746 CZK.
Also, regional trains operate on railway lines nr. 140 (Klášterec n/O - Karlovy Vary -
Cheb
), 141 (Merklín - Karlovy Vary), 142 (Johanngeorgenstadt - Karlovy Vary) and 149 (
Mariánské Lázně
- Karlovy Vary). Railway routes to Johanngeorgenstadt and Mariánské Lázně are pretty scenic as line 142 leads through
Ore Mountains
and line 149 through Slavkov Forest.
All long-distance and most regional trains arrive at
Mariánské Lázně
and some other regional trains terminate at This station is located on the western edge of the city centre next to the intercity bus station.
By plane
Karlovy Vary AirportThis airport only serves a very limited number of scheduled international connections and due to its closeness to Prague no domestic services whatsoever
If you're arriving from a place not connected to KLV, it will likely make more sense to fly into Prague (
PRG
). Other airports in reasonable geographic proximity include Nuremberg (NUE), Leipzig / Halle (LEJ) and Dresden (DRS). That said, out of all of these, Prague still offers the most comprehensive selection of destinations and is the hub of Czech flag carrier Czech Airlines.

Get around

The town can comfortably be covered on foot, but a car or motorcycle is useful for exploring the surrounding areas.
Bus travel is very cheap. A week ticket for 220 Kč also gives you a trip on the Diana furnicular. A ticket can be useful if you need to make trips up and down the river for whatever reason.

See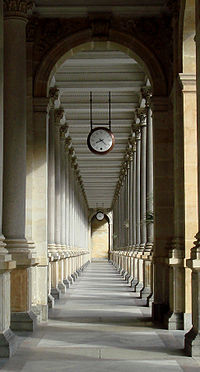 Mill ColonadePopular gathering place. Bands play here in the summer.

Hot SpringsThere are 12 hot springs - you can get a list and descriptions at the Infocentrum.
Rock SpringSpurts 1.3 litres of water per minute.

Hot Springs ColonadeSpring that spurts 2000 litres of water per minute in a 14m jet. The thoroughly modernist hall was designed by Jaroslav Otruba replaced an earlier traditional colonnade, derelict after the war. It has a number of small fountains for visitors to take the waters, plus exhibition spaces, a cafe and tours of the underground.
Lázně IIIBeautiful spa building.
Lázně IBeautiful spa building that housed Franz Josef's baths (he did not visit however) and also used for the casino setting in Casino Royale. The building is being restored after a period of closure to become a cultural centre. There is a small exhibition which also gives you a quick peek around the main entrance halls and stairways.
Diana Lookout TowerYou can take the funicular railway or take a beautiful walk through the forest to get here. The funicular costs 25 Kč to the middle station, 45 Kč to the upper one, 80 Kč a return ticket. There is a café and hunting lodge style restaurant serving Czech cuisine as well as a small zoo. Animals including piglets and peacocks roam adjacent to the building.
Karl Marx MonumentVery close to the Russian embassy and the Orthodox Church and at the start of some woodland walks.
Church of St. Peter & St. PaulBuilt in 1897. Five golden domes and colourful exterior were modelled on the Byzantine Church of the Holy Trinity near Moscow. The interior of the church is decorated with paintings and icons, gifts of wealthy Russian aristocrats. One of the decorations is a relief representing Russian Tsar Peter the Great.
Church of St. LucasAnglican church.
address: Nova Louka 23

Local history.
Jan Becher Museum

address: Masaryka 57

Dedicated to the local inventor of Becherovka.
Do
Spa
Castle SpaModern spa center.

phone: +420 353 222 536-7

address: Smetanovy sady 1145/1, Karlovy Vary, 36001

Somewhat old school publicly accessible state owned spa and baths, with Communist-era baths downstairs, and early twentieth-century therapeutic rooms. Cheap and worth a visit just for the retro feel.
Festivals
Sports
phone: +420 353 331 001

address: Pražská 219

The course underwent a rapid renovation, which included the building of a new clubhouse, an irrigation system, and new tees. The Karlovy Vary golf course becomes one of the most prestigious European golf establishments.
Eat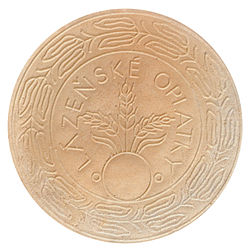 Karlovy Vary is famous for its
spa wafers
. They come in various flavors and are best when warm. The wafers are sold at street stands in Karlovy Vary, and can also be purchased at grocery stores throughout the
Czech Republic
.
Cafe Pizzeria Venetia

phone: +420 353 729 221

address: Zahradni 43

Looks out on the Tepla River.

Jean De CarroVery good and spacy interior, however dishes served are of a low quality, despite being high priced.

Parlament

address: Zeyerova 5

Outdoor tables. Good food.

Steakhouse Sklipek

phone: +420 353 229 197

address: Zeyerova 1

Huge steak meals.
Drink
Jan Becher invented the liquor that bears his name (Becherovka) in Karlovy Vary. However, it is an acquired taste.
Some establishments on the river charge twice the price of places 20m+ off the main drag so shop around for a place to drink.
Cafe Elephant

address: Stara Louka 30

Coffee and cake.

Juice Bar Kokopelli

address: Bulharska 9

Kafe Brejk

address: Stara Louka 62

Design your own baguette.
Sleep
Budget
phone: +420 777 944 252

address: 3km south of town

Open Apr-Oct
Mid-range
address: Zahradni 37

Hotel Garni Palatin

address: Lázeňská 10

Very nice place to stay, it is ideal if you take a mineral water drinking course, because the range from this hotel to the closest spring is roughly 20 meters. The hotel is modern furnished, and despite being given only 3 stars looks like a typical four stars hotel. The only disadvantage is absence of a restaurant (breakfast is possible though).

phone: +420 353 229 613

address: T. G. Masaryka 43

phone: +420 353 560 366

address: Šeříkova 92

Family-run guesthouse offering accommodation in conveniently furnished rooms, each including a bathroom and a TV-SAT set, in quiet environment.

phone: +420 774 289 153

address: U Trati 57/5

Opened in May 2004, is a two-storied building, situated in the district Bohatice. Friendly atmosphere, lot of programmes available: cycling with or without a cycling guide, golf, golf-school, wellness and relax programmes.

address: Zahradní 948/49

Spacious rooms.

address: Vřídelní 92
Splurge
phone: +420 353 109 631

address: Mirove namesti 2

Has been a symbol of Karlovy Vary and Czech Republic for three centuries. It is a place of comfort and first-rate service. It was a major location for the 2006 movie Last Holiday starring Queen Latifah. It also appears in the 2006 James Bond film Casino Royale as Hotel Splendide in Montenegro.

Hotel Carlsbad PlazaDeluxe hotel opened in December 2005.

Hotel ThermalThe biggest hotel in the centre of the city was used by USSR's political elite for recovery. It is still state-owned and hosts the annual film festival. Its modern Balneo Wellness Center offers a wide range of spa and wellness services. The center offers over 50 medical and wellness treatments and services: various massages, hydrotherapy, electrotherapy, and Nordic Walking for hotels guestscand for non-residental clients. It has an indoor pool (15x5m), Whirlpool, Kneipp's path, dry Finnish sauna, steam bath, infra cabine and cardio zone. The Wellness Center is open M-F 13:00-20:30, Sa 10:00-20:30, Su 09:00-20:30 (last admittance 20:00 every day).

address: Stari Luka 62

5 stylish apartments.

address: Zámecký vrch 918/34

Hotel set in an aristocratic manor dating back to the 19th century.

Hotel ImperialOne of the most luxurious and important hotels in the city, from beginning of the 20th century.
Connect
Moonstorm Internet

address: Masaryka 31
Go next