Karlskrona
Karlskrona
, archaic spelling
Carlskrona
, is a city in
Blekinge
in southern Sweden. While the city has 35,000 inhabitants, around 60,000 live in the municipality,
Karlskrona kommun
.
Understand
The city was established as a naval base in 1680, during the reign of King Karl XI, after whom the town is named (Karlskrona: Karl's Crown). The town continues to host a
naval base
and is the largest city in the county of
Blekinge
.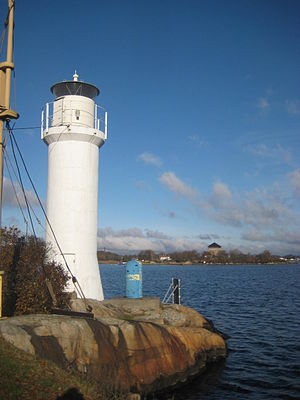 The town centre lies 5 km south from the mainland on the island Trossö. The old shipyard, the naval base's oldest constructions and the three churches located on Trossö are listed on the
UNESCO World Heritage
list.
Tourist office
phone: +46 455-30 34 90

address: Stortorget 2
Get in
Direct trains runs at least every two hours from
Copenhagen
via
Malmö
and
Kristianstad
and in the other direction from
Kalmar
. From
Gothenburg
or
Stockholm
a change of trains in
Alvesta
,
Emmaboda
or
Hässleholm
is required. Ticket can be bought from
SJ
. The station, is located at the northern end of the city centre.
Karlskrona-Ronneby Airport is approximately 30 km from Karlskrona centrum. Blekingetrafiken (+46 455-569 00 ) operates an airport bus (Flygbussen) between Karlskrona and Ronneby airport, which is convenient and cost effective. It leaves Karlskrona 80 minutes before the take-off times of flights to
Arlanda
and Bromma. The bus stops at several places in central Karlskrona, at the Hospital/Bergåsa, at Nättraby E22, at Hjortahammar junction and at Listerby. The bus costs around 95 kr for adults and 45 kr for children.
Long distance buses are available from Stockholm and Malmö.
Stena Line
runs ferries two times a day from
Gdynia
,
Poland
. The port, , commonly known as
Polenterminalen
, is on the nearby island of Verkö. Local bus #6 connects with the city centre.
Get around
By bus
There is a large local/regional bus network connecting Karlskrona Centrum with other regional locations. Bus fares are typically 20 kr for adults. There are also boats/ferries to many islands within the archipelago, and it is possible to cruise around the archipelago for between 1½ and 3 hours in the summer months. Time tables and info
here
. Adult's fare is 20 kr, youth (
See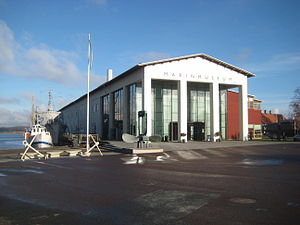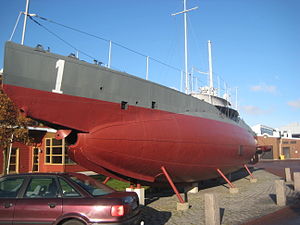 address: Stumholmen

A very large maritime museum on the waterfront with spectacular vistas. Most of the exhibits are in Swedish, so be sure to pick up an audio guide. The exhibits consist principally of a very large and impressive collection of wooden ship models as well as life size interiors of ships that can be walked through. In addition to the museum itself, the complex houses a very popular smorgasbord that you'll find packed with Swedes from around 11:30 onwards, and a gift shop. Outside the museum you'll also find some disused ships/submarines that are worth a look, and Karlskrona's famous light house. Price: 170/130 kr for adults in the summer; free in the winter.

Brändaholm/Dragso

address: Dragso

No visit to Sweden would be complete without getting up close and personal with some cute little red wood houses and Dragso does not disappoint when it comes to providing one of the best examples. The island has a gorgeous little cluster of red wood summer homes located at Brändaholm. In addition to this, Dragso has some lovely beaches; great for swimming in the summer and for quiet, isolated walks in the winter. Dragso also hosts a large camp site, which includes all the usual amenities and a fun little mini golf course. Dragso is a fair way out of Trosso, so consider taking a bus, putting on some good walking shoes or hiring a bike.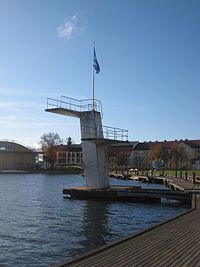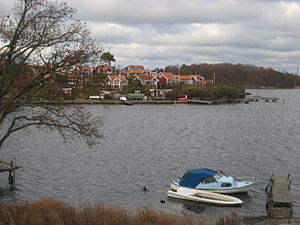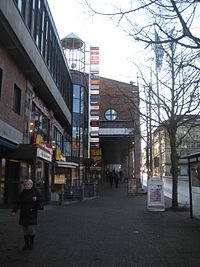 TrefaldighetskyrkanBuilt on Karlskrona's main square by prisoners of war as a punishment, the Trefaldighetskyrkan is a cute yellow church with a spectacular interior dome - like a wooden version of Rome's pantheon.

AmiralitetskyrkanA temporary church built in 1681, it remains as a striking red wooden building down a lane surrounded by the naval reserve. In front is a statue of Rosenbom, a vagrant who froze to death. Lift his hat and insert a coin to assuage yourself of guilt about ignoring homeless people.

Clock TowerIn parkland south of the main square is this yellow clock tower. Several of the defunct railway tunnels can be viewed from nearby.

Old Railway TunnelA railway was built through the hill containing the town square to link the main railway to the naval reserve. It's no longer used but the tunnels can be viewed from several points. On the north side near the town park is best as you can walk up to the gates.

Old Workers CottagesOn the west side of Trosso north of the naval yard are several streets that feature a lot of the cute little cottages formerly used by workers at the naval yard.

StakholmA large rock connected by bridge to Trosso, Stakholm has 360 degree views and is a popular sunset picnic spot.
Do
Go Swimming!There are lots of great places around the archipelago to go swimming on a summer day. Try the 'beach' near the Maritime Museum on Stumholmen with its diving board or the more natural equivalents on Dragso.

Hire a BikeWhile not completely flat, Karlskona is replete with the usual Scandinavian complement of bike paths and riding makes a good, healthy way to get around town and really take in the expansive natural beauty of the islands. Try Sportkompaniet at 9 Hantverkareg (near the junction with Konstapelsgatan): 100 kr for 1 day; 170 kr for 2 days; sliding scale for longer hires.

Hire a boatThe Blekinge Museum offers traditional boats from the region for day hire.

phone: +46 455-61 54 75

address: Arenavägen 11

Fun and adventure in unique Quests. This place is great for team building exercises or just for quirky, ultra-competitive groups.
Buy
Pedestrian Mall (Ronnebygatan and Radhusg)While certainly no Stockholm or Copenhagen when it comes to shopping, little Karlskrona still punches above its weight when it comes to shopping. It has all the Scandinavian high street favourites, including an impressively large H&M, a Dressman and an Ahlens. In one of the malls off Radhusg you'll also find an ICA (pronounced Ik-ka) supermarket, a range of smaller shops and the Systembolaget (the state owned, monopoly off-licence/bottle shop/liquor store), one of only two places in Karlskrona where you can buy beer and wine with alcohol content exceeding 3.5% and spirits for home consumption.
Eat
Pedestrian Mall (Ronnebygatan and Radhusg)There are a range of places to eat centred around the main pedestrian mall and the square on the top of the hill in Trossö. Perhaps it's best to take the same approach as the Swedes and cruise the mall until you find something you like the look of. Watch out for smörgåsbord offerings, like at the restaurant above Ahlens (75 kr for the smörgåsbord, including an assortment of dishes, a light beer or sparkling water, bread, salad, tea and coffee). Other options include the multiplicity of kebab shops (with seating), the ubiquitous Wayne's Coffee, the fantastic Tokio Sushi, PM (a pub in the same mall as McDonald's), caffe 1344 (located opposite ICA; a popular place for afternoon fika (coffee and cake) in the winter) and the bustling smörgåsbord inside the Maritime Museum.
Drink
Pedestrian Mall (Ronnebygatan and Radhusg) / Town SquareStart in the pedestrian mall and crawl your way along and up towards the main town square. Places come in and out of vogue regularly, but some that have consistent popularity include the Fox and Anchor (an English style pub; regrettably no relation of its cracking Gastropub namesake by Smithfield Market in London), and the rather lame PM.
Sleep
phone: +46 455 555 60

address: Borgmästaregatan 13

Inexpensive 4-star hotel attached to the Wachtmeister shopping centre just off the central square. Rooms are smallish but efficiently designed, and decorated in a vaguely nautical style. Includes breakfast and wireless internet, and free hot drinks are available in the lobby. Just under 1 km from Central Station (if you have luggage, it's best to loop around the waterfront, as the direct route is hilly).

Pedestrian Mall (Ronnebygatan and Radhusg) / Town SquareThere are a range of places in the city centre, most of a reasonable standard, although in typical Scandinavian style, they don't come cheap. Consider using an online booking engine to find the cheapest prices.

Camping / Summer CottagesIn the summer months, consider camping on Dragso or renting a summer cottage. Contact the tourist office for more information (+46 (0)455 30 34 90).
Go next
Day Trip to Aspö
Take the large yellow Aspö ferry from Karlskrona Harbour (near the bridge to Stumholmen) to Aspo (30 min) and spend the day enjoying the rugged island beaches, tiny shops and old military fort.
The ring road around Aspö is about 6km long and, in addition to the beaches and fort, Aspö also hosts a small yacht club and a number of summer cottages. Amenities are rather sparse even in the busiest summer months, when there are only a few basic places to eat and stay. In the winter months (i.e. outside the June to August period), the only place to buy things is the local ICA supermarket and most (if not all) other things will be closed.
The ferry is part of the Swedish road system and so is free for vehicles, bicycles and foot passengers in both directions.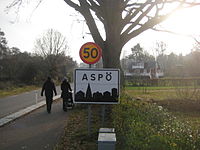 Ronneby
Ronneby
is an old spa town with a spectacular park and forest 30 minutes by train from Karlskrona.