Kars
Kars
is a city in
Eastern Anatolia
. It is most frequently visited as a jumping off point for travelers going to
Ani
, but it is a viable destination in its own right for its 19th-century Russian imperial buildings, and, of course, its role as the setting for Orhan Pamuk's famous novel
Snow
.
A small village on the
Rideau River
in
Ottawa
,
Canada
is named "Kars" in honour of General Sir William Fenwick Williams's defence of the town of Kars, Anatolia during the Crimean War.
Understand
Climate
Kars is one of the highest cities in Turkey, at an altitude of about 2000 metres over the sea level. Complemented with the distance to the sea, this makes the climate of this area the harshest in Turkey, with winter temperatures regularly below -30°C at nights (and no warmer than -15°C during the day). There is not a real summer season in Kars, only a short spring in July and August (this is also the wettest season) and a long, bitterly cold, and heavily snowy winter during the rest of the year. Nighttime temperatures can fall below 0°C at any time of the year (even in August).

Read
Kars is the setting of Orhan Pamuk's novel Snow (ISBN 0-375-70686-0).

Get in
By plane
Anadolujet offers regular flights from Ankara to Kars airport. Prices start from 59TL including all fees.
===By bus===
Most companies serve Kars - though you might need to change bus at either Erzurum or Igdir, depending on where you come from. Be sure to check whether there are services available.
There is a daily bus leaving Hopa to Kars at 10:30am. It costs 50 Lira and takes between 7-8 hours with a stop for lunch.
By train
The
Doğu Express
departs
Ankara
daily at 18:00, reaching Kars 24 hours later. The return train leaves around 08:00. There are couchettes, a sleeping car (maybe) and a buffet. Main stops along the route are
Kayseri
,
Sivas
,
Erzincan
and
Erzurum
. Buy tickets online from
Turkish Railways
.
In summer 2019 a tourist train plies between Ankara and Kars. This costs about twice the normal fare, make fewer stops, but makes a few 2-3 hour stops (eg in Erzurum) for tourist excursions. It arrives in Kars near midnight, returning west 24 hours later; you're tied to the tourist itinerary without flexibility of stopover. The accommodation is in standard sleeping cars: these have been provided by pulling sleeping cars off the conventional train, so the travel experience on that has been degraded.
Turkey's long-awaited rail link via Kars to
Georgia
and
Azerbaijan
opened on 30 Oct 2017 for freight only. Passenger trains between
Ankara
and
Baku
, via Kars and
Tbilisi
, are expected to start in autumn 2019, initially with just one train a week.
Get around
There are a few taxis serving the city centre. It's a pretty small place so it's quite possible to cover it by foot.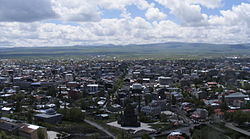 See
Kars Castleone of the few sights to see within Kars. It's a short climb from the city centre, and is worth climbing for the view of the city. The castle was built in 1153, destroyed by Mongol invaders, and rebuilt in 1579.

Church of Apostlesalso well worth a look. The building was built as an Armenian church in the 10th century, and upon capturing the city, Ottomans converted it to a mosque in 1579. Later, when Russians came over, it became a church again, this time serving Russian Orthodox believers. After the Turks took back the city, it served for non-religious purposes for a time (such as a warehouse), and in 1998 consecrated as a mosque again.

Russian/Baltic architecture along the grid of old town's streets, realized during the Russian occupation of the city in 1878–1918, singles out the city in Turkey. Fethiye Mosque (Fethiye Camii) in the city centre, built by Russians in the occupation period as a church, is the only mosque in Turkey having that distinctive architectural style.
Buy
Gravier cheese is delicious! You can enjoy having some from the shops near to castle. You can try the Soldier Souvenirs Passage on the main street with a lion statue sells stuff for rare collector's items.

Eat
A local speciality is goose (
kaz
), usually made into a stew.
Ani Restaurant is a good local restaurant, located under Kar's Otel.
Antep Pide & Lahmacun Salonu is popular with the locals, makes cheap and tasty pide.
Drink
Yağmurcu Cafe Bar

phone: +90 5389571810

address: Yusuf Paşa Mh. Küçük Kazımbey Cad. Kent Kulüp Altı. No:3.

There is a rustic area at the entrance where you can drink and smoke. Inside is darker with tables, music and private rooms.
Sleep
There are many hotels along the main street costing 30-45 TL per night. (Mar 2016)
phone: +90 474 223-19-29

address: Hapan Mevkii 12

Boutique hotel offering clean rooms with en suite bathrooms and comfortable beds. Lounge room with satellite TV and a refrigerator for guests. It's frequented by backpackers on their way to Ani, which makes it a good place for solo travellers to organize an excursion from. Taxi drivers know it.

Hotel (Otel) Temel

phone: +90 474 223 1376

address: Yenipazar Caddesi

Clean rooms with singles, doubles and triples, some with a good view. Central location within a few minutes' walk to Kars Castle. Breakfast included and free WiFi in rooms. Some staff speak English. Laundry service relatively expensive. If you are a female be cautious of the creepy guy who only speaks Turkish at the front desk, as he has been known to grope.

Hotel (Otel) Temel 2

address: Across the street from the other Otel Temel, on the side with shoe stores (not the main street side)

Hotel Temel 2 is a nice hotel to stay in, with ensuite facilities, TV, and nice clean beds. It also comes with a breakfast, consisting of bread, cheese and honey. It's also suitable for the budget traveler. Somewhat unfriendly manager though, without any knowledge of English or any other language, but Turkish.

phone: +90 474 212-16-16

address: Halit Paşa Caddesi 79

Boutique hotel housed in an old Russian building.

Miraç Otel

phone: +90 474 212-37-68

address: Cengiz Topel Caddesi 19

Musty old place down a side street. Staff are helpful but don't speak English. Breakfast is a sad excuse with yesterday's bread, a few olives and some white cheese. And the Çay is weak!

Bizim Otel

phone: +90 474 212-28-00

address: Faikbey Caddesi 198

Decent budget hotel on the main strip. Rooms are clean (some have balconies overlooking the road) with small bathrooms. The guys on reception don't speak English, but the owner Savaş does and is happy to help out.
Connect
Most hotels and many cafés and restaurants offer free Wi-Fi.

Go next
Ani
A visit to Eastern Anatolia is not complete without a visit to the ruins of the ancient Armenian city of
Ani
, 45 km east of Kars.
Daily bus departures from Kars in front of the Antik Cafe (corner of Faikbey Cd. and Gazi Ahmet Muhtar Paşa Cd.) at 09:00 and 13:00. The bus returns from Ani at 11:30 and 15:30. Roundtrip 14 TL, 10 TL for students.
See poster
(May 2017).
You can charter a taxi (100 TL, 2016) or get a guide (entrance fee 8 TL). In summer, it is very easy to find travel mates to fill a taxi. In winter, you will most probably travel alone.
There is also an English-speaking entrepreneur in Kars who will organize shared buses (40 TL per person, September 2013) to Kars. I sadly can't remember the name, but most hotels hotels should be able to give you his number if you just say something like "Ani, Dolmuş, Ingilizce". (There are no dolmuş to Ani as of March 2016.)
If you're on a tight budget you can also try hitch-hiking to Ani. Walk about 2 km out of town to the cross section where the street heads towards Ani (There are enough street signs to find it). There is not a lot of traffic on this road but eventually a local will stop for you.
Ardahan
Several minibuses to
Ardahan
every day, every hour from 8am (at least 8am, 9am, 10am, 11am). Departs from the minibus station (city center). 15 TL, about 1 hr 30 min.
Artvin and Hopa
Bus every morning 09:30 to
Artvin
(45 TL) and
Hopa
(55 TL) from the minibus station (city center). The bus is run by Artvin Ekspres and departs
almost
everyday; check one day before just in case.
This option is the best to reach
Georgia
through
Batumi
. As of July 2019, the price for the Kars-Hopa bus - on Artvin Ekspress - is 80 TL per person.
If the bus from Kars to Hopa does not run, first go to
Ardahan
by minibus and, from there, take the 12 hr 30 min to
Hopa
(35 TL).
The same bus continues onwards to
Trabzon
(45 TL from
Ardahan
).