Kasaoka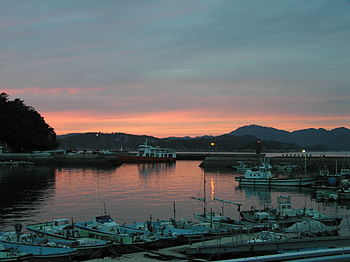 Kasaoka
() is a city in
Okayama
Prefecture, about 40 minutes away from
Okayama
City by train. The most frequent reason for visiting are its islands, especially
Shiraishi Island
, which you can visit by ferry.
Get in
Kasaoka Station is the only station within city limits, located along the JR Sanyo Line 15 minutes from
Fukuyama
and less than 45 minutes from
Okayama
. For drivers, Route 2 travels through Kasaoka. There are also buses that come and go from Fukuyama Station, Ibara, and Yakage.
Get around
On foot, visitors can easily go to the ramen shops, Kasaoka Port, and the art museums. Most of the cities other attractions are further away and are best reached by bus or taxi. Of course the islands must be reached by boat from Kasaoka Port.

See
Do
Konoshima 88 Temple PilgrimageThe Konoshima area has its own 88 Pilgrimage walking route for those who cannot complete the Shikoku Pilgrimage. This pilgrimage is 29 km long and can be completed in two days.
Festivals and events
Kasaoka Port FestivalThis is the city's firework festival, held at the end of July. It is one of the largest fireworks displays in the Chugoku region.

Shiraishi OdoriThis is the biggest event on Shiraishi Island. These dances are performed in honor of those who died in the Genpei Wars. There are 13 dances performed over the three days.

Himawari FestivalThis festival celebrates the blooming of more than 1 million sunflowers around the Michi no Eki. Foodstalls are set up, and there is a viewing platform from which you can see the entire field of sunflowers. If you prefer a closer view, you can alternatively walk in the fields.

Konoshima Tenjin MatsuriBoats from the 7 areas of Konoshima gather with loud chanting.
Eat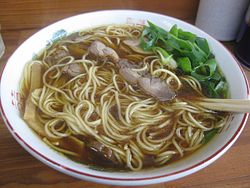 Arguably more famous than any of the town's sites is the
Kasaoka ramen
. Kasaoka is nicknamed 'The Ramen Town'. The ramen restaurant boom occurred long ago due to its popularity among the sailors who docked here and has withstood the test of time to remain the city's most popular dish. There are maps of all the ramen shops available; the ramen even has its own
website
.
Sleep
Go next