Kasaragod
Kasaragod
is a town in
Kasaragod District
at the northern end of
Malabar
,
Kerala
in
India
.
Understand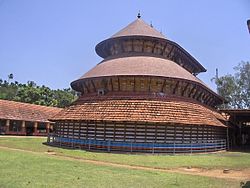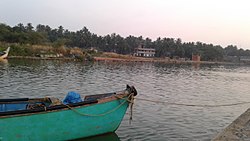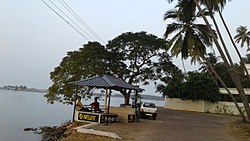 Kasargod is famous for the Bekal Fort. Kasaragod is often described as the land of seven language as Malayalam, Beary, Tulu, Kannada, Konkani, Marathi and Hindi are understood here.
Get in
By plane
The nearest airports is at Mangalore (
IXE
) 60 km away.

By train
Kasaragod has a major railway station connected to Delhi, Mumbai, Thiruvananthapuram (Trivandrum), Kochi, Chennai, and Bangalore.

By bus
Direct buses are available from Mangalore, Kochi, Bangalore, Thiruvananthapuram, Chennai and Mysore.

By road
The roads are fine, but the traffic is heavy and tiresome. NH 17 goes through Kasaragod. Keralites are not disciplined drivers and Kasaragodians are the worst in the lot. You can expect a large number of teenagers without a driving license going around in bulging SUVs at neck-breaking speed.

Get around
Autorikshaws charge ₹15 per km
Buses charge ₹7 for every three km. Local buses start from New Bus Stand and long distance buses start from KSRTC bus station, 04994 230677.
Taxi - Comfortable air conditioned taxis and jeeps are available for ₹1,000 per day.
House Boats are available at Bekal, Kottappuram and Valiyaparamba.
See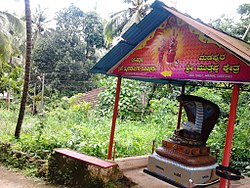 Chandragiri Fort17th century fort.

phone: +91 4994 232 894

address: Kudlu.P.O,Kasaragod,Kerala, 671124

ICAR-Central Plantation Crops Research Institute

Nellikkunnu Beach

address: Near KSRTC

Light House, Shri Kurumba Temple with nice sculptures, Five km long beach road.

Maipady PalacePalaces of Kumbala Rajas. Admission is strictly restricted.

Malik Dheenar

address: Near Railway Station

Famous Dargah, madrassa, women's college, seaside pond, cafeteria, garden and ancient mosque with exquisite wooden carvings and chandeliers.

Mud Fort

address: Kottappuram

Build by the Nileshwar Rajas.

Nellikunnu Uppappa Mosque

address: Near KSRTC

Cute structure with attached Madhrassa and Dargah. Spacious lawn and majestic steps. Famous for Uroos festival.
Padanna Theme VillageThe ultimate theme village where one can have a look of hunting fish, stay ,food etc.

Sankaracharya tradition art and learning center

address: Edneer Mutt
Nellikkunnu Light House

address: Kasaragod Beach, Nellikkunnu, Kasaragod
Temples
Kumbla Fort

address: Kumbla

Koto temple

Lake Temple

phone: +91 4998214360

address: Ananthapuram

The only lake temple in Kerala. There is a non-harm crocodile named "Babia". The lake temple is in a photogenic rocky place.

Madiyan Kulom Temple

address: Ajanoor

Mallikarjuna Temple

address: Near KSRTC

Beautiful compound of the temple is the venue of frequent festivals and dances.

Siva Temple

address: Adoor

Famous for ancient where legendary Kiratha Yuddham a battle between Arjuna and Lord Siva took place.

Srimad Anantheswara Vinayaka Temple

address: Madhur
Do
Madhur Temple walkStart from Karandakkatt junction near the new bus station. Turn east on Madhur road. After Choori and Kudla you reach Ramdas nagar and Vivek nagar. There is a small junction and town called Ulliyathadakka on the way. Don't turn right, it takes you back to town. At the next junction, ignore the descending road to the left. Choose the right turn. Within a few minutes you reach Madhur temple on the riverside.

Paravanadukkam Walk

address: Kanhangad Road

Start from Press Club junction. Proceed to Kanhangad road, cross the Chandragiri river on the bridge and turn left after the Maruthi car showroom to Chemnad road. Go up and reach Aliya School and Chemnad High School. Walk past model school and Durga temple. You have reached Deli temple, Paravanadukkam and Kaliyadukkam. Walk past Saediya College and Apsara school and proceed to Bendichal junction and Chattanchal town on the Nationa Highway No.17. You can get buses back to Kasaragod from Chattanchal town.

Rajayoga @ Brahmakumaris

address: Near Murali Mukund Auditorium

Free Sattvic food, lecture sessions, very tastefully furnished meditation halls.

Riverside walk @ Pulikunnu

address: Town Hall road

If you are looking for a short riverside walk inside the city, start down the hill from Muncipal Town Hall near the Government Guest House. Take the road on the right side of the Town Hall. You will come down to Pulikkunnu Masjidh from where the road embraces the Chandragiri river like a necklace. This spot is useful for taking photographs of the Chandragiri bridge and of the fishermen's boats in the river. You can climb back to the city or proceed further another 4 km in a flat road to reach Thalangara Malik Dheenar beach near the railway station.
Thurthi Dhweep is a scenic island on the Chandragiri River. It is privately owned and accessible with the permission of the owners.

Trekking @ Sullia Road

address: Cherkkala

Beautiful views of the valley in lush green surroundings. Another added attraction is that this road is undiscovered by tourists. So you will get it all for yourself.

Village TourTake a bus from Kumbla to Badiadukka. Many scenic villages on the way. You can get down at Seethamgoly village in the middle of the route and have a look at the scenic place.

Walk in a tunnel

address: Perumunda, Badiadukka

Ask for the farm of Keshava Bhat, where you can find a 38 metre long tunnel across a beautiful hillock.

Watch the Sunset

address: Thalangara Wharf

Extremely photogenic place. This location cannot be skipped even if you are a little busy as Thalangara Wharf is the most beautiful spot in all Kasaragod. You can turn right from Thalangara Wharf and walk in front of the police station. This place is called Ibrahim Khaleel Road. The locals are beauty hardened and extremely rude. You can ignore them and move on; this level of rudeness is not present in other parts of Kerala. Read the Stay safe section below.
Eat
Kasaragod is famous for its sweets such as Holiga. Here is a partial list of some popular dishes: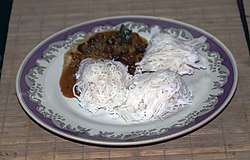 Steamed food - Puttu, Iddali, Idiyappam, Ada
Fried food - Fish fry, Fried bananas, bajji (fried chillies)
Deserts - Payasam (rice, wheat, or coconut), Pickled mango
Ottayappam is available at Adarsh restaurant, Seethangoli junction between 7.00 am and 8.00 am
Indian Coffee House

address: Old Bus Stand

The sounds and smells of Kasaragod Market can be enjoyed when you sit near the window. Very crowded place.
phone: +91 4994-230165

address: New Bus Stand

Cheap food
Salwa Dine
address: Opp. KSRTC
Shalimar Restaurant
address: Thayalangadi
Shree Krishna Vegetarian
address: Karandakkatt
Taste Bud Restaurant
address: Highway
Udupi Vegetarian

address: Near Kasaragod Nursing Home

Mangalore buns, Mangalore golly baji etc. available. Kerala lunch for ₹50.00
Vasantha Vihar Vegetarian

address: Near Press Club

Vegetarian food.
Viceroy Restaurant

phone: +91 4994 222 464

address: City Tower Hotel, M.G.Road, Kasaragod, Kerala 671121

Non Veg Restauranr
Drink
Caffe' Coffee Day

address: Inside Hindustan Petroleum Near Kumbla

Coffee and snacks. Expensive place with good ambiance. ₹100 for a cup of coffee.

Cita Pani

address: Opp New Bus Stand

Ice Berg

address: opp. New Busstand

Pallam Charumuru

address: Thayalangadi, Near Railway Station

For custom-made crispy snacks and drinks like Muttacharumuru, EggPizza, etc.

Juice Mahal

address: near Vijaya Bank

Meghraj bar

address: Nellikkunnu Road
Sleep
Budget
Airline Hotel

phone: +91 -4994-221428

address: KPR Rao Road

Anand Hostel

phone: +91 9447479425

address: Soorlu

For monthly rent.

Apsara Regency

phone: +91-4994-230124, +91 -9447403377

address: Opp. KSRTC

Bindu Rest House

phone: +91 -4994-223742

Century Park Lodge

phone: +91 4994 226111

address: New Bus Stand

Deira Hotel

phone: +91 4994230854

Land mark Hotel

phone: +91 4994223041

Mali Hotel

phone: +91 4994222054

Priya Darshini Hotel

phone: +91 -4994-4202701

address: Majirpalla

PWD Rest House

address: Town Hall Road

Government property. Good rooms for a bargain.

Railway Retirement Room

Speedway Inn

phone: +91 4994222666

States Hotel

phone: +91-4994-220049, +91 -9895251222

Victoria Hotel

address: New bus stand

Well Wisher Lodge

phone: +91 -4994-230472

address: Anangoor

M.M.Tourist Home, Kumbla

phone: +91 4998 216 388

Near Railway Station, Kumbla. , Rs.400
Mid-range
phone: +91 4994 230563

Government Guest House

address: Near the Town Hall

Posh rooms at budget rates. Wear a suit and carry a visiting card with an important corporate address. Backpackers are allowed to take a photograph from outside.

phone: +91 -4994-220755, +91 4994 220855

address: Near New Bus Stand

Nileshwar Hermitage

address: Kasaragod
Stay safe
For your own safety, remember that Kasaragod is a little different from other cities of Kerala. Smuggling and other illegal activities are quite rife here and there is a big and established underworld. Since illegal activities are the norm in certain parts of Kasaragod like
Thalangara
, you can even find people introducing themselves as
smugglers
. Take care of speeding vehicles and suspicious looking persons coming near your luggage. Totally avoiding the
Thalangara
area is not advisable because
the Thalangara Wharf
is the most beautiful spot in the entire Kasaragod region. You need not carry this fear complex with you everywhere in Kerala, as there is only one more place in Kerala where smuggling is widespread (
Chavakkad
beach in
Thrissur
district).
Connect
Smart Office Internet Cafe

phone: +91 4994224133

address: City Centre Building, Bank Road

Some travel assistance is also available here.

Area code international

address: +91 4994

Area code national

address: 04994
Go next