Kashan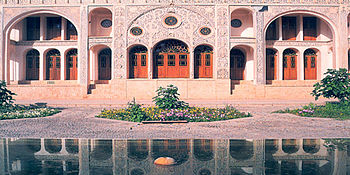 Kashan
is a city in the
Isfahan
province of
Iran
. Kashan is the first of the large oases along the Qom-Kerman road which runs along the edge of the central deserts of Iran. Its charm is thus mainly due to the contrast between the parched immensities of the deserts and the greenery of the well-tended oasis. Archeological discoveries in the Sialk Hillocks which lie 4 km (2.5 miles) west of Kashan reveal that this region was one of the primary centers of civilization in pre-historic ages. Hence Kashan dates back to the Elamite period of Iran. The Sialk ziggurat still stands today in the suburbs of Kashan after 7000 years. After well-known Iranian historical cities such as
Isfahan
and
Shiraz
, Kashan is a common destination for foreign tourists because of its many historical sites.
Get in
By plane
Kashan has its own airport, but the only flight that serves it as of April, 2019 connects the city with
Mashhad
. Other nearby airports are in
Tehran
and
Isfahan
. A taxi to Tehran Airport cost 1,200,000 rials in April, 2017.
By train
Kashan is also connected to
Tehran
,
Isfahan
(one night train every second day) and numerous other cities by train. The is located at the eastern fringe of the town.
By bus
Kashan is situated around 250 km south of
Tehran
. A bus ride from Tehran's South Terminal (Terminal-e-jonub) takes at least three hours. From
Isfahan
, the distance is 220 km, there are frequent buses from the Kaveh terminal, 2.5 hours.
Buses tend to drop passengers at or , particularly for transit buses merely passing Kashan on their way to another destination. Expect enough taxis hanging around.
For leaving Kashan, head to the .
Get around

Most historical houses and the Agha Bozorg mosque can easily be reached on foot. A taxi to the Fin Garden should not cost more than 80,000 rials (Jan 2016). For sights further outside the city, consider hiring a taxi.

See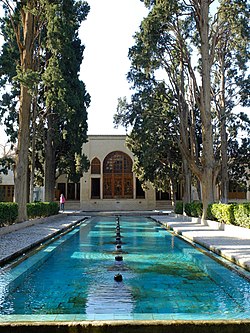 Agha Bozorg MosqueThis historical mosque was built in the late 18th century by master-mimar Ustad Haj Sa'ban-ali. The mosque is not in use any more, the theological school in its basement is, however, active. It was here where Ustad Ali Maryam as a pupil started his career as a brilliant architect.

Fin GardenOne of the most beautiful historical gardens of the middle-east and the world. It contains Kashan's Fin Bath, where Amir-Kabir a famous vizier of Qajarid was murdered by the King Nasereddin Shah. The garden covers 2.3 hectares with a main yard surrounded by ramparts with four circular towers. In keeping with many of the Persian gardens of this era, the Fin Garden employs a great many water features. It's one of nine world heritage Persian Gardens.

Kashan BazaarWith its fantastic mudbrick architecture, it is one of the jewels of the city. Pay a small amount to one of the touts hanging around the bazaar and you will be led to the roof of the bazaar, where you can get an idea of the technical marvel of building such large structures from mudbricks and have a wonderful view over the old city.

Timcheh Amin-o-dowlehActually forming a part of the bazaar, this large structure was a caravanserai and has been renovated. Have a tea from the stand, take a break and look at the Iranian way of doing business here

Historical bathhouseOld hammam beautifully transformed into a tradional coffee shop where you can take a rest, drink tea or smoke a shisha.

Sultan Amir BathBeautifully restored bathhouse, with lighting installed to make the impression even more memorable. Don't forget to ask for the stairs to the roof.

Boroujerdi ha ResidenceThe house of Boroujerdi, belonging to a trading family who migrated to Kashan, was built over a hundred years ago. The construction date can still be seen on the covered inscription of the building, completion of which took 18 years of work by tens of laborers, architects and master painters. Since exceptional attention has been paid to all minute architectural details demanded by the geographical and climatic conditions of the area, the house has attracted considerable attention of architects and recognition from Iranian and foreign scientific and technical teams.

Tabatabaie ResidenceA large house with several courtyards, which once belonged to a wealthy merchant. Experience how well the wind towers work. It consists of delightful wall paintings with elegant stained glass windows and includes other classic signatures of Traditional Persian residential architecture such as biruni and andaruni.

Sultan Amir Shrine

Ameri-Ha (Amerian) HouseTraditional house built in the mid-19th century during the Qajar era, the house is one of several large spectacular old houses in the central district. Like the other houses around it, it was re-built after Kashan was ravaged by a series of massive earthquakes in the 18th century. The house is now a boutique hotel.

Sialk ZigguratClaimed to be the world's oldest ziggurat, dating to the 3rd millennium BC.

Abbasian HouseA large traditional historical house built during the late 18th century, the house is a beautiful example of Kashani residential architecture. It is said to have been the property of a famous cleric. It has six courtyards that would fit the needs of different families. One of the chambers has a ceiling designed with mirror pieces so as to give the impression of a starry sky under the nocturnal glitter of candlelight. The house is now a public museum.

Al-e-Yaseen House

40 Dokhtaran Fortress

Abu-Lu'lu'ah ShrineShrine of Abu-Lu'lu'ah (the assassin of Islam's second Caliph) was constructed in an eleventh century distinctive Persian-Khwarezmian dynastic architectural style, consisted of a courtyard, porch and conical dome decorated with turquoise coloured tiles, and painted ceilings.

phone: +98(31)-5522-5134

address: No 43 Allameh Alley

If you are tired of historical houses, consider this cute museum showing some Iranian puppets and toys. Workshop included.

Ghal'eh jalaliWalled fortress with grass field inside.
===Nearby===8
, a famous, historic Iranian village is in Natanz County, near Kashan. With a unique reddish hue, the village is one of the oldest in Iran, attracting numerous native and foreign tourists year-round, especially during traditional feasts and ceremonies. The village has been called an entrance to Iranian history. The local clothing, for example, is in a style of great antiquity. An Abyunaki woman typically wears a white long scarf (covering the shoulders and upper trunk) which has a colourful pattern and an under-knee skirt. Even the most immediate villages' women have different dress style so that one could tell if she is from Abyaneh or not. Climb up a hill just outside the village to enjoy a fantastic view on Abyaneh. The village can be accessed on a day trip from Kashan, or you can hire a driver to take you to Abyaneh, Natanz (100,000 rial entrance), and drop you in Isfahan (US$50 per car including toll and gas).
In the small town of , you can visit the fire temple dating back to Sassanian times, a man-made cave, a Qajar palace, a waterfall, a bathhouse from the Safavid era, a water mill, and the village itself, of course. While none of the attractions is overwhelming by itself, it is a leisurely half-day trip.
In spring, the little town of is worth visiting. It is the biggest center in the Middle East for producing rose water.
Maranjab desert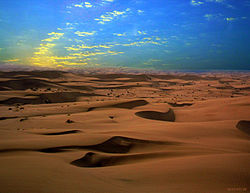 A trip to the sand dunes of the Maranjab desert, a salt lake and a caravanserai is on the list of many Kashan visitors (US$40 per car). It can be combined with a visit in the small town of
Noushabad
with its underground city (a shelter people dug to take refuge from the Mongolian invaders) and the mud castle and the Holy Shrine of Helal Ali in the town
Aran va Bidgol
. It is also possible to have an overnight stay in the caravanserai arranged, but don't expect too much comfort; also it can get pretty crowded with tourists during high season; US$30 per person including taxi ride (as of 2017).
Underground City Of Ouyi

phone: +98 31 5482 5850

address: Nooshabad city

Labyrinth of tunnels consisting of three underground floors. It was dug as a shelter to hide from the summer heat, but later was used as a hiding place at times of enemy invasions. Only a couple of hundred meters are accessible for the public, out of the tunnel's total 4 km. A guide fluent in English is likely to give more information. Two different entrances exist. Entrance 1 has the shortest tunnel length. Therefore, entrance 2 is more interesting. These are signposted in the village.

Maranjab desert sand dunesSeveral square kilometres of sand dunes.

Namak Salt LakeSalt lake close by to Maranjab desert. The salt lake is not that attractive unless it gets some water after the rain. Cannot be accessed with a normal car. You'll be stopped at the gate and will have to rent a 4x4 with driver.

Holy Shrine of Helal Ali

address: Aran va Bidgol town

Huge mosque with inner square and graves of the marters of the Iran-Irak war outside.
Do
There are a few must-dos in Kashan: make sure to visit the traditional bazaar and walk around a bit in the neighbouring streets to catch the feeling of an Iranian town on the fringe of the desert. Make sure to visit Fin garden and, if you happen to visit Kashan in the right season, the rose gardens in the suburb. And, of course, visit one or two of the historical houses.
For many travellers, Kashan is the first stop after busy and noisy Tehran. It is well worth to plan an extra day in Kashan, as its traditional hotels, the tea houses, and its gardens will inspire you to linger around, take a rest and recharge your batteries. For this purpose, the attractions are best visited without a guide.

Buy
Carpet and rose water are the two well-known products of the city. You will see numerous shops trying to sell rose water and other aromatic liquids to tourists.
Traditional cookies.

Eat
The traditional hotels of Kashan all have decent restaurants where lunch and dinner are available. Apart from this, there are traditional restaurants near the sights, and several garden restaurants line on the road next to Fin Garden. All of them serve Persian food only. Fast food shops can be found in all busier streets.
phone: +98(31)-5521-2617

phone: +98(31)-5524-5764
Sleep
Kashan is a small town where the tourism infrastructure is not yet fully developed. Accommodation should be reserved well in advance if you travel in the tourism season. In the high season, locals offer private rooms.
Budget
phone: +98 31-5523-3324

address: No 20, Ab anbar-e-Khaan Passage, Paamenar Alley, Molla Habibollah-e-Sharif St.

Traditional house around a courtyard.

Sayyah Hotel

address: Abazar street

Double room quoted 1,600,000/1,300,000 rials with/without shower in the room, both including breakfast.

address: Gozar-e Agha Alley, Behind Al-e Yasin (Melal) Historic House, Emam Khomeini St, Emam Khomeini Sq

Golchehregan Guesthouse

address: Motahhari Square

Extremely small rooms with concrete floor.

phone: +98 21 88832266

Kashan's unique "Puppet Museum Hostel" is a charming accommodation, a unique site of cultural preservation and also an academic passion project. In addition to being a museum, it's the former house of Qajar-era poet and cleric Jafar Allameh Feizi, who was the descendant of the famous mystic Faiz Kashani. The hostel consists of seven, traditionally-decorated rooms all leading into a lovely courtyard.
Mid-range
phone: +98 31 5544 6833 or +98 31 5546 4600

address: near Kamal-ol-Molk Square

It's Kashan's first traditional house that was converted into a hotel, with a beautiful courtyard and free Wifi and breakfast. They have traditional rooms where you sleep on the floor, and rooms with bed. It is highly recommended to get a traditional room. Also ask one of the friendly staff to order traditional Iranian food (100,000-150,000 rial without rice). Be sure to book at least a day in advance as this place is very popular!

phone: +98 31-5521-2617

address: No 49, 7th Emarat Alley, Sabet Alley, Mohtasham Street

Traditional (or boutique) hotel with very nice and atmospheric interior located very close to the Bazaar. The inner courtyard with a water basin invites for relaxation in the afternoon. This house was renovated in a long process, pictures from the works are on display in the corridor. It is owned by an Iranian-Swiss lady who supposedly invested US$2 million into the hotel, and who ensures a European level of quality. It is popular and often booked out, reserve ahead.

Amir Kabir Hotel

phone: +98 31 5530 4090
Splurge
Mahinestan Raheb Traditional Hotel

phone: +98 31 5545 2417

Traditional house remodelled to be a premium hotel.

phone: +98 31 55240963

address: No 8, Fifth Bastan Alley (Kooshk-e-safi), Alavi St., Fazel Naraqi Ave., Kamal-ul-molk Sq.

Boutique hotel.
Go next
Kashan is located on the
Tehran
-
Qom
-
Natanz
-
Isfahan
route. Thus, Tehran and Isfahan are the two logical next stops of most visitors.
Kashan can be your last stop in Iran before flying home. It is possible to bargain with taxi drivers for a trip to Imam Khomeini airport of Tehran, expect to pay less than 1 million rials (in January 2016). Alternatively, driver-guides can take you to the airport with a stopover in Qom to visit Iran's second holiest place, the Shrine of Fatima-al-Massumeh. If you choose this option, be sure to dress as conservatively as you can.
Na'in is another desert city, to the south. It's a small and quiet town at the edge of desert. A perfect pattern of a desert town. Everything you like to see in a desert town you can find there. Take the buses to Yazd or Kerman or Zahedan and ask the driver to let you off in Na'in. There is an easier way; be on "Avarezi" check point to get the Tehran-Na'in buses which cross there at 13:00 and 20:00.