Kashgar
Kashgar
(喀什;
Kāshí
; Uyghur: قەشقەر) is in the extreme west of
China
and the southwest extreme of
Xinjiang
. The city has been an important trading centre since the days of the
Silk Road
, and still is today; it is said to have the largest bazaar in Asia.
The local population is a colourful mixture of Uyghurs, Han Chinese, Kyrgyz, Tajiks and Uzbeks, with ethnic Uyghurs forming the majority.
Understand
The Silk Road route from Eastern and Central China branches after
Dunhuang
; one route runs along the north edge of the Taklamakan Desert, the other along the south. Kashgar is where the two branches meet again in the western part of the desert. From there, the main route continues west into toward the
Ferghana Valley
and
Samarkand
.
Another former caravan trail has now become the
Karakorum Highway
leading south into
Pakistan
; Kashgar is its northern terminus.
Historically, Kashgar has often been the capital of an independent kingdom —
Marco Polo
mentions one that existed before the Mongol conquest; the most recent was under Yakub Beg (originally from
Kokand
) in the late 19th century — and at other times part of various empires including Mongol, Persian and Chinese. It has usually been under Chinese control since the Qing took it in 1759, though there have been several revolts; the last ended in 1934. Today it is China's westernmost city.
Get in
Travelling in this area has several options, with a direct relationship between how much you are willing to pay and how fast you want to get to your destination. Trains are the slowest and only leave a few times a day, but are also almost always the cheapest option.
By plane
A taxi to the city should cost about 30-100 yuan by meter. Shuttle buses leaving from the International Hotel at People's Square are available for 10元 per person. The airport has its own shuttle bus that goes from the airport into any location in town (just tell the driver where you are going) for 15元. There is also a public bus that goes to/from the airport to most locations in town, the line 2, for 2元. To get to the public bus, you must walk straight out of the front entrance of the airport, past the airport gates and turn left. The line 2 buses wait at the side of the street, about 20 metres to the left.
By train
Kashgar Railway Station (喀什火车站;
Kāshí Huǒchēzhàn
) is the main railway station in the city. It is on Renmin East Road (人民东路;
Rénmíndōnglù
). Although it is east of the town centre, the distance is too far for walking. Bus 28 connects the city including Renmin Square (人民广场;
Rénmín Guángchǎng
), to the railway station. From the railway station, walk out and turn right and you will probably see a bus waiting there already. The fare is ¥1 and is paid onboard. If you do not know where you are going, get on bus 28, get off at Renmin Square and figure things out from there; the city centre is walkable and at Xinhua Bookstore (新华书店;
Xīnhuá Shūdiàn
), next to the main square, you will be able to purchase the best maps of Kashgar for about ¥5-8 (although these maps are only in Chinese).
From the railway station, Qinibagh and Seman Hotels can be reached a couple of stops after Renmin Square on bus 28 and then walking uphill for about 5 minutes; the people on the bus can probably help you and most people on the street know where these places are.
Kashgar is at the end of the Urumqi-Kashgar line. Destinations of interest include:
Kashgar–
Hotan
Railway has been completed and is now also open. Stops include but are not limited to:
By bus
International Bus Station is at 5 Jicheng Road
Korla- takes about 16 hours
Kuqa- takes about 11 hours
Urumqi- takes about 24 hours
Sost, Pakistan- daily buses, which includes an overnight stay at Tashkurgan required at own expense. In Sost, there are connections from Gilgit.
Hotan- takes about 10 hours . If you take the night bus, it takes about seven hours, letting you out in front of Hotan's Jiaotong Bingguan (Traffic Hotel) at 3:30am.
Tashkurgan- takes about 8 hours
Yecheng- takes about 4 hours
Ili- takes about 26 hours
To Osh: Two weekly direct sleeper buses (Mon and Fri) leave at 10:00 (Beijing time), and the trip takes about 18 hours. The trip is pricey at ¥550 and the buses depart from Kashgar International Bus Station (north of town on the road to the airport).
It is less expensive, and maybe even faster, to get to
Osh
, or at least to
Sary Tash
in Kyrgyzstan using a combination of service taxis and trucks.
At Kashgar's International Bus Station, get a taxi around 08:30 (Beijing time) for the 2 hour journey to the immigration point near Wuqia (they'll want 300Y but you can bargain down to 150Y).
If you want to take a shared taxi to Wuqia (25Y), go earlier to make sure you're at the immigration checkpoint when it opens at 11:00. From Wuqia, stick to the main road and flag down passing vehicles westwards or get another taxi for the five-minute journey to the immigration checkpoint.
There, immigration officers will even help you to get on a truck or into a car - they all go at least to Sary Tash. Trucks might require a small payment, or at least prepare some cigarettes to give to the driver.
If you're lucky to get a seat in a car, you may be in Sary Tash before 17:00. From there, it's only 3 hours to
Osh
(2000-2500 Som for a private taxi).
There is no special permit (other than a Kyrgyz visa) required for this border.
Bishkek, Kyrgyzstan- You will need a special permit if you're a foreigner. Most foreigners use the services of a travel agency. There is a direct bus, which takes about 16 hours including overnight stay (you must have PSB permit and valid visa for Kyrgyzstan).
By car
The
Karakoram Highway
runs from
Pakistan
into China. Kashgar is the nearest major town on the Chinese end.
Get around
Most of Kashgar including the bus station, bazaar, main square, downtown (with the notable exception of the animal market) can be reached on foot within 15-20 minutes of each other if you are not carrying huge amounts of baggage. The railway station is too far to walk but is reachable with public bus 28 which, among other places, stops at Renmin Square (人民广场; Rénmín Guángchǎng), the main square. The international bus station is near the city and walkable.
The old town and narrow alleyways are pretty much only explorable on foot.
Cross streets carefully in Kashgar as no pedestrian crossings are available.
Cycling is an option but the traffic is somewhat dangerous, so only do this if you are experienced with this kind of traffic environment. Bicycles can be rented at major hotels such as Qinibagh for typically less than ¥30/day.

See
Mor Buddhist PagodaBuilt in 7th century during the Tang dynastyת and destroyed in the 12th century. Nowadays only one pagoda is left, next to the pagoda is a platform. The pagoda is the place where the monks in the city to come and do their worship. The Mor pagoda has three square layers, each a little smaller than the one below it. The bottom layer has circumferences of more than forty-eight meters, the second layer forty meters and the third layer thirty-two meters, while the pagoda stands more than twelve meters high. The platform beside the pagoda was one of the central temple structures, and in its side walls were carved niches housing Buddha figurines. But now there aren't any figures left, and even the niches themselves are barely visible.
Bazaars
Mal BazaarThe livestock market, where locals from all the surrounding villages come to town to buy and sell animals. It's held on an open and fenced ground. It's popular with tourists, yet is so big it still feels like (in fact it is) a working bazaar. It changed its location some three years ago; now it's a good 30 minute bus ride north of the city (bus 23, get off with everyone else - you'll know when) or a (RMB 15-20) metered taxi ride for around 15 minutes.

Yengi BazaarThe handicrafts, cloths, carpets and anything-else-you-can-expect market. Less crowded on weekdays. Bargain hard!
Old Town
Old TownThe warren-like old town is worth visiting for its winding streets, friendly if occasionally guarded residents and delightfully improvised architecture.
Other sights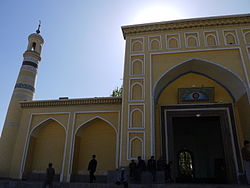 Id Kah MosqueFirst built in 1442, it is distinctive for its yellow walls and Central Asian architecture. Women are generally not allowed inside, but modestly dressed foreigners should have no problem. You should remove your shoes before entering the carpeted area.

Tomb of Apak HojaA massive, elegant building created in 1640 in typical Islamic style. Also a pilgrimage site. This is also the resting place of the "Fragrant Concubine", although the historial mentions of her rebellion against the Chinese imperial army are delicately omitted in the tomb's accompanying introduction.

Tomb of Yusup Khass HajipThe tomb of Kashgar's much loved philosopher and poet who wrote the 13,290-line poem The Wisdom of Happiness and Pleasure in the Uighur language.

Tomb of Mahmud KashgariThe tomb of an Uyghur scribe, famous for compiling a dictionary of the Turkic languages in the 11th century. This picturesque complex is situated on a hillside and includes a mosque and a sacred spring. Upal has a lively bazaar.

Davakul LakeDavakul Lake is 130 km from Kashgar, on the southeast tip of Taklimakan Desert. Davakul means "curing lake" in Uyghur language. It is one of the nearest places to Kashgar to do one or more days camel trekking in the Taklamakan Desert.
Do
Silk Road Expedition tour company

address: R 41301, Yudou Mension, 43 South Jiefang Road

Offers several types of tours in the area, including mountain treks. two day

Kashgar Guide tour company's Shipton's Arch Trekking

address: 407 Wusitang Boyi Rd

This is a one-day trek done in steeply walled canyons and over Rocky River bed terrain. The arch is 500 metres high and 100 metres wide, and is a little known wonder of the world
Buy
The price of everything is negotiable in Kashgar, adding to excitement of shopping. Be polite in
bargaining
, but be mindful that merchants will overcharge you as a foreigner especially if you do not speak Uyghur or Chinese; so bargain hard. Price differences between locals and foreigners can easily amount to several hundred yuan so be careful. Local specialties include
kilims
(carpets), and colourful Central Asian hats(doppa, kalpak).
Eat
There are plenty of good local restaurants and street food.
Food stallsFor a variety of snacks and dishes, try the food stalls opposite the Id Kah mosque. The stalls start operating during the evening.

Sunday MarketThe Sunday market also has good things to eat.
It may be wise to avoid anything with ice as the ice in Kashgar is usually carried in large blocks and frequently placed on the ground so they may not be clean, but there are places around Id Kah where the ice is clean and safe, and well-known all around Xinjiang. During the summer months there are huge heaps of melons and watermelons - cheap, tasty and refreshing. The going price for a hami melon (哈密瓜;
hāmìguā
) is around ¥1 per kilogramme, so in total, it costs ¥2-5 per melon depending on the size. Buying, washing and cutting it yourself is probably the most hygienic way to eat these fabulous tasty fruits. It would be wise to have the melon seller to cut the melon for you, as it will be hard to find a knife.
Altun Orda Restaurant is the local restaurant with reasonable prices. It is not only good place to taste some local dishes but also to see the local architecture of Uighur people. Try the specialty pollo or rice pilaf with raisins. Tel: +86 (998) 2583555

phone: +86 998 3422888

address: 87 Seman Road

Western style. Quality food, hot drinks and service that speak English, this may be an oasis in the middle of hectic Asia. Prices are a little pricey but if you can afford it, it is worth it.

K2 Rooftop Cafe

phone: +86 998 2823376

address: Rd Nuo'er Beixi

Western style. Fine coffee& pizza, iced drinks, dessert and waiter that speaks good English, the terrace that covered with plants has great view of the mosque and the old town. The cafe is within the Kashgar Pamir Hostel.

Shawarma

address: 110 Seman Road

Owned and run by a native Pakistani, this is the place to get home-made Pakistani food in Kashgar. Serving mostly daily specials, such as a spicy ground beef platter or curried chicken, the taste of the food is impressive. Ask politely in advance to have delicious falafel or houmous made to order.

Yasin Kariagim Silk Road Uighur Restaurant

phone: +86 2820008

address: 库木代尔瓦扎路 Kumudaierwazha Road

Popular among the locals, this place serves very fresh meat. In fact, sometimes they have no more meat to offer because they've sold out. Buy a nan bread fresh out of the oven from one of the many local bakers on the side of the road and bring it with you. Get lamb skewers and liver skewers and enjoy it with your nan bread.
Drink
There are not as many places serving alcohol in Kashgar as in other areas of China.
John's CafeOffers backpacker hospitality at 1.7 times the price of other locations, and is very popular among single travellers. Managed by Jack who speaks fluent English. Seems to be closed in the off-season

phone: +86 998 2828207

address: Jie Fang Bei Lu

A little oasis for those looking for home style western food or a cup of coffee. Foreign-owned Gallery Cafe opened in October 2009. The place also acts as a showcase for local artists' oil paintings and a tourist information center.
Sleep
Budget
phone: +86-998-2823262

address: NO.233 in Wusitangboyi road

A hostel centrally based with dorm beds and shared bathrooms. Beds were previously very hard, but in spring 2012, the hostel purchased new mattresses that are much more comfortable. Enclosed with a central courtyard with eastern styled areas. Seems to be very popular so a booking is suggested. Community Breakfast (10Y), lunch and dinner (20Y) is offered, as well as a kitchen area. April 2016: There are also doubles for 108Y (non-attached bathrom) or 140Y (own bathroom)

Qiniwak Hotel

phone: +86 998 2981158

address: 144 Seman Road (色满路144号; Sèmǎnlù)

Offers dorm style bedrooms in the adjacent building. More expensive doubles have free internet. Business centre, currency exchange, gift shop, ticket office, karaoke, massage and sauna available. Chinese and Western Restaurants as well as coffee shop and bar.
Mid-range
Kashgar Guest House

phone: +86 998 2612360

address: Tawaguzi Road

Chini Bagh Hotel

phone: +86 998 2822103

address: 337 Seman Road

Seman Hotel

phone: +86 998 2582150

address: 337 Seman Road

In an old Russian consulate building, the rooms are oddly-shaped with simple bathrooms, common areas have high ceilings and military-themed oil paintings, 300 rooms.

Hotel Eden

phone: +8613899132103

The hotel is right on the edge of the old town. Double Rooms are ¥238 per night incl. breakfast.Fantastic yogurt on the ground floor restaurant although served at room temperature. The ground floor restaurant of this hotel is one of the "happening" scenes of Kasghar among locals and is usually packed with affluent local Uyghurs.

phone: +86 09982653333

address: no 37 North Liberation Road

A four-star Uigher-run hotel just south of the central mosque. Reasonable price most easily obtained by calling them.
Splurge
Kashi Tianyuan International Hotel

phone: +86 998 2801111

address: 8 Renmin East Road (人民东路8号; Rénmíndōnglù)

Four star hotel with large rooms with free internet and mini bar. Business center, gift shop, ticket office, karaoke, spa, massage and sauna available. Chinese restaurant coffee shop and room service. The restaurant is not good, but the 24 hour spa, massage and sauna are excellent.
Go next
Karakul Lake - Scenic alpine lake, located on the road to Tashkorgan and Pakistan. A mini bus departs at 11:30 (Beijing time) from the main bus station, costs 35Y & takes 4 hours. However, a permit is required for all non-PRC citizens. This can be very difficult to arrange on your own, but all travel agencies in Kashgar are familiar with the process. Before arranging your own transportation to Karakul Lake (or any location on the Karakoram Highway), make sure you have a permit, as there are checkpoints along the highway. No one without a permit can go past the checkpoints, which are real military checkpoints, complete with armed soldiers. One must show one's permit and passport at the checkpoints. A couple hours past the lake is the tranquil Tajik city of Tashkurgan, which provides beautiful mountain vistas near the border of Tajikistan. Spend the night there before heading back down the Karakoran Highway and enjoy the quiet town and its peaceful pastures.
Kashgar is also near the border with Kyrgyzstan, which can be accessed via the Irkeshtam and Torugart passes.
Khunjerab Pass is along the Karakoram Highway, allowing access to India and Pakistan.