Kashihara
Kashihara
() is a city in located in the north-western part of
Nara prefecture
.
Get in
Kashihara city's two main train stations are Yamato-Yagi (大和八木) to the north, and Kashiharajingu-mae (橿原神宮前) to the south. Both are served by Kintetsu.
Yamato-Yagi:
This is a major train station for Kintetsu, as it is where the Osaka and Kashihara lines intersect. From
Kyoto
, there are two limited express trains per hour, one of which reaches Kashiharajingu-mae (see below). The Limited Express runs to Yamato Yagi in 45-50 minutes. Slower express trains also leave twice per hour, reaching Yamato-Yagi in about an hour. The fare is ¥860, plus &;870 if on the limited express.
Most trains from
Osaka
leave from Uehonmachi station. Express services leave three times per hour, reaching Yamato-Yagi in 35 minutes (¥540).
Kintetsu limited express trains also operate from
Nagoya
. Services run hourly (half-hourly during the evening) from Kintetsu Nagoya, running to Yamato-Yagi in approximately 1 hour and 45 minutes. The cost of this trip is ¥3520. This is the best way from Nagoya, as taking a bullet train to Kyoto and then taking a Kintetsu train from there would take the same amount of time, but would cost double.
Kashiharajingu-mae:
Hourly limited express runs operate from Kyoto Station, reaching Kashihara in 50 minutes. Slower express trains run more frequently and make the run in about 75 minutes. There are usually two direct trains to Kashihara, or else change at Yamato-Saidaiji station. The fare is ¥860, plus an additional ¥870 if travelling on the limited express.
Trains from Osaka leave from Kintetsu Abenobashi station. Express trains depart twice an hour towards Yoshino, running to Kashihara in 40 minutes at a cost of ¥610. Limited express services to Kashihara take 35 minutes and require an additional ¥500 surcharge.
See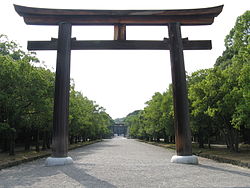 Ancient Site of Fujiwara PalaceFujiwarakyo (藤原京), the first palace in Japan to be modeled after Chinese style was built on the land covering this city in 694 AD. Fujiwarakyo was the capital of Japan until the palace was moved to Heijōkyo (contemporary Nara) in 710 AD.

Kashihara Shrine

Imai Town

The Museum, Archaeological Institute of Kashihara

phone: +81 744 24 1185

address: 50-2 Unebi-chō, Kashihara-shi

An interesting museum about old Japanese history.
Do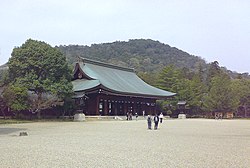 Unebi YamaThis hill is an easy 20 minutes hike. Nice view of the surrounding area from the top.
Go next