Katori
Katori
(香取市) is a city in
Chiba
,
Japan
. In 2006 the city of Sawara (佐原) and the towns of Omigawa (小見川), Yamada (山田) and Kurimoto (栗源) merged to form the city of Katori.
Get in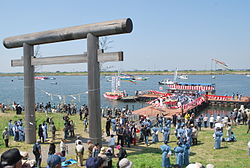 Plane - Narita Airport is quite near.
Train - Sawara station is on the Narita Line line, about 30 or 40 minutes from Narita City, heading away from Tokyo. Omigawa station is a little farther away. Roughly 1 train an hour travels between Narita and Sawara station.
Bus - Numerous buses travel to all of the former towns that make up Katori. There are direct buses between Tokyo (departing from near Tokyo station) and Sawara and Omigawa. The Sawara to Tokyo Bus stop is behind Sawara station (take the walkway over the tracks, it's at the edge of the parking lot). Travel time to Tokyo is about 2.5 hours and costs 3000 or 4000 yen.
There is a once daily bus from JR Akihabara (Tokyo) station to JR Sawara station , costing 3500 yen. Sawara to Akihabara bus departs at 3:40 PM and arrives at 5:45 PM. There are also several buses a day between Sawara station and Katori Jingu.
Car - Routes 51 and 356 pass through Katori and the highway has an interchange point in the city.
Get around
Katori is not set up like a normal city that starts at a single spot and spreads out. It is several population spots that merged their local governments, so all of the parts are spread out. The only easy way to travel between all the parts is to drive. You can get around each part easily by bike. A bike rental shop is a two-minute walk from the train station.

See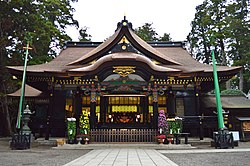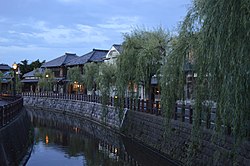 phone: +81-478-57-3211

Long considered an important shrine by the Imperial household, the present main shrine and tower gate were built in 1700 by orders from the fifth Tokugawa Shogunate. It houses the god of war/peace (depending on whether or not Japan is at war or peace). The shrine is surrounded by an impressive forest with huge trees, some of which have been given particular names.

Historical StreetAn area along Onogawa River in Sawara with merchant houses and tradesmen's houses from Edo and Meiji eras. It has been selected by the National Government as an important traditional building group preservation district and has been used as a backdrop for several TV shows.

Ino Tadataka MuseumLocated on the historical street. Ino Tadataka is famous for creating the first scientific, highly accurate maps of Japan.

Suigo Sawara Aquatic Botanical GardenAround 1.5 million irises of 400 different breeds bloom in late May to early June. There are also many other plants such as lotuses and water lilies. It is open daily except on Monday.

Suigo Sawara Dashi KaikanSawara's summer and autumn festivals have been designated as an important intangible folk-cultural properties. This museum displays two floats used in those festivals.
Do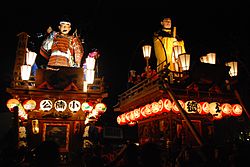 Sawara MatsuriActually, there are 2 three day long festivals each year. The summer festival is on a consecutive Friday, Saturday, and Sunday between July 9 and 18. The fall festival is on a consecutive Friday, Saturday, and Sunday, on the week of the second Saturday of October. During the festival around a dozen dashi (floats) are pulled and pushed around Sawara buy dozens of people. Inside each dashi are several men playing musical instruments. On top of each dashi is 1 or 2 boys with special sticks to push up the phone and electrical lines. The festivals are the highlight of the year in Sawara.
Drink
There are 2 sake factories near the historial road area with free tours and free samples.

Sleep
There are 2 business hotels in Sawara.

Connect
Katori City Commerce and Tourism Section

phone: +81 478-50-1212

English is spoken.
Suigo Sawara Tourist Association

phone: +81 478-52-6675