Kaub
Kaub
is a town in the
Middle Rhine Valley
, in the state
Rhineland-Palatinate
.
Understand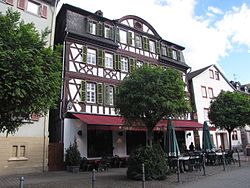 Get in
See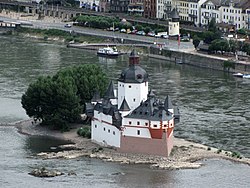 Pfalzgrafenstein CastleToll station on the Rhine island built in 1327.

BlücherdenkmalOn New Year's Night in 1813/1814 the Prussian General Blücher and his 60,000 soldiers with 20,000 horses crossed the Rhine with the aid of the pilots from Kaub and a pontoon bridge, to drive Napoleon out of Germany.

Burg Gutenfels13th-century castle above the town. Visitors can walk round the exterior, but is in private hands.
Do
Eat
Beim Alten Zollhaus

phone: +49 6774918700

address: Zollstraße 14

phone: +49 6774 1711

address: Rheinuferstraße 1

Very popular with bikers
Sleep
phone: +49 6774 9181890

address: Zollstraße 46

phone: +49 6774 92200

address: Zollstraße 50