Kavieng
Kavieng
is the capital city of the
New Ireland
province of
Papua New Guinea
.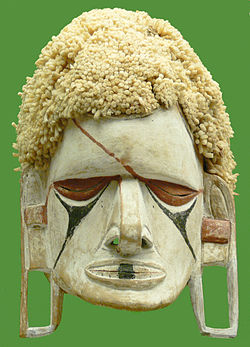 Understand
Kavieng is located on the northern tip of the New Ireland. With only one or two flights arriving every day, it is not a major tourist destination. However, with excellent diving, sailing, fishing and surfing it can offer a rewarding visit for those with the time, and money, to seek it out. Visible from Kavieng are the many islands lying between New Ireland and New Hanover.
On January 21, 1942, Kavieng was bombed by Japanese forces. The Japanese invaded and occupied the island. By the time the Allies retook the island in 1945, Kavieng had been almost completely destroyed. Today Kavieng is New Ireland's export port for copra and other products and is home to a thriving tourism industry.
As a result of the Japanese occupation and subsequent Allied invasion there are several relics from WWII in the town.

Get in
Get around
The town of Kavieng is small and can be safely visited on foot. Even the airport is only one mile from the center.

Do
Surfing. The northern end of mainland New Ireland around Kavieng is a popular surfing area, with North Pacific Ocean swells between November and April. PNG surf tourism promoters have entered into partnership with local land and reef owners to develop "surf management plans." These provide resource owners with income from the surfers and limit the number of surfers at one time.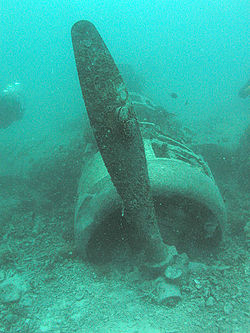 Diving. Most of the islands between Kavieng and New Hanover to the north are fringed with reefs. Numerous currents bring in nutrients for the sea life. Several dive companies operate from the town, and organize dives both to natural sites and wrecks dating from World War II. Dive organizers include:
Fishing. The seas around Kavieng have an abundance of fish of many species (see New Ireland article). Companies providing fish charters include:
Sports Fishing New Ireland. Operate the 42-foot MV Maikara for 4-5 day fishing cruises or day trips from Kavieng.
Play golf. Rounds can be played on a nine-hole course at the Kavieng Club.
Buy
Carvings. New Ireland is home of some unique carvings from the Malagan culture. These are to be found in collections and museums all over the world but these days only a few skilled carvers remain.
Sleep
Budget
Noah's Ark Transit House

phone: +675 9841267

address: Ligga Village

Basic accommodation overlooking the sea for backpackers and groups.

Rawal Tropical Guesthouse

phone: +675 984 1097

address: P.O. Box 125

Attractive new construction in the center of town.

The Peter Torot Conference Centre

phone: +675 9842682

address: Tabar Terrace, PO Box 49

Owned by the diocese of Kavieng. Dormitory and private accommodation.
Mid-range
Kalaro Guest Haus

phone: +675 984 2546

address: Enuk Street, PO Box 539

Four air-conditioned rooms in the center of town.

Kavieng Club

phone: +675 9842224

address: Coronation Drive, PO 62

Next to the golf course, this offers a range of accommodation types.

Kavieng Guest House

phone: +675 984 1165

address: Emirau St, PO Box 691

Seven rooms between the airport and town.
Splurge
Kavieng HotelThe town's main hotel, for visiting business people and tourists.

phone: +675-7234 5834

address: P.O.Box 536

On a very small island, 20 minutes by boat from Kavieng, the resort offers attractive accommodation and diving.

phone: +675 984 2247

address: PO Box 305

On an island five minutes from Kavieng, this resort offers traditional-style bungalows, including some built over the sea.