Kayenta
Kayenta
is a small town near the northern border of Arizona and part of the Navajo Nation. The population was 5,189 at the 2010 census. Kayenta is 22 miles south of
Monument Valley
and contains a number of hotels and motels which service visitors to Monument Valley. Like other places within the
Navajo Nation
, it is illegal to serve alcohol. Arizona does not observe Daylight Saving Time, however the Navajo nation does.
Understand

Kayenta is located at an elevation of 5,700 feet, (1,738 m).

Get in
Kayenta is on U.S. 163, near the junction with U.S. 160. The only practical way to get to Kayenta is by driving a car, either along U.S. Route 160 or U.S. Route 163. There is an airstrip but it has no scheduled flights and is mainly used for medical evacuation flights.

Get around
The center of Kayenta is small enough to walk around. Take the usual precautions against summer heat or winter cold. There is no public transport. To go further afield, a car is required.

See
Navajo Code Talkers exhibitPictures, articles and military equipment tell the story of how the Navajo code talkers enabled the U.S. military to securely transmit information during World War II. The main museum is located behind the Burger King restaurant in a separate building while the restaurant has a few display cases of Japanese and US WWII artifacts.
Do
Every Wednesday the flea market comes to Kayenta, which will give visitors a glimpse into the local Navajo culture and always has a large selection of local foods including excellent fry bread for one or two dollars.

Buy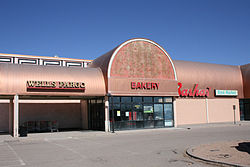 A Bashas' grocery store is located in Kayenta. Kayenta also has a True Value, a Video Plus movie rental store, as well as Navajo art shops.
Eat
Kayenta is the home of several sit down and fast food restaurants, most of which are located at the junction between the 160 and the 163. In terms of fast food, Kayenta has a Burger King, Sonic Drive-In, Subway restaurant, and McDonald's. For casual dining there is the Golden Rice Bowl Chinese restaurant, Pizza Edge, and Shepherd's Eye Coffee. Amigo Cafe serves several typical Navajo dishes such as a large "Navajo taco" (frybread with taco-style toppings).
It is probably better to go on to
Monument Valley
or
Mexican Hat
to eat, or get a picnic at Basha's grocery. Near the Bashas' there is pizza available, as well as McDonald's and Burger King.
Navajo Taco Stand near code talker Burger King

address: Highway 160, Navajo Nation
Sleep
phone: +1 928-697-3221

Has restaurant, souvenir shop, wireless internet.

phone: +1 928-697-3170

address: Highway 160

One of the few hotels in Kayenta, offers a full-service restaurant.

phone: +1 928-697-3231

address: 1000 Main Street

Comfortable motel-style accommodation with an indoor pool, souvenir shop, and free fast wireless Internet. Basic breakfast is provided but there is no on-site restaurant. The hotel is on a quieter road than the main US160 route through the area.
Go next
The nearest places with significant population (Mexican water, Mexican Hat, Shonto) are each about 40 miles away along either U.S. Route 160 or U.S. Route 163.
Monument Valley
is 22 miles away along U.S. Route 163.
Navajo National Monument
is 30 miles away.