Kayseri
Kayseri
is a city in the
Turkish
region of
Central Anatolia
.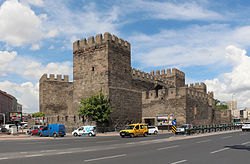 Understand
Kayseri is an old and large city with a strong economy. It carries lots of monuments from the days of Seljuks and Ottomans, and is also the home town of the most accomplished architect
Mimar Sinan
. Population has been steadily increasing and nowadays is around 950,000 in the urban center.
Kayseri was also on the Silk Route and Karatay and Sultanhanı posts on this route reside in Bünyan town's borders. Bünyan is also famous for its carpets which makes Kayseri a popular purchase-stop for tourists visiting
Cappadocia
.
Get in
By plane
phone: +90 352 337 5494

address: Boztepe Mah.Mustafa Kemal Paşa Blv No:338, Yenimahalle/Kayseri

Taxi to the bus station takes 20 minutes, 27 TL. Taxi for Cappadocia 120 TL. There is a good board outside the airport listing taxi prices to various destinations.
Turkish Airlines
,
AtlasJet
and
Pegasus Airlines
have daily flights from
Istanbul
to Kayseri.
Sun Express
airlines has daily flights from
Izmir
and from
Antalya
to Kayseri.
Beside the domestic flights there are also direct international flights to
Düsseldorf
,
Stuttgart
,
Vienna
by Pegasus, Onur and Oger respectively.
By train
Direct trains run daily from
Ankara
to Kayseri, taking 7 hours. There are couchettes and a sleeping car; some trains have a buffet. Depending on the day of the week, these trains continue east to
Sivas
, then:
via Malatya to Diyarbakir and Kurtalan (the Guney Kurtalan Express);
For details see the
Turkish railways website
.
A high-speed line is under construction from Ankara eastwards, and may reach Kayseri and Sivas by 2020.
By car
Getting to Kayseri from other major cities is quite comfortable. The new 2x2-lanes roads make car travel much safer.
Ankara
to Kayseri takes 4 hours,
Konya
to Kayseri takes 5 hours.
By bus
Bus stationThe station has an Internet café (0.50 TL for 30 minutes), left-luggage storage, restaurants, grocery shops, hairdresser, etc. To go to the train station, take bus #140 until the very center of the city (citadel), then take Atatürk boulevard towards North until the train station (about 1km).
Kent Seyahat
is a Kayseri based bus company.
Destinations
Göreme: frequent buses, about 15TL
See
Hunat Hatun Camii is the most famous mosque in the city that dates back to Seljuks. Seljuks have also left a number of schools (medrese), tombs (kumbet), and hospitals in the city.
Mount Erciyes is the 3rd highest mountain (3916 m) in Turkey and a popular domestic skiing location. Nowadays, foreign tourists have also started to visit the location. Erciyes Ski Center is 25 km from the city center.

St. Gregory the Illuminator Armenian ChurchThe foundation of this Armenian Church was laid in 1191. Worth getting inside to see the interior - ring the bell for entry.

Kayseri Archaeology Museum

Kayseri Ethnographic Museum
Buy
Handwoven carpets are the major touristic merchandise in Kayseri, but they can be quite expensive as some of them are silk.
Kayseri is famous all throughout Turkey for its Pastirma. This is seasoned beef which has been air dried.
Eat
Kayseri Mantısı is the most famous dish Kayseri is known for. It's made from minced meat, wrapped in tiny bits of dough and boiled. It's served with a special sauce and yogurt. It's pretty difficult to find a restaurant to eat it as locals always eat this at home and they are prepared much better. However, Kaşık-la has now established a well deserved name in the city also for locals and if you can't get a local to invite you home, is definitely worth trying.
Pastırma is Kayseri's another well-known product. It's dried, salted beef covered with çemen, prepared by a special process. Pastırma is served both as a spicy starter or used in dishes (e.g. in pastırmalı kuru fasulye) or böreks. Kayseri is the major source of production in Turkey. If cannot afford the restaurants, try buying 100 grams from a large supermarket or from old shops in the old shopping district behind the castle (Kale).
İskender is a kebap variant, named after its inventor (Turkish variant of "Alexander"). Its meat is prepared similar to that of döner, but is served in dish, and with a butter sauce on the top. Although others come quite close, a local restaurant called İskender is the best place to eat this, and is located on the opposite side of Hunat Hatun Camii.
Drink
Gilaburu juice is a traditional drink from Middle Anatolia. Gilaburu (viburnum opulus) is a tiny, red fruit. It has lots of benefits to human body. You can drink Gilaburu juice in Elmacıoğlu İskender (one of the biggest restaurant in the city).
Bolulu Hasan Usta

address: Istasyon Caddesi

Café serving usual tea and Turkish coffee, and many pastries. Free Wi-Fi, power supply for computers/smartphones, and perfectly clean toilets. Friendly staff (though non English-speaking).
Sleep
Budget
Mid-range
Hotel Bent is a centrally located 3-star hotel. A double room is 160 TL (April 2011) and offers a clean room with Wi-Fi, TV, minibar, etc. Single room €33 per night (July 2011)
Splurge
Connect

Many cafés offer free Wi-Fi.