Kazanlak
Kazanlak
(
Bulgarian
: Казанлък, also transliterated as
Kazanluk
) is a city of about 80,000 people in
Northern Thrace
, close to the Balkan mountain range and Shipka Pass.
Understand
Kazanlak lies in the centre of Rose Valley, a major agricultural area with rose fields, product of which is then extracted to produce rose oil.

See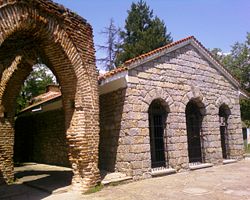 Valley of the Thracian Kings
Thracian tomb of Kazanlak (Казанлъшка гробница) near the city is an ancient Thracian tomb dating back to 4th century BOT and is a World Heritage site. Inside the tomb is a narrow corridor opening to a round burial chamber, both of which are decorated with murals depicting a ritual funeral feast.
The views that can be seen from both the Memorial Church and the Monument on Stoletov Peak, are amazing, unforgettable and a pleasure to the eye.
Do
Watch the famous Bulgarian rose oil being produced. It is best to visit in May or June, as that's the oil rose harvesting season.

Rose FestivalEvery year, at the beginning of June, Kazanlak has a Rose Festival.
Stay safe
There is a large Roma community in the eastern part of the city, in which travellers may feel uncomfortable and non-locals may be unwelcome—it's best to avoid there altogether.

Go next
The village of Shipka to the north, which has an impressive Russian style cathedral built in memory of the Russian soldiers who fell in the Battle of Shipka Pass.
The town of Gabrovo to the north, across the Balkan Mountains, which has historic sites, a humor museum and impressive shopping and dining opportunities.
Nature Park Bulgarka, on the north side of the Balkans across from Kazanluk, provides many out door activities opportunities for people who enjoy nature and hiking.