Kebnekaise and Nikkaluokta
Kebnekaise
(North Sámi:
Giebmegáisi
) is the tallest mountain in
Sweden
, at 2,093 metres (6,975 feet) above sea level. It is in
Kiruna Municipality
in
Norrbotten County
.
Nikkaluokta
(North Sámi:
Nihkkáluokta
) is the only settlement in the Kebnekaise massif, at the border of the
Gällivare
and Kiruna municipalities. It is the end of the public road network, and the starting point for most expeditions to Kebnekaise.
Understand
Much of the region surrounding Kebnekaise is some kind of protected wilderness, with popular hiking and cross-country skiing destinations and several hiking trails. Kebnekaise is the highest mountain in a larger mountainous area between Nikkaluokta and
Abisko
(Šielmmačohkka 2004 m, Godučohkka 1997, Ádjni 1755, Nissončorru 1738). To the south-west is the
Laponia
national park complex and to the north-east several large protected fell forest areas.
The name Kebnekaise is formed from Lule Sámi
giebnne
(cauldron) and
gájsse
(high and pointy peak). It was originally the name of the nearby Tolpagorni, worthy of the name, but seemingly there was confusion with the cartographers about which mountain was meant.
Kebnekaise has three major peaks. The southern one,
Sydtoppen
, is the highest, consisting of a glacier sitting on a rocky plateau. The middle one,
Nordtoppen
, is marginally lower, and the northern one,
Kebnepakte
, the lowest. There are many glaciers in the area.
The southern peak can be reached by
mountaineers
by more or less ordinary hiking and some scrambling on the "western route". Guided tours will usually take the shorter "eastern route" over a glacier and with some climbing. The third commonly used route, "Durling's route", joins the western route from
Kungsleden
and is less exposed. Nordtoppen is significantly more difficult to reach, and requires mountaineering skills and equipment for safety.
Although hiking on Kebnekaise is relatively easy in normal circumstances in season, the dangers should not be underestimated. Depending on temperature and snow quality, crampons may or may not be needed to ascend the summit glacier. Slipping on the glacier can easily be fatal (a 300 m drop on the eastern side), and harsh weather can provoke other fatal mistakes. This is the highest mountain in Europe this far to the north. The Tarfala research station on the slopes has measured the strongest winds in Sweden: 81 m/s (182 mph; comparable to a category 5 hurricane, while 32 m/s is rare in most of the country).
History
Landscape
Flora and fauna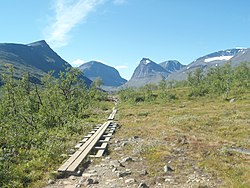 Climate
The area is about north of the Arctic Circle, with the treeline at some 600–800 m (2,000–2,700 feet).
Nikkaluokta is at 500 m, and is one of Sweden's coldest settlements, with daily average temperatures about in January and in July. As in any mountainous region winds can be strong and the weather can change quickly.
The normal climbing season is from late June to early September. There can be enough snow left in the beginning of this season to make hiking to the peak tedious.
There are marked skiing tracks along Kungsleden in the winter season. Skiing in the Kebnekaise massif itself is quite common in spring, but the risks for less experienced hikers are much bigger than in summer. Facilities are mostly closed in midwinter, but at least an emergency room should be open at every hut.
Get in
is 65 km from Kiruna, which is on the railway to
Stockholm
,
Luleå
and
Narvik
.
Abisko
is 50 km north of Kebnekaise and reachable by the Malmbanan railway and E10, which run more or less in parallel between Luleå and Narvik via Kiruna. There are night trains from Stockholm.
Kiruna
also has an airport with daily flights from Stockholm.
There are daily buses from Kiruna to Nikkaluokta, not in winter. Search on https://reseplanerare.resrobot.se
The
Kungsleden
trail from Abisko passes by the western edge of the Kebnekaise massif along the Tjäktjavagge (Čeakčavággi) valley. There are several trails to Nikkaluokta from different locations, and several trails combining with Kungsleden.
on the trail between Nikkaluokta and Kungsleden is a common starting point for expeditions to Kebnekaise. Guided tours start from here. The distance from Nikkaluokta to the Kebnekaise lodge is 19 km hiking.
Fees and permits
No permit or fee is needed for the Kebnekaise. Visitors who are not experienced mountaineers should however take a guided tour.
Authorities recommend that children be at least 10 years old, and accompanied by an adult, to climb the mountain.

Get around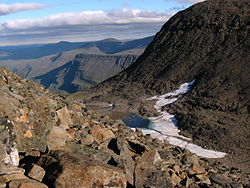 Moving by foot or by ski is the normal way to get around. There are many routes in the area, but only some of them are marked in the terrain. Kungsleden and the trail from Nikkaluokta to Kungsleden are marked for both winter and summer use, while the trail from Nikkaluokta northwards along Vistasvagge (Visttasvággi) at the north-east edge of the massif is a summer route. There are a few marked summer trails into the area: to the Kaskavagge day hut, to the Tarfala cabin and the "western route" from Kebnekaise fjällstation to the top of Kebnekaise. There are some more in the mountains north and east of Visttasvággi.
There are a few snowmobile routes: from Nikkaluokta to Kungsleden and onward to Sitasjaure, southward to Sjaunja and Laponia, and northward to Rautasjaure. Snowmobiling in the Kebnekaise massif is forbidden.
See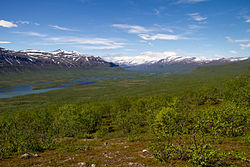 Nikkaluokta kapellThe only religious building in the area.
Do
Buy
Nikkaluokta has a shop with Sami craft and basic outdoor supplies.

Eat
There are meals available in Nikkaluokta and in Kebnekaise fjällstation. There are cooking facilities in most of the cabins and huts, and some have "shops" where you can buy tins etc. Some of the shops accept cash only. You should at least have enough snacks to wait out a storm in an emergency hut or your tent. A camping stove is useful for most visitors.
Drink
Water in the Swedish mountains is generally of good quality, but watch out for water from the glaciers, which has a lot of particles that your digestive system cannot handle. Also be careful where there are much people.
There is no nightlife to speak of. There is evening bar life in the lodges, but not so late.

Sleep
Lodging
In addition to Nikkaluotka fjällstation and Kebnekaise fjällstation, there are several cabins and huts in the area. Breakfast or other meals generally not available, food (tins etc.) for sale in cabins with shop.
ToppstuganDay and emergency hut, with "arms" to lead people right in low visibility conditions. No heating.

Tarfalastugan cabin by lake Darfáljávri in the upper end of the Tarfala valley (Darfálvággi). Emergency phone. There is a glacier research station 1 km to the south-east.

phone: +46 8 463-2270 (customer service - not the cabin)

Emergency phone. 26–50 beds. Often used as base for a climb along Durling's route.

phone: +46 8 463-2270 (customer service - not the cabin)

Arms and emergency phone. 51–75 beds. Sauna, shop.

phone: +46 8 463-2270 (customer service - not the cabin)

Emergency phone. 11–25 beds.

phone: +46 8 463-2270 (customer service - not the cabin)

Emergency phone. 76–100 beds, shop, sauna.

phone: +46 8 463-2270 (customer service - not the cabin)

Emergency phone. 26–50 beds, shop (cash only), sauna.
Kaskavaggestugan day hut
Unna Räitastugan day hut

phone: +46 8 463-2270 (customer service - not the cabin)

Arm and emergency phone. 11–25 beds.
Camping
There are camping areas by the manned cabins, with basic facilities.
Backcountry
Wild camping
is allowed.
Stay safe
Although not an especially demanding destination, Kebnekaise has many of the dangers associated with
mountaineering
: glaciers, steep slopes, quick changes in weather with possibly strong winds and low temperatures. An orienteering mistake in fog or snow can take you into severe danger. Those who cannot judge the risks or handle a deteriorating situation should not climb the mountain on their own.
Go next