Kecskemét
Kecskemét
is a town in central
Hungary
and the county seat of Bács-Kiskun county, half way between
Budapest
and
Szeged
, almost equal distance from the two big rivers of the country, Danube and Tisza. The city is well known for its secessionist architecture, museums, and for being the birthplace of composer Zoltan Kodály.
Understand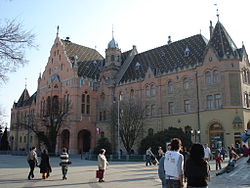 Tourist information
phone: +36 76 481065

address: Kossuth tér 1

Services: tourist information, brochures about Kecskemét and its region, and the country, maps of Kecskemét and Hungary, cultural event guides, tour guides, bike rental, postcards, gifts and books about Kecskemét .
Get in
Kecskemét is pretty much equidistant from the capital metropolis
Budapest
(in the northwest) and the southern university city of
Szeged
(in the southeast), about 90 km from both cities.
By air
By train
Train Station

phone: +36 76 322460

address: Kodály Zoltán tér

Direct trains: - Budapest Nyugati station (hourly, Ft 1460 plus reservation fee Ft 520, 1hr 20min). Szeged (hourly, Ft 1350, 1hr 40min). Szolnok (least daily three, 67 km, 2 hours). Baja (least daily four, Ft 2830, 2hr 20min). Miskolc (Sundays, only in school season, Ft 4500, around 3hr 30min), - Avala EuroCity between Beograd and Vienna (from 2015) stop here. Timetable
By bus
Bus Station

phone: +36 76 321777

address: Noszlopy Gáspár park, 1.

To Budapest's Népliget bus station (hourly, between an hour and twenty minutes and two hours.)
By car
The M5 freeway connects Kecskemét to Budapest and Szeged.
Get around
The main train and bus stations are about 10 minutes east of downtown, where most of the attractions are and can easily be reached by foot. If you need to take the bus,
Kunság Volán
runs the local bus company.
Rent a car
See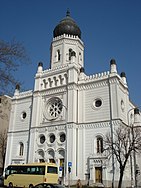 Churches
Museums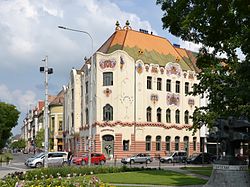 Monuments
Do
phone: +36 76 492455, +36 30 6897347 (mobile)

address: Nyíri út 48.

There is, guided tours available in Hungarian, German and English, Area: 62 ha. Sights: Lookout, Mary - chapel (1718), calvary, wooden playground, nature trail, plant collection.

Kiskunsági National Park and House of Nature

phone: +36 76 500-068, +36 76 482611

address: Liszt Ferenc u. 19.

Visitor permits and tour guide order, Organisation of tours. Exhibits in House of Nature

phone: +36 76 707872 (forester's house)

Area: 1,200 ha. Attractions: 48's memorial museum, Arad Martyrs Memorial, St. Hubertus - Chapel, mille centenary memorial.

phone: +36 76 320121

address: Műkerti út 1.

Spring Festival (Tavaszi Fesztivál) held every March, usually coinciding with Budapest's annual Spring Festival. Features local art, theater, as well as plenty of music from Kodály.

Kecskemét Fun Baths and Water Slide Park

phone: +36 76 500 320

address: Csabay Géza körút 5

Air show of KecskemétA major air and military air show, also displaying tanks and several kinds of armoured vehicles and artillery pieces. The air show not only displays Hungarian aircraft but is attended by several foreign air forces (20 in the year 2010 including Austrian, Belgian, French, Dutch, Croatian, German, Romanian, Swiss, Spanish, Serbian, Turkish, US, Ukrainian, Israeli Air Force). It takes place in August, often on the 7-8th every 2 years.

Visit the Mercedes-Benz factory

phone: +36 76 301022

address: Mercedes út 1

The Mercedes-Benz factory, which builds the CLA and B-classes, offers free factory tours. The tours in English take place on Thursdays at 09:30 and last 2 hours. There are tours on other days and at other times in German and Hungarian. To take part, you need to preregister at their website.
Buy
Besides buying
pálinka
or postcards, the town is wanting in any souvenirs specifics to Kecskemét. There are several places to buy folk crafts, especially during the Spring Festival in late March.
Hypermarkets
phone: +36 76 888700

address: Dunaföldvári út 2.

phone: +36 23 509050

address: Ceglédi út 236.

Mostly for retailers.

Tesco M5 hypermarket

address: Talfája köz 1.
Malls
Alföld Department Store

address: Deák Ferenc tér 6.

Immochan Trade Center

address: - Dunaföldvári út 2

Auchan, CCC, Háda, Media Markt, Nike, Optic World, Sebastiano

Malom Center mall

address: Korona utca 2.

Shops: CBA supermarket, Deichmann shoes, Douglas, Gas, Jeans, H&M, Libri bookshop,McDonald's, New Yorker, Promod, Retro Jeans, Springfield).

Sever Center

address: Kurucz körút 8.

Szil-coop Shopping Centre

address: Izsáki út 2.

Target Center Shopping park

address: Izsáki út 12/b.

Shops: Deichmann, dm, Fressnapf, KFC, Obi, Tesco hypermarket
Supermarkets
address: Izsáki út 69.

phone: +36 76 328-431

address: Korona u. 2.

address: Gizella tér 1

More eleven units: - Aradi vértanúk tere 4, Bíró Lajos utca 1, Czollner köz, Deák tér 6, Dobó körút 1, Énekes utca 1, Horváth Cirill tér 1, Kossuth Lajos utca 83, Nyíri út, Rávágy tér 1, Széchenyi sétány

address: Szolnoki út 18

Discount store chain.

Penny Market discount stores

address: Katona József park

Discount store chain. More two units: Csíksomlyói utca 22, Kossuth körút 60.

Reál discount stores

address: Boróka utca 10

More two units: Izsáki út 2, Kard utca 30.

Spar supermarket

address: Március 15. utca 5/a

Other unit: Nagykőrösi utca 2.
Stores
phone: +36 76 504 090

address: Halasi út 2.

address: Dunaföldvári út 2/b

International Silver Cash & Carry warehouse store

address: Talfája 306.

address: Izsáki út 3.

address: Izsáki út 12/b.

Praktiker home improvement store

address: Kurucz tér 7
Eat
Fruits. The town is in the centre of a fruit growing region.
Drink
Kecskemét is the home of
palinka
(Hungarian fruit vodka).
Kecskeméti Tavern and Winehouse

phone: +36 76 488686

address: Kölcsey utca 7.

170-year-old listed building.100 types of traditional Hungarian food, 100 types of Hungarian wine.
Sleep
Kecskemét kiadó szállás
Private houses and hotel
Hotel Pálma KecskemétIn the centre of the city, close to the main square and the railway station. The hotel provides convenient accommodation all the year round under favourable conditions.

Hotel AranyhomokOverlooking the main square of Kecskemét.

Four Points by Sheraton Kecskemet Hotel and Conference Center

address: Izsáki út 6

Pretty much everything you need to know is in the name - what needs to be added is that the hotel is in an industry estate out of town (but not the one where the Mercedes factory is), on the Izsáki út leading up to the M5 motorway from Budapest.

phone: +36306511490

address: Szent Laszlo krt 64, 6000 Kecskemet

Modern (2012) and clean hotel on the outskirts of Kecskemet. Gokart's racetrack, which is next to hotel, can be viewed from restaurant.
Connect
Post offices
phone: +36 76 486-586

address: Kálvin tér 10-12.

phone: +36 76 539-806

address: Kodály Zoltán tér 2.
Go next