Kedarnath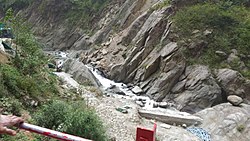 Kedarnath
is a town and pilgrimage destination in
Uttarakhand
region.
Understand
Kedarnath is one of the four Char Dham (चार धाम यात्रा) Hindu pilgrim centers. The town and the temple are open from May to October, as there will be heavy snowfall in winter. Specific dates are always announced prior to the Yatra (Journey) as per the Hindu Calendar, and one needs to check for specific dates for each year. You can still visit when the town is shut down, but be prepared for heavy snowfall. Gaurikund, which is around 4 km above from the Sonprayag base camp, also shuts down in winter.
It feels like you are just a few km away from heaven while on the trek to Kedarnath temple. You will need to trek 16 km for one side to explore this holiest Hindu pilgrimage site known as Kedarnath. Kedarnath Temple is one of the holiest places of India and very popular across the Indian nation. Kedarnath temple is located in the Rudraprayag district of Uttarakhand state of India.
The word Kedar stands for Mercy and Nath stands for lord so the Kedarnath together can be referred to as The Lord of Mercy "Kedarnath". The Kedarnath temple is referred to Lord Shiva, every year millions of pilgrims reach Kedarnath Temple with the hope of positive happenings, cure, peace, and other motives.

Get in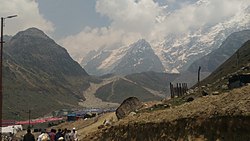 On foot
Kedarnath (about 3,400 m high) is approachable on foot from Gaurikund (about 2900 m high), which is connected by road to
Rishikesh
,
Kotdwar
,
Dehradun
,
Haridwar
and other important hill stations of
Garhwal
and
Kumaon
region. As soon as you reach Gaurikund, the people who own mules will start asking you if you need a mule for the trek to Kedarnath. Don't commit anything to them. The going rates in 2011 were ₹400-₹700. Make sure your mule has been adequately rested before you start (it's a very steep climb) and that it has some experience of the route (mules run on auto-pilot if not controlled by the guide or you).
Porters (pitthus in local language) are also available to carry your luggage up to Kedarnath and leave you free to walk up lighter. They can deliver to your hotel directly or walk with you.
At Gaurikund, there are some privates guest houses to stay. GMVN's guest house is usually the best option and bookings can be made online as well. You can also take a dip in the holy water from a hot spring. It's a great relief to take a bath in hot water. Some may find it crowded.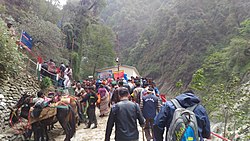 Kedarnath is 16 km (earlier) from Gaurikund and you can choose to walk or take a mule. Older people take the
doli
, which is carried by 4 hired people. If you walk half a kilometer towards Kedarnath you will find the office for booking mules and dolis. There will be plenty of people on the side ways asking you, if you need a mule. Its always it is better to book in that office because the mules which they give are in good health and strong.
Once you start from Gaurikund, there is a concrete road to walk on and there is a small shop for every 200 meters where you can get some tea, chocolates, biscuits, maggi noodles etc. After 7 km, you will reach a place called Rambara. There are couple of guest houses here to stay including one by GMVN. Most pilgrims take a break here and eat some food and then resume the journey towards Kedarnath.
The air gets thinner after Rambara and many people experience breathing trouble between Rambara and Kedarnath. This is particularly acute for people walking up. The ascent flattens out about a KM before Kedarnath. Thus, one climbs up about 1500 m in the 13 KM between Gaurikund and this point.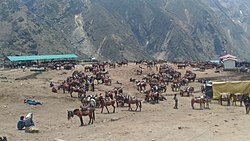 The view is fantastic while moving towards the temple but the dung of mules make you feel uncomfortable because of so many mules. Even though there are some people, who constantly clean the path, it still smells a little. A good pair of binoculars would make the journey even more breath-taking.
By road
Daily buses/taxis from Hardwar/Rishikesh/Dehradun ply during the pilgrim season (approx May to October) take you to Sonprayag, Uttarakhand which is a base camp and where one can find suitable places for the stay. From here one can find the private taxis which can cost around 40rs per person (as of 27th may 2018) to drop you upto the Gaurikund. The road ends here. Kedarnath is a steep 16 km (earlier, before the Kedarnath tragedy) trek and now around 22km (according to the locals) from Gauri Kund (
pony
,
kandi
, and
palki
are available for hire on government rates). There is even a helicopter service during the peak season, which is run by Pawan Hans Helicopter service (from Phata to kedarnath ji) which is around 7k Rs (Round trip cost).
From Haridwar every day morning buses start to Gaurikund. Advance bookings can be made at GMOA (Garhwal Mandal owners Association) office in front of the railway station. It takes almost one full day journey to reach Gaurikund if there are no landslides. The bus journey is very beautiful because most of the 240 km is ghat road journey with many mountains around and the river Ganga (Mandakini and Alakhnanda) following you throughout the way.
If you choose to drive your own vehicle, make sure it has good ground clearance as there are rocks strewn all over the route. A powerful engine will make life much easier. There are two parking lots just before Gaurikund (100 m, 500 m before Gaurikund). Getting space for private vehicles is tough, but can be managed after polite cajoling discussions with the caretakers. It would be advisable to park your vehicle at SonPrayag and hitch a ride to Gaurikund.
Get around
Walking is the only option. Kedarnath is a small hamlet, and largely a labyrinth of hotels and guest houses.

See
The temple itself is quite an exquisite example of stone work. It houses the lingam, a symbol of the Hindu God Shiva. The temple is located among an astonishing mountain landscape, surrounded by peaks that are over 6,000 m in elevation. Behind the shrine lies Adi Shankaracharya's samadhi, where he is believed to have taken rest after establishing the four dhams at an early age of 32 years. At a visible distance from the shrine also lies an ancient Bhairav Temple, beyond which one comes out to green glades and tiny streams, fed by the surrounding (and approachable) glaciers.
Treks leading out from Kedarnath are strenuous. If one arrives here early in the season, glaciers blocking these routes would be a common occurrence - and quite risky since one can never tell the thickness of the ice.
The temple is closed from 3:00pm to 5:00 pm, so plan to be there before 3 pm. Before 3 pm visitors can touch the idol and do
Abhishek
with ghee. After 5 PM no one can touch the idol but can get
Darshan
from a distance. At this time the idol is in Emperor costume. But if you arrive later than 5 PM, don't try to go back on the same day. The path is very risky and as of 2011, the light systems often failed. The weather can be changeable. There are many dharmshalas to stay the night (see "
Sleep
"). After that you can attend Morning Aarti and participate in Abhishek.
Gandhi Sarovar (lake) - and the Chorabari Glacier that feeds the lake - lie the closest, at a distance of 3.5km, which makes for a trek of at least an hour. Gandhi Sarovar is named after Mahatma Gandhi as his ashes were immersed here. There is a very nice waterfall on the way. The glacier retreats by the end of the season whereas there is snow/ice all over the route early in the season. However the boundaries of this lake burst due to heavy rain in 2013 and added to the problems of the Kedarnath valley which was experiencing 2 days of continuous rain.
Vasuki Tal - which is famous for its blue waters - is at 8km, and involves a very difficult climb and crossing glaciers. It generally takes one 4-5 hours to reach there, so set out early.
Do
Puja and aarti at the temple if you are a Hindu. Treks to the adjacent valleys will take you through untouched forests and desolate paths. Some pilgrims even take a dip in the icy waters of Mandakini.

Sleep
Many ashrams and dharamshalas provide cheap accommodation. There are also many private hotels and restaurants although most have only basic facilities. Also beware that Kedarnath can be extremely crowded during peak pilgrim season. In 2011, the going rates for private guest hotel rooms were in the range of ₹600-₹1000 for a one-day stay, with additional charges (₹20-₹40) for each bucket of hot water. The state-run guest house was generally booked throughout, so arrive early if you want options. It's fairly empty in Sept - Oct and charged ₹960 (in 2011) per night. It has provisions for central heating and running hot water, but neither really worked.
Kedarnath is a strictly vegetarian place. There are a couple of hotels (dhabas in local parlance) on the straight path leading up to the holy temple, which run from 4am to midnight and serve basic Indian food. Do not expect express standards of service or hygiene. Always choose cooked food, and prefer boiled. An average meal cost around ₹100, though cheaper options were available.

Go next
Visit Gandhi Sarovar (Around 3900 m high)
Visit Vasuki Tal
Enjoy the greens beyond the small Bhairav Temple on the hill to the right of Kedarnath
Bathe in the icy waters of River Mandakini
Visit Tungnath, second among the Panch Kedar Temples which is in the vicinity (the other four being Kedarnath, Rudranath, Kalpeshwar and Madhyamaheshwar).
Visit Triyuginarayan Temple, famous for being the temple where Hindu God Shiva and Goddess Parvati are said to have gotten married.
Gandhi Sarovar
: Around 3.5 km from the Kedarnath. It's better to start early in the morning because you move close to Kedar Hills and there would be no clouds. As the day progresses, clouds may spoil the view. There is a beautiful waterfall on the way. In July 2009, there was no water in Gandhi Sarovar, but you won't be disappointed because of its location. It's a nice place to roam around and take photos. There is a paved cement road to reach the Sarovar; do not take any short routes, stick to the paved road.