Keene (New Hampshire)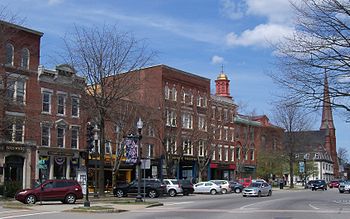 Keene
is a city in southern
New Hampshire
.
Understand
Keene is the county seat of Cheshire County and has been a local center of commerce and culture for a long time. This is reflected in the profusion of pretty buildings in town, only a few of which are pictured in this article.
Keene is also believed to be the inspiration of the fictional town of Brantford in Jumanji. Scenes from the film were shot here.

Get in
By car
Keene is most easily accessible by taking I-91 in
Vermont
to Exit 3 and getting on VT-9 in
Brattleboro
. Then head into the traffic circle until VT-9 continues and follow it over a small bridge into New Hampshire (VT-9 becomes NH-9). Follow NH-9 about 15 miles to Keene. From the east, Keene is accessible via NH-101. NH-9 also connects Keene to
Concord
to the northeast.
By plane
phone: +1 603 357-9835

address: 80 Airport Rd

Small regional airport has two runways of 6,200 and 4,000 feet.
See
address: Westmoreland

built in 1764
Do
Live Entertainment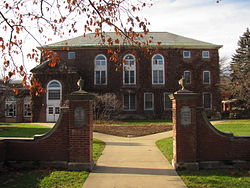 phone: +1 603 352-2033

address: 95 Main St

The Colonial Theatre is an 888-seat non-profit historic theatre operating continuously since 1924 and featuring the finest in live events and niche film. There is something happening every day at The Colonial Theatre, whether it's an arthouse film, touring music/Broadway/dance/comedy, community events or the new Backstage Series (featuring alternative performers in a club-like setting).
Hiking
Highland Hill & firetower, Greater Goose Pond and Drummer Hill, Beech Hill Preserve, Beaver Brook Falls,
Horatio Colony Trust.
Recreation
Keene offers a variety of recreational areas.
Wheelock Park, Central Square, Robin Hood Park, Otter Brook Dam Recreation Area
Buy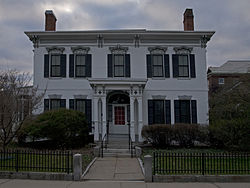 Keene, as well as New Hampshire as a whole, is a great place to shop due to the lack of a state sales tax. Keene has a wide array of shops and stores selling almostall things. Below are just a few examples of where to shop when in Keene:
Colony Mill Marketplace

address: West St

Once a mill making fine wool products, is now an enclosed shopping mall as well as various office spaces on the upper floors. During the last several years, the stores at the Mill have dwindled, and it is no longer a must-shop in Keene, but for the exceptional Toadstool Bookshop on the second floor.

The Center At KeeneAn open shopping center complex, with some interior hallways leading to the other side, housed in an old train station. Home to 24 businesses ranging from shops, businesses, a gym, and various eateries.

Hannah Grimes Marketplace

address: Main St

Offers mostly New Hampshire-made specialty goods.

Cheshire Music

address: Main St

Sells instruments of all types as well as amps for guitars.

Creative Encounters

address: Main St

Sells various things such as funny bumper stickers and toys for kids but mainly is known for its "Extraodinary Framing" and was voted "the best frame shop in the Monadnock region." Also is home to an extensive collection of beads that you can select to be made into various jewlery.

Ted's Shoe & Sport

address: Main St

Known as "Keene's #1 Shoe Store."

address: 89½ Main St

Great local record store with a good selection of vinyl, used CDs, cassettes. Local artists too. You can listen before you buy. Very good prices. Spend some time with it.
Eat
Keene also features several
major chains
of mid-scale restaurants, each of which have their own bars. On Winchester St. are Pizzaria Uno, 99 Restaurant, and Applebees. Located off Winchester Street, at the Monadnock Marketplace, are Chilis, Longhorn Steakhouse, and the Olive Garden.
phone: +1 603 355-4844

address: 97 Main St.

Wonderful little cafe where all the college and high school students hang out. Very busy during dinnertime and on the weekends; you'll be hard-pressed to find a table. Decks of cards, sketchbooks, and newspapers available, outlets and wifi easy to access. Delicious food.

phone: +1 603 283-5024

address: 19 Gilbo Ave.

Delicious breakfast, pretty good lunch and dinner. It looks like an old trailer and has a great "small-town" feel with wonderfully friendly waitresses. You might have to wait in line for 15-20 minutes in the morning after 8AM because it is a very popular breakfast spot.
Drink
Colony Mill

address: West St

Houses the Elm City Brewery, which is a micro-brew known for its wide selection of beers made on site. Different brews are featured daily, so check out the daily specials board for that day's choices. The Brewery also has a large menu of pub fare and main courses, at reasonable prices. It has several TVs, and an outdoor seating section during the summer.
Main Street area
The Main Street (Downtown) area of Keene hosts several bars and nightclubs.
Railroad TavernThe most popular area bar. This bar/nightclub features a dancefloor and DJs on Thursdays through Saturdays, several pool tables, as well as three bars located throughout its large venue. Although it primarily draws a younger (college-aged) crowd, people of all ages do frequent this location. The owners and bartenders draw a straight crowd.

Kilkenny'sPrimarily a beer bar, Kilkenny's has several pool tables. Although it is one of the smaller bars, its drinks are fairly inexpensive, making it a common starting point for people making the rounds of the Keene bar scene or doing a crawl. However, Kilkenny's does tend to draw more locals, and has a more conservative feel.

Margarita's

address: Main Street

A large Mexican restaurant. While it does serve a full range of drinks, it is mainly known for its creative, though expensive, margaritas. It has an extensive Mexican-themed menu, and outdoor seating. In addition to a restaurant section, it has a lounge area that also features a pool table.

E.F. Lane HotelAlso has a bar/lounge known for its cocktails. The atmosphere at the E.F. Lane tends to be quieter and more intimate than some of the other downtown venues.

Lab and Lager

address: Main Street

One of the newer bars in Keene. The Lap has a small outdoor seating section, and some pool tables indoors. It draws a college-aged crowd, though it is generally considered a cheap knock-off of the Railroad. Generally hosts an older, more mature crowd (30-40).

McCues

address: Main Street

This location is mostly a pool hall, with numerous pool tables and several TVs. It also serves a wide range of beers, and is popular for those looking to play a few games, or as a starting point for a crawl. The beers here are also fairly inexpensive, making a good place to start a night out. This is the go-to bar for college students, being within walking distance of the college, and hosts a younger crowd.

21 Roxbury

address: Roxbury St

It is a martini bar with up-scale martinis and other cocktails. Its small, intimate location draws a more up-scale crowd, and is a good place for a date or a more quiet conversation.
Sleep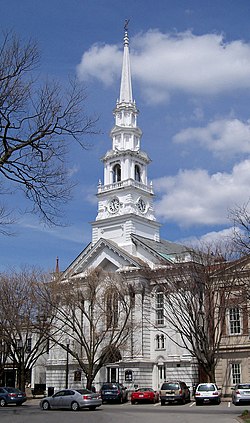 phone: +1 603 357-7070

address: 30 Main St

Best Western Sovereign Hotel-Keene

phone: +1 603 357-3038

address: 401 Winchester St

phone: +1 603 352-7616

address: 175 Key Rd

Goose Pond Guest House

phone: +1 603 357-4787

address: East Surry Rd

Colony House Bed and Breakfast

phone: +1 603 352-0215

address: 104 West Street, Keene NH 03431
Cope
Churches
Emmanuel Baptist Church of Keene], First Baptist Church of Keene, Sturtevant Chapel, Hope Chapel, Keene Assembly of God, St. Bernard's Catholic Church, United Church of Christ, United Methodist Church.

Go next
Mount Monadnock is 12 miles to the east on NH-124 in Jaffrey. There is a small parking lot where NH-124 crests over the mountain. Just before Jaffrey Center, there is a sign pointing to the entrance to Monadnock State Park. The trails from both locations lead to the summit. Mount Monadnock is the highest mountain in southern NH and perhaps the most accessible for novice hikers, as well as being the most climbed mountain in the entire world. No special equipment is needed to climb the mountain and it can usually be done in about four hours round trip for a healthy person.
Brattleboro, Vermont is about a 40-minute drive to via the Franklin Pierce Highway (State Route 9 West) and US Route 5 South and has even more beautiful buildings for you to look at.