Keflavík International Airport
Keflavík International Airport
(
KEF
) is in Keflavík and serves as the main international airport of Reykjavík and Iceland.

Understand
While it was a rather sleepy airport until the 2000s, the banking crisis in Iceland (which led to exchange rates favorable to tourism) as well as developments in aviation that allowed transatlantic flights on narrowbody twin jet planes with a stop in KEF have made this airport into a rapidly growing hub, especially for discount travellers and smaller cities. The main Icelandic airline, Icelandair (and, until March 2019, the ill-fated WOW air) continually uses the central location in the Atlantic for destination networks on both sides of the pond, but European carriers now also link KEF to their bases on the continent and even North American carriers have started mostly seasonal flights.
This rapid growth means that the terminal is stretched way beyond its capacity. The airport is being expanded, but expect crowded gates and nowhere to sit. Especially since the double digits growth means one expansion is usually done two years after the next would have become necessary.
While the airport is often marketed as "Reykjavík" (no doubt in part because nobody outside of Iceland knows any other town in the country) it is actually some from the town and Reykjavík actually has its own airport that sees domestic flights and flights to the
Faroes
or
Greenland
. To avoid confusion, it might help to use the
IATA code
KEF when referring to the airport.
While this split of domestic and international airport might seem awkward and indeed is a problem for Icelanders arriving home from vacation, it gives you a good opportunity to check out the capital region before heading out on a domestic flight.
Flights
Naturally, Icelandair offers the most connections at this airport. However, there is a good selection of European and U.S. carriers that have flights to their hubs and others you might not even think of.
Icelandair pioneered the "Iceland layover vacation" concept and advertises a stay at KEF on transatlantic routes as a feature rather than a bug.
Ground transportation
Transport between the airport and Reykjavik, 50 km away, is by a fast freeway (dual carriageway road) only. While Keflavik airport to Reykjavik is one of the routes where talk of building a railway is loudest, for the time being there is none in Iceland.
The buses have a timetable adapted to the flight schedule. They go to and from the Reykjavik bus terminal, taking around 45 minutes. To get to the domestic airport a bus change is needed at the bus terminal.
By bus
Some buses will come 30-45 minutes after the arrival of any flight. This includes delayed flights and flights in the middle of the night. While you won't have to pre-book the Stræto bus, it comes highly recommended to pre-book if you want to go with one of the other companies. As Stræto does not run at all times, you should check schedules before deciding on an option.
Flybusoffers regular service to either the BSI bus terminal, just south of the city centre (45 minutes), or directly to Reykjavik hotels with advance notice to the driver (3000 kr one-way or 5500 kr round-trip). Buses leave the airport as early as 03:30. Tickets can be bought either at the airport or online.

Gray Line Airport Expressoffers regular service directly to Reykjavik hotels with advance notice to the driver. The journey takes 45 min. Tickets can be bought either at the airport or online.

Iceland Bus 55Strætó route 55 offers regular service between the airport and BSÍ bus terminal in central Reykjavik though the coach companies can be cheaper round-trip. Unlike the other buses this one has intermediate stops but the fare is cheaper.
By taxi
Taxis
cost 14,000 kr for 1-4 passengers and 19,000 kr for 5-8 passengers. Taxi drivers are generally honest and won't overcharge tourists.
Car rental
There are dozens of car rental agencies operating, including Avis, Hertz, Budget and Europcar. On some roads, especially in the
Interior of Iceland
, only 4x4 vehicles are permitted by law. These include highways designated with the letter
F
.
A pamphlet about this and rules of the Icelandic roads, provided by the government, will usually be given out whenever you rent a specific type of car.
Wait
Icelandair Saga LoungeEven if you don't qualify for free lounge access, this is one of the more pleasant ways to spend a layover long enough to require killing time but too short - or too late at night - to take the bus to Reykjavik
Eat and drink
The duty free shop is one of the cheapest places in Iceland to buy alcohol which is why many locals grab a beer or two before heading out. There are also all manner of Icelandic or international foods on sale. Nothing in Iceland is cheap compared to most of the rest of the world and the airport is naturally no exception. Still, fish is caught locally and thus less expensive, relatively speaking, and often excellent.

Buy
While Iceland is part of the
Schengen area
it is not part of the EU and thus duty free shopping is available to arriving and departing passengers from all countries.
An
ATM
is available in the baggage claim area for you to take out króna.
Connect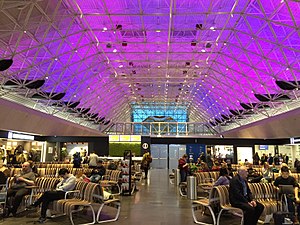 There's free and unlimited WiFi.
Sleep
Sleeping overnight in the airport is forbidden (no doubt all those late night departures and the crowded nature of the place) and there is no hotel on the grounds of the airport. However, there is a selection of hotels in nearby Keflavík.

Nearby