Kejimkujik National Park
Kejimkujik National Park
is a
national park
in the
Annapolis Valley
of
Nova Scotia
,
Canada
.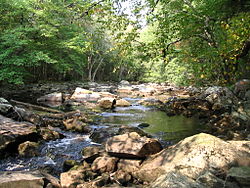 Understand
The park is named after Kejimikujik Lake, the largest lake inside the main section of the park.
Often called Keji for short, Kejimkujik consists of two parcels: the main park is in the upland interior of the Nova Scotia peninsula bordering Queens and Annapolis counties; and the smaller Kejimkujik Seaside unit, on the Atlantic coast of Queens County. The park covers 404 km² (156 sq mi), which makes it larger than the island of Barbados. The inland unit is designated a National Historic Site of Canada, making Kejimkujik unique in the park system as the only national park whose virtually entire area is a National Historic Site.
Most facilities are open from mid-May to October 31 every year. Full services are available in July and August. Limited services are available in May and June and again in September and October. Some services are available from November to April. The park received over 36,000 visitors in 2015-16.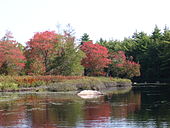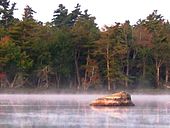 Contact the visitors' centre (seasonal) +1 902-682-2772 or kejimkujik.info@pc.gc.ca, or the National Information Centre (year round) +1-888-773-8888 or information@pc.gc.ca
History
The park was established in 1967.
The many lakes and rivers form interior waterways that were important canoe routes between the Bay of Fundy and the Atlantic for the ancestors of the Mi'kmaq First Nations. The park also contains the petroglyphs left behind by these inhabitants. The lake's Mi'kmaq name has been translated as "attempting to escape" or "swollen waters", possibly related to fishing weirs placed on the lake. The park's official stance is that Kejimkujik is a Mi'kmaq word meaning "tired muscles".
Kejimkujik is a cultural landscape associated with the Mi'kmaq people, and incorporates 38 aboriginal sites, four petroglyph sites, three villages and a cemetery. Artifacts have been collected from an estimated 4000 years of occupation.
Landscape
The bedrock of the park consists of Precambrian to Ordovician period quartzite and slate, plus Devonian period granite. All of these rocks, especially quartzite, have a high silica content and provide scanty amounts of nutrients to the soils that develop on them. The slate, however, is fine-grained and produces a loamy soil which yields its nutrients more quickly than the stony sandy loams and loamy sands found over the coarse-grained rocks. Most of the slaty loams occur around Kejimkujik Lake. Deep outwash sands and gravels form a band west of the lake. Elsewhere the soil landscape is dominated by the cobbly, often shallow granite or quartzite material. Podzols underlie most well-drained areas. Gleysols and peat bogs dominate where drainage is poor. The park receives acid rain, and its soils have few available acid-buffering minerals, so strong acidity is the rule for soils and waters—even large bodies of water such as Kejimkujik Lake.
The large main section of the park is a forested upland plain about 50 km inland from the South Shore and Annapolis Valley and may be accessed from Trunk 8 running between Liverpool and Annapolis Royal.
The smaller Kejimkujik Seaside includes white sandy beaches and coastal wetland areas. The park includes habitat for the endangered piping plover and other coastal birds. It is located off Highway 103 near the villages of Port Mouton and Port Joli.
Flora and fauna
Interior camping can provide excellent wildlife viewing opportunities. Moose, warblers, white-tailed deer, barred owls, beavers, porcupines, woodpeckers, martens, and loons are not uncommon, especially along waterways. Black bears, though present in the park, are seldom seen. Coyotes are also present in this park. Harbour and grey seals are often seen along the seaside coast basking on its rocks. There are several uncommon species of organisms that call Kejimkujik their home. The Blanding's turtle which is considered an endangered species in Nova Scotia is similar in size to the common painted turtle; however the Blanding's is characterized by its yellow neck. Juveniles measure between 5 and 12 cm in carapace diameter while adult females can measure between 25 and 35 cm. It is a very gentle turtle that frequently nests on beaches that are accessible by the public. For this reason it is important for visitors to be careful not to disturb nesting turtles, and to report any sightings to the visitor centre. The eastern ribbon snake is a threatened species in Nova Scotia and lives in several isolated areas in the park. The eastern ribbon snake, upon first glance, may be easily confused with the common garter snake, but the eastern ribbon snake is defined by three longitudinal yellow stripes on the dorsal side and a black or dark brown colouration. Adult eastern ribbon snakes in the park usually measure between 50 and 70 cm in length. Kejimkujik is one of two places in Canada where Hydrocotyle umbellata or water pennywort exists. The other is in Yarmouth County.
in 1995, Environment Canada scientists discovered that the concentration of methyl mercury in the park's loons was highly elevated, spurring investigation as to where it originated. After 20 years of research, the source is still unclear.
Climate
The park has a humid continental climate (Köppen climate classification Dfb) with four distinct seasons. Being inland, in the western part of Nova Scotia, the park has warmer temperatures and higher precipitation than eastern sections of Nova Scotia. Winters are cold with a January average of −6.1 °C (21.0 °F). During this time of the year, the maximum temperature often stays below freezing although frequent mild spells push maximum temperatures above freezing frequently (about 12–19 days from December to February) and occasionally above 10 °C (50.0 °F) when the wind is from the southwest. On average, there are 8 days where the temperature falls below −20 °C (−4.0 °F). Winters are characterized by stretches of unsettled weather, resulting in high precipitation and cloud cover. Snowfall is high, averaging 244 cm (96.1 in) a year.
Summers are warm with a July average of 18.4 °C (65.1 °F) and precipitation is lower (though significant) than the winter months. Temperatures in the park rarely exceed 30 °C (86.0 °F), occurring on 2 days per year owing to the moderating influence of the ocean. Spring and fall are transitional seasons that feature mild temperature although they are unpredictable. The park receives 1,399 mm (55 in) of precipitation per year, which is fairly evenly distributed throughout the year.
Kejimkujik Seaside

In 1985 Parks Canada acquired lands along the coast of Nova Scotia about 25 km (16 mi) south of Liverpool. In 1988 these lands became part of Kejimkujik National Park to include coastal ecosystems within Kejimkujik National Park. These properties are still the largest tract of undeveloped coast in Nova Scotia.
Kejimkujik Seaside includes two sides, one of which contain trails and parking facilities at St Catherines River Beach. The Little Port Joli Basin and Basin Lake side is accessible but not marked as a national park with signage. The two barrier beaches are nesting sites for the endangered piping plover. The lagoons are important migration stops for many species of birds such as short-billed dowitchers, semipalmated plovers, sandpipers and black-bellied plovers.
Dark-Sky Preserve
The park was designated as a Dark-Sky Preserve on July 6, 2010 by the Royal Astronomical Society of Canada as part of their Dark-Sky Preserve Program. The designation recognizes the commitment by the park to protect the nighttime environment from the effects of artificial lighting. This policy will maintain the pristine quality of most of the park by limiting the use of artificial lighting and will benefit the nocturnal wildlife scotobiology within the park and preserve the appearance of the night sky for stargazers.
Get in
Inland unit
GPS coordinates: N 44.43829 W 65.20860
By plane: Halifax Robert L. Stanfield International Airport is 197 km from the airport.
By ferry: Ferries serve southwestern Nova Scotia at Digby and Yarmouth.
By train: Passenger train service in Nova Scotia comes to Halifax, which is 174 km from Kejimkujik.
By bus: ParkBus provides day-trip transportation from Halifax to Kejimkujik on some days.
By car from Halifax (167 km): Drive south on Highway 103 and take Exit 13 (Bridgewater). The park is 66 km further; signs will indicate direction and distance to Kejimkujik. Turn right onto Highway 325 and turn left when the road joins Highway 208. Continue on the 208 until the road joins Route 8. Turn right onto Route 8, proceeding through Caledonia. Kejimkujik is 18 km from Caledonia, in the community of Maitland Bridge. Driving time: approximately 2 hrs 5 minutes.
Kejimkujik Seaside
Kejimkujik Seaside is 180 km from Halifax and 99 km southeast of Kejimkujik National Park and National Historic Site. Plan to spend a half- or full-day at Kejimkujik Seaside.
Fees and permits
Inland unit daily/seasonal (2018):
Adult $5.80/$29.40
Senior $4.90/$24.50
Youth and children free
Family/group $11.75/$58.90
Seaside unit:
No entry fee at this location
Do
Canoeing
One of Keji's most popular canoe routes is the
Frozen Ocean loop
. Traditionally, paddlers will begin their canoe trip at Big Dam Lake with a quick 400-m portage from the parking lot to the lake. This route follows Big Dam Lake to Stillwater Brook, which connects to Frozen Ocean Lake via a series of portages. Frozen Ocean Lake is home to multiple backcountry campsites, including Site 7, which is a group site for larger parties. Also found on Frozen Ocean Lake is a roofed shelter at backcountry Site 8, and a warden's cabin is located at the northeastern end of Frozen Ocean Lake. Most paddlers choose a campsite on Frozen Ocean Lake for their first night.
The Frozen Ocean loop continues down Little River towards Channel Lake, encompassing a few more park maintained portages, some of which follow along rougher sections of river via a boardwalk. The portage out of Channel Lake starts at Campsite 9, and reconnects with Little River after a 700-m carry. From that point it's less than 2km down Little River to Keji Lake. Many paddlers opt to spend an additional night on or near Keji Lake, before finishing their trip at Jake's Landing.
A popular strategy is for paddlers to park their vehicle at Jake's Landing and use the shuttle service provided for the outfitter to transport them and their equipment up to the Big Dam parking lot, so that they finish their canoe trip at their vehicle.
Hiking
At the inland, there are
15 hiking trails
available for day hikes and for overnight backpack camping:
The longest trail is the 56-km Liberty Lake trail.
Slapfoot Trail is a beautiful multi-purpose trail with excellent views that follows the shoreline of Kejimkujik Lake. It joins the campsites to the lakeshore, beaches, Jake's Landing and Merrymakedge.
There are two trails at Kejimkujik Seaside:
Port Joli Head Trail is a coastal trail that takes you along the rocky coast of Port Joli Head around berms, and ponds. Cormorants, deer, and the occasional black bear can be seen on this trail.
Harbour Rocks Trail takes you straight to the beach through the upland barrens and bogs. The trail continues along the rocky shore to St Catherines River Beach, a clean white sand beach with turquoise waters. Seals, cormorants, jellyfish, plovers, great blue heron, deer, mink, osprey and many other forms of wildlife are often seen in this area.
Resource issues have led the park to close some hiking trails such as the former Luxton Lake Trail.
Buy, eat, and drink
There is a tuck shop at Jeremy's Bay Campground.

Sleep
Camping
Jeremy's Bay Campground offers basic tenting to RV camping. Jeremy's Bay is also home to oTENTiks ("glamping"), yurts and rustic cabins. Reserve online or call +1-877-737-3783. Facilities: washrooms, showers, playgrounds, swimming, amphitheatre, Fire Circle (a guided campfire program), Wi-fi internet access near the shower building, tuck shop, firepit at each campsite, waste disposal and water fill-up for recreational vehicles. One washroom building is wheelchair accessible and includes a shower. Six campsites near this building are designated for those with mobility disabilities - four with electricity and two without. They can be reserved through the reservation service. Two accessible oTENTiks are also available, and can be reserved through the reservation service.
Jim Charles Point offers group tenting facilities.
Kejimkujik Seaside is a day-use facility only; however, there is camping available just across the bay at Thomas Raddall Provincial Park.
Backcountry
Although there are numerous drive-in campgrounds in Keji the park is also known for its backcountry camping: campsites which are only accessible by canoe, bicycle or hiking in the summer. Keji provides excellent canoeing, with numerous navigable lakes and rivers forming an interconnected system. The further a camper progresses from access points, the more wild the park becomes, and it is possible to spend several days in the backcountry with little or no sight of other campers. Park staff maintain portages along major routes.
Stay safe
Visitors are responsible for their own safety. Visitors should be aware of changeable weather conditions and winter hazards, and have adequate information and equipment to ensure a safe visit.

Go next