Kelabit Highlands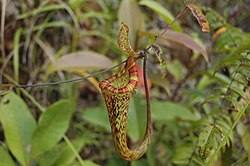 The
Kelabit Highlands
is a highland plateau in the interior of
Sarawak
in
Malaysia
. The isolated region bordering
Kalimantan
,
Indonesia
, is now very popular for jungle trekking and for those hoping to get away from it all.
Understand
The Kelabit Highlands comprise a vast highland plateau in the interior of
Sarawak
, near the border of
Kalimantan
,
Indonesia
. The area is the headwaters of the mighty Baram, Limbang, Lawas Rivers. Administratively, it comes under the Miri and Limbang Divisions.
History
Landscape
The Kelabit Highlands is a highland plateau of over 1,000m. It lies between the Tama Abu Range and Apo Duat Range on the
Sarawak
-
Kalimantan
border. The many valleys in the region are peppered with settlements of cottage-like homes and often surrounded by paddy fields. The area also boasts many high peaks including Sarawak's highest mountain, the 2,423m Gunung Murud.
Flora and fauna
Climate
As most of the highlands is over 1,000m, the nights can get a little chilly. Daytimes are usually warm and humid, especially when struggling through thick forests while trekking. The rainy season is between October and February.
People
The area is named after one of Sarawak's ethnic groups, the Kelabits. They are mostly highland farmers and staunchly Christian, belonging to the Sidang Injil Borneo (Borneo Evangelical Assembly) church. They are also known to place a lot of importance in education and many hold professional jobs, including the managing director's post of Malaysia Airlines.
Although the highlands are named after the Kelabits, it is actually home to many other groups such as the Penan and Lun Bawang. The Lun Bawang, who are the same group as the Lun Dayeh in Sabah, are the predominant people around Ba Kelalan in the northern part of the highlands. All of them are collectively known as the "Orang Ulu" or "People of the Highlands".
Villages
Bario - The "capital" of the highlands and main entry point into the highlands
Ba Kelalan - The Lun Bawang village is the starting/ending point of popular two-day trek to/from Bario
Pa' Umor - a 50-minute walk from the airport of Bario centre. small but a good starting point for trekking or visiting cultural sites. Far more remote feeling than Bario with no power lines (which are inactive anyway). A church, longhouse, and a few private dwellings, there are a few guesthouses here and Gem's Lodge is on the edge.
Pa'Lungan - Tiny, remote village with 100 inhabitants and rather untouched by modern society (use of local produce, no internet). Only reachable by foot (3-4 gentle hour trek through jungle and rice fields) which can be done without a guide. The path from Bario airstrip is only partly marked so make sure you ask someone for directions (there are two or three forks). Ideal location of the beaten path to relax and start of jungle trekkings.
Get in
By plane
The most popular and simplest way of getting into the Kelabit Highlands is by plane. The highlands are dotted with little airfields, often just grass airstrips other than the main airport at Bario which is a modern tar-mac runway, these are linked by 16-seater Twin Otter planes operated by
MASWings
. These are 18-seater flights and locals are given preference due to it being the main transport in and out of the highlands but you can book online at
MASWings website
. There are sometimes problems with non-Malaysian credit cards booking on this site; best to contact your card issuer in case of problems. There are still some cancellations of flights due to bad weather but it is a fallacy that this is regular.
The most popular entry points are
Bario (BBN)
and
Ba Kelalan (BKM)
. There are also air services to
Long Akah (LKH), Long Banga (LBP), Long Lellang (LGL)
and
Long Seridan (ODN)
although these other locations do not have any purpose-built infrastructure for travellers.
The main coastal city that acts as the gateway to the highlands is
Miri
where most flights originate. However, there are also flights from
Lawas
and
Marudi
in the Lower Baram, which is connected to
Miri
by several flights daily as well as a combination of boat (between Marudi and Kuala Baram) and bus (between Kuala Baram and Miri).
To/from Bario: 2 daily flights to and from Miri, except for Mondays when 1 flight only carries cargo. Flights are often marked as full though actually they leave half empty - the rest of the weight is taken up by pre booked cargo. You should book ahead; they are normally full about five days ahead of time. Flights back from Bario have no cargo, and so you shouldn't need to book too far ahead; you could even do this once you have arrived. If you have a pre booked flight you should reconfirm it when you arrive; there's a RM10 charge for this. Tickets cost RM91 before taxes and surcharges. Journey time is about 50 minutes. Six of these weekly flights (no flights on Thursday) are via Marudi.
To/from Ba Kelalan: Flights between Lawas and Ba Kelalan run on Monday and Saturday. RM46 one-way before taxes and surcharges. Flights take about 35 minutes.
To/from other villages: Flights operate between Miri and Marudi and the various "Longhouses" in the highlands once or twice a week.
Over land
Getting to the Highlands by land is hard work, especially when compared with flying.
To/from the Sarawak coast
The easiest and fastest way is by four-wheel drive or trucks between
Lawas
and
Ba Kelalan
. The journey, which takes about four or five hours, is over old logging roads and you are virtually guaranteed a bumpy ride as well as the possibility of being bogged in mud during the rainy season.
The labyrinth of trails fanning out from
Bario
and the nearby villages can possibly lead you to the lowlands. Besides walking, you may have to take boats to travel down river. The journey will take several days of tough walking. Guides will be necessary and costs may be high for boats. Not surprisingly, most, including the locals, turn to planes.
To/from Kalimantan, Indonesia
It is possible to enter/leave Indonesia via the Kelabit Highlands. In fact, the trek between Bario and Ba Kelalan goes through Indonesian territory and the village of
Long Bawan
is within easy reach. There are immigration officers in Bario and Long Bawan. From Long Bawan, there are flights to other
East Kalimantan
cities.
Long Bawan is not a visa-free or visa-on-arrival entry point (see
Indonesia's Get in
section) and an Indonesian visa must be obtained before you cross the border. However, the visa requirement is waived if you are just trekking between Bario and Bakelalan. However, you must carry your passport.
There is now a logging road from
Miri
to the Bario area which is mainly suitable for supplies and vehicles to be brought into Bario, but this is an option for travelling although you will need to know locals as this is privately used only.
Fees and permits
Permits were once required but are now not necessary. But make sure to bring your passport if you intend to trek through Indonesian territory, such as on the trek from Bario to Ba Kelalan.

Get around
On foot
The usual way to get from one village or longhouse to another is on foot. Some of the usual walking trails linking the various settlements are now doubling up as hiking trails by visitors. See the "
Do
" section below for details on the more popular hiking trails.
A few vehicles, mostly trucks and motorcycles have made their appearance in the highlands and you can try thumbing a lift from the friendly locals. These are generally used around the "urban centre" of Bario.
By air
If slogging through steep slopes between Bario and Bakelalan does not sound attractive to you,
MASWings
flies between the two settlements on Thursdays (departing Bario at 09:55, returning from Bakelalan at 10:30). Journey time is about 20 minutes and the fare is RM23 before taxes and surcharges.
Although several of the other settlements in the highlands have working airfields, there are no flights between them or with either Bario or Ba Kelalan. Flights are to
Miri
and Marudi.
Do
Hiking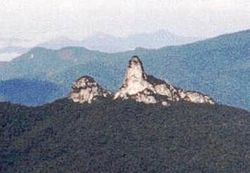 This is probably the main reason why travellers make their way to the highlands. The hikes range from lazy strolls which last a couple of hours to tough treks which require several days.
Day treks
The following list shows the more popular walks that you can complete within a day, and which do not usually require a guide, just a crude map when you set out.
Bario-Pa Umor: (Difficulty 1/10) Around 50 minutes at a fast pace but many people take this scenic walk to Gem's Lodge homestay and walk slowly with a camera in hand for the views, orchids and various flora and fauna along the way in which case this can be a relaxing 1-3 hr walk.
Pa' Umor - Pa' Umor Salt Spring: (Difficulty 4/10) About 50mins+
Pa' Umor - Pa' Umor Monolith:
Bario-Pa Lungan:(Difficulty 1/10) 2-3 hours
Bario - Ulong Pallang: (Difficulty 1/10) Through the padi fields, past monoliths and the 2 schools, churches, the police station. A very nice, easy walk.
Multi-day treks
There are many tracks which criss-cross the highlands, and even the most well-trodden paths (for instance, the popular Bario Loop, also known as Kelapang Loop) require a guide.
A good guide will talk to you about where you would like to go. Note that with a couple of day hike exceptions you cannot follow these trails on your own. The trails that you follow tend to connect different local villages, and there are many branches and tracks crossing, none of which are marked. Various stories abound, including a Swedish girl who had walked the trail 12 times with a guide, tried it alone the 13th time and mistakenly took the trail to Indonesia and got lost for four days. And the Belgian guy who at one of the branches took the wrong fork (the bigger path) and was found three days later suffering from dehydration. He had to be airlifted to hospital in Miri. Get a guide!
There's a guide licensing system in Bario - the guides are licensed by the Sarawak Government as wildlife guides. The licensed ones we had dealings with seemed great and to know the surroundings very well. They also have insurance should anything untoward happen.
The price for a guide (as of September 2010) is RM80 per guide per day for day treks, overnight camping will cost RM100 per night. A RM10 per day tip is appropriate if you feel the guide has done a good job. If you'd like them to provide food & cook for you, it's RM25 per person per day. This is highly recommended as is bringing provisions they will collect food from the jungle for you to eat in the evenings (mushrooms, sago palm hearts, etc.) These are fixed prices set by the guides' association. Attempts to bargain will not be appreciated! Expeditions to Gunung Murud and Butu Lawi require two guides for security reasons.
A recommended guide is Irwan. He is very knowledgeable about the jungle, has a good knowledge of English and is a very entertaining person. Contact him at welliamirwanshah@gmail.com for bookings.
There are then two types of guide you should avoid:
Unlicensed guides from Bario, who will probably not know the area well. They appear to cost the same as a licensed guide
Guides provided by travel agencies in Miri. These tend to be city guides who will not know the trails at all. While we were there some hunters met a city guide with tourist who had been lost for two days and had run out of food! They pointed them in the right direction and gave them some food. Licensed guides would both be able to feed you from the jungle and know the way home! It's recommended not to book through a travel agency in Miri - it will be much more expensive and you will not be able to ensure your guide is licensed.
A popular multi day trek is:
Bario-Ba Kelalan: (Difficulty 3/10) 4 days hiking 3-8 hours per day. The trek from Bario will pass through Pa Lungan (4hrs), then you will head over to a Kalimantan village such as Long Medang or Tanjung Karya (~8-9 hr) and continue to Long Bawan (4-5 hr), before crossing the border to Ba'Kelalan (~6 hr walking or 1.5-hr motor bike (RM80)). The trek passes through a long stretch of primary forest but includes dirt tracks as well. People are very friendly (you will shake a lot of hands) but hardly speak English in Kalimantan, Malaysian ringgit are accepted. Accommodation will mostly likely be a homestay (RM50). You have to report to the Immigration office in Long Bawan (your guide will arrange that for you).
Mountain climbing
Gunung Murud: Sarawak's highest peak at 2,423m.
Batu Lawi: A spectacular 2,043m mountain with the famous twin peak Pinnacles. A model of which can be seen outside the Bario airport arrivals area.
Festivals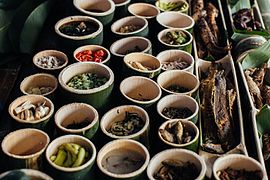 The
Bario Food Festival
is a unique three-day event that celebrates the cultural and culinary heritage and traditions of the Kelabits. It has been organised on the last weekend of July every year since 2005, and is an annual highlight in the highland's festive calendar. At the festival, visitors can experience Kelabit food and cultural exhibitions. A huge portion of the Kelabit diet is greens and game plucked from the jungles. Grubs and river crabs, snakes and wild boar are also available for the tasting. For those with less appetite for meat, the green offerings are no less exotic - visitors can find greens that are not available in your regular supermarket, or any market for that matter. Beside the culinary treats, visitors are also treated to a wide medley of cultural shows, including traditional dances, handicraft demonstration and traditional games. Guests are encouraged to take part in all of the events. This event is community-run, and every village gets involved in preparing and putting together a good show.
Eat

There are not many restaurants in the Kelabit Highlands since food is usually included in the price for accommodation. The food is very different from what you get in other parts of Malaysia. It's usually made of ingredients from the jungle plus a few locally farmed ingredients.
Bario rice is different from other rice types for its shorter seeds. Outside of Bario it is quite expensive. Also famous are the pineapples you get here. You can find them in curries or desserts.
Ingredients from the jungle include wild boar, deer or for vegetarians wild ginger flower, edible fern and many more.

Sleep
Jungle Blues Dream Homestay & Art Gallery

phone: +60 198849892

An artistic homestay lodge with a great sweeping view from the dining area as the building is on top of a small hill next to the main church. There is an art gallery come reading room in the same longhouse area as the partitioned rooms which are hung with paintings and offer comfy beds complete with cotton sheets and cosy duvets. Meals, including packed lunches, are healthy and homely with tea and coffee making facilities available. The owners can arrange to pick you up or drop you off at the airport or you can walk the 45 minutes through Bario.

Gem's LodgeA friendly home-stay run by husband and wife Jaman and Sumi Riboh. Jaman Riboh is said to be the most well-known of the guides in the Kelabit Highlands but has retired from guiding. The lodge is spacious, clean and in a tranquil location that serves as a base for jungle trekking, boating, fishing et al. Virtually all of the flora and fauna of the Kelabit Highlands can be found in the immediate area around the lodge. Full board, half board and room only are available, but Sumi's cooking is varied and high quality so full board recommended. Packed lunches can also be provided. Guides, airport transfers and other local activities can also be arranged. Usual rates for the area. Lighting and 240 V electricity provided in the evenings and cold beer/Coke/water can also be provided.

Bariew Backpacker Lodge & Tour

phone: +60 85 791 038

Excellent family-run guesthouse frequented by sociable locals as well as visitors. The proprietor, Reddish, knows everyone in town and has close ties with the longhouses on the treks around the highlands. As well as basic fan rooms, tasty meals and evening barbecues, the lodge can arrange guides and activities.

JK View LodgeNeat little cabin with four rooms, a shared sitting room, excellent showers, toilets. Meals, treks and tours are available.

Bario Asal Longhouse

phone: +60 85 791 065

A short walk from 'downtown' Bario, this longhouse is a friendly spot with pictures of the longhouse residents (past and present) hung on the wall. Not too many families live here anymore, so it's relatively quiet.

Tarawe'sRelaxed lodging house run by a local, John Tarawe. It has four rooms with three beds in each, and mats for occasions when large groups arrive. Inexpensive, hearty meals are available too, including occasionally wild boar, ferns in garlic, rice and other seasonal dishes (around RM10 per meal). Breakfasts usually consist of noodles and eggs (around RM5).

De Plateau LodgeComfortable rooms and nice common areas. The owner here can arrange treks, bird-watching and other activities. It's in a white-timber house surrounded by a lovely garden.

Batu RitungOne of the five homestays available in Pa'Lungan. Food is of excellent quality and owners speak very good English and are a good source of information.

Mado HomestayAnother good homestay in Pa'Lungan which is across the football field when you enter the village from Bario. Mado offers a room that sleeps three and he and his wife are very welcoming. The food is excellent and plenty, filtered water is available. As a licensed guide, Mado offers jungle trekking (e.g. to Ba'Kelalan) and speaks very good English. You can try to call ahead: 019-854 970 0. You might have to wait for a while on the veranda as they might be out in the fields during day time.

phone: +6019-815 5453

address: Padang Pasir, Bario

Beautiful longhouse styled guesthouse that enjoys a magnificent panoramic view of the Kelabit plateau from its newly built (as of 2016) wide veranda. The veranda is where meals are served, and you can also drink tea, watch the sunset and relax there. The rooms are clean with warm duvet covers, with two twin beds that can be easily put together to function as a double bed, and there is also enough room to fit an extra mattress. Accessible location but nevertheless serene and quiet. The owners are experienced retired educators and conservationists, fluent speakers of English, Malay and Kelabit with expert traditional knowledge on culture, history, language, and wildlife. Tours to all sorts of destinations and special cultural programs can be organised upon request. The Homestay runs on solar-powered electricity and has its own conference facilities that have hosted some international conferences.

phone: +60 13-8505850

address: Next to the old Airstrip, Bario 98050

Nancy is very helpful and will make you feel right at home. They'll help you arrange a licensed guide, and the large map of the area on the wall assists you in working out where you want to go. Harriss' cooking can be superb.
Camping
You can arrange camping out in the jungle as part of a multi-day trek with your guide.
Contact Gems Lodge at gems_lodge@yahoo.com to ask about local overnight camping.
Backcountry
As part of a multi-day trek you can stay either in rough huts where you'll need to bring your own food, or in longhouses where they will provide lodging, dinner & breakfast for RM40-60 per night (as of March 2012). It is well worthwhile taking your own sleeping bag, light hammock, leech socks, torch and candles if you do intend to do a multi-day trek as it is not always possible to stay in a longhouse every night of the trek.
Stay safe

Check with the Sarawak health department for incidences of malaria outbreak Although there has never been any history of any person contracting malaria in the Highlands.