Kelantan
Kelantan
is a state in the
north-east
of
Peninsular
Malaysia
.
Regions

Kelantan's official Arabic-language nickname, Darul Naim, means "Land of Lightning" — perhaps a reference to the possible derivation of the state's name from kilatan, a form of the Malay word for lightning. This state has 10 districts: Kota Bharu, Pasir Mas, Tumpat, Pasir Puteh, Bachok, Kuala Krai, Machang, Tanah Merah, Jeli, and Gua Musang.

Cities
- the state capital, and focal point for Kelantan's administration and business activities
- main border crossing into Thailand, also popular for shopping
- near the border with Terengganu, famous for waterfalls and beach (Pasir Puteh is Malay for "White Sand")
Jeli
Other destinations
Stong Hill - one of Kelantan's highland destinations; Jelawang Falls, beautiful sunrise and eco-tourism are some of the attractions here
Pantai Cahaya Bulan (Moonlight Beach) - one of Kelantan's popular beaches
Lata Rek - A famous water rapid and waterfall. ("Lata" means water rapids)
Central Market (Pasar Siti Khadijah)
Kuala Koh National Park (the northern entrance of Taman Negara)
Understand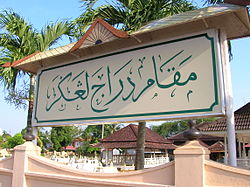 Kelantan is the most deeply conservative of all Malay states and has with just one interruption been governed by the opposition
Islamic Party of Malaysia
(
Parti Islam SeMalaysia
or
PAS
) since 1958. The party's green flag with a white full moon flutters throughout the state. Highways seem to have more signs with quotes from the Koran than actual traffic instructions; many signs are written in
Jawi
, the old Arabic script for Malay; and even some Chinese women wear head scarves here.
Whilst Malays make up 95% of the population of 2.4 million and there is also the usual smattering of Chinese and Indians plus Orang Asli (aboriginal people) in the interior, Kelantan is also home to the
Orang Siam
, a group of 7,000-8,000 Buddhist Thais. The Thais have lived in Kelantan for centuries. The Chinese community is also regarded as one of the most assimilated in Malaysia, and they are often seen wearing traditional Malay clothing and celebrating Muslim festivals despite being mostly Buddhist.
One strong point that differentiates Kelantan from the rest of Malaysian states is the way that the Kelantanese categorize people based on their place of origin rather than the color of the skin. All Kelantanese are considered as
Oghe Kito
(
Our People
or
Orang Kita
in standard Malay) no matter which race or religion they belong to. This sometimes gives the wrong impression to the non-Kelantanese Malaysians, to whom the term
Orang Kita
usually refers to people of the same race.
Talk
The
Kelantanese
dialect of
Malay
is famously incomprehensible to outsiders, so much so that Kelantanese and non-Kelantanese alike jokingly refer to it as
German
(pronounced
gher-man
with a hard G, but yes, it means
German
). Nevertheless, all Kelantanese learn standard Malay in school, so locals will generally be able to converse in standard Malay if required.
The
Orang Siam
also speak a dialect of
Thai
called
Tak Bai
, but this is also quite different from standard Thai or even the forms generally spoken in southern Thailand. Various Chinese dialects are also spoken by the ethnic Chinese community. That said, these people are generally able to converse in Kelantanese Malay and standard Malay as well.
As for second languages, some people speak English, but do not expect everyone to be able to. And while no-one will expect you to speak Bahasa Kelantan (Kelantan dialect), some knowledge of standard Malay would be very useful.
Get in
By plane
Kelantan's only airport is the Sultan Ismail Petra Airport (
KBR
) at Pengkalan Chepa, Kota Bharu. Malaysia Airlines and Air Asia provide flights to/from Kuala Lumpur . While people from Penang can reach Kelantan by FireFly.

By car
To/from other parts of Malaysia: Kelantan can be accessed by road via the East-West Highway which links Gerik in Perak on the west coast, and Jeli in Kelantan. Federal Route 8 connects Kota Bharu with Central Pahang via Kuala Krai and Gua Musang. You can also enter Kelantan on the East Coast main road (Federal Route 3) which runs from Johor Bahru in the south to Kota Bharu via Terengganu and the eastern part of Pahang. Use this road if you are heading to the Perhentian Islands.
To/from Thailand: Road users can enter Kelantan from the southern Thai province of Narathiwat at Rantau Panjang (across the Golok River from the Thai town of Sungai Kolok), and across the Golok River on the newly completed bridge at Bukit Bunga, Jeli.

By bus
To/from other parts of Malaysia: Long distance express buses connect Kota Bharu with Penang via the East-West Highway, and the other East Coast towns of Kuala Terengganu and Kuantan. See the Kota Bharu page for details.
A local bus runs twice daily between Gua Musang in Kelantan and Kuala Lipis in Pahang where there are connections to Jerantut for Taman Negara. Buses depart Gua Musang at 1030 and 1530 and from Kuala Lipis at 0800 and 1300. Local buses also run from Pasir Puteh in the eastern part of the state to Jertih and Kuala Besut (for boats to the Perhentian Islands), which lie just inside Terengganu. To Gerik in Perak, there is one trip a day via the East-West Highway, leaving Kota Baru at 0630 and Gerik at 1230.
To/from Thailand: There are no direct bus services into Thailand. Catch a local bus to Rantau Panjang, and cross the border to Sungai Kolok where there are bus connections to other destinations in Thailand. See the Kota Bharu page for details.

By train
Kelantan is linked to the rest of Peninsular Malaysia by the East Coast railway line, also known as the "Jungle Railway". The line starts from Tumpat in the north of the state and passes through Wakaf Baru (the nearest station to Kota Bharu), Kuala Krai and Gua Musang in the southern part of the state before it enters Pahang.
The main railway stations in Kelantan where express trains stop are:
Gua Musang: Tel: +60-9-9121226
Pasir Mas: Tel: +60-9-7909025
Tumpat: Tel: +60-9-7257232
Wakaf Bahru (for Kota Bharu): Tel: +60-9-7196986

To/From Kuala Lumpur: The sleeper Ekspres Wau links Tumpat with Kuala Lumpur daily, pasing through Jerantut (for Taman Negara).
To/From Singapore and Johor Bahru: The sleeper Ekspres Timuran goes to/from Singapore daily, also stopping at Jerantut. There are slow local trains to Gemas, Negeri Sembilan where the train joins the main West Coast trunk line, and even to Singapore. In early 2007, a daily day train, the Lambaian Timur was introduced, allowing travellers to enjoy the jungles of Peninsular Malaysia as it travels through the stretch during daylight hours.
To/from Thailand: Although there is a railway branch line running from Pasir Mas to Rantau Panjang on the Thai border, there are no passenger train services into Thailand or even to Rantau Panjang. Catch a local bus to Rantau Panjang, cross the border to Sungai Kolok where there are trains to Hat Yai and Bangkok.
For more details, check KTMB's website.

By boat
Passenger boats and vehicular ferries run across the Golok River between Pengkalan Kubur north of Kota Bharu, and Ban Taba, near Tak Bai in Narathiwat Province in southern Thailand. See the Kota Bharu page for transportation details to Pengkalan Kubur.
Passenger boats also run between the Bukit Bunga immigration checkpoint near Jeli in the western part of the state, and Buketa in Narathiwat Province.
A bridge across the Golok River at Bukit Bunga is already completed.

Get around
By car
Good roads link the main towns of Kelantan.
By bus
Bus transport in the state is handled by
Syarikat Kenderaan Melayu Kelantan (SKMK)
, a subsidiary of the
Transnasional Group
. Local buses link
Kota Bharu
with all main towns in Kelantan.
By train
Express trains (Ekspres Wau and Ekspres Timuran) make stops at major Kelantan stations, namely Tumpat (the terminus) Wakaf Baru (for
Kota Bharu
), Pasir Mas, Tanah Merah, Dabong (for Bukit Stong waterfall), Kuala Krai and Gua Musang. Local trains stop at almost every station and halt on the East Coast line and constitute a major mode of transport for locals living in the interior of the state.
Check the
KTMB
website for more details.
See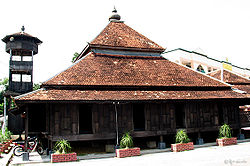 The tallest standing Buddha statue in South-East Asia (108 feet high) was opened to the public in June 2009, at Wat Phothikyan in Kampung Balai, a small village 35 minutes from Kota Bharu, Kelantan.
The temple wall is adorned with a pair of dragon carvings. As you walk in between the two dragon heads at the entrance, you are greeted by a T-Rex statue on your right. But the majestic Buddha statue in gleaming white mosaic tiles really takes your breath away.
Do
Visit Pasar Buloh Kubu, the wet market where women rule.
Go to Pantai Cahaya Bulan and stay in the chalet there.
Walk around Kota Bharu and try ayam percik. You will love it.
Go to Tok Bali and see the fishermen with their catch, especially at midnight
Buy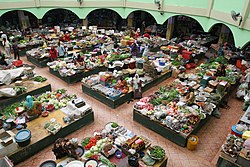 Kelantan is famous for its Malay arts and handicrafts (mainly batik). The state's most instantly recognizable symbol is the
wau bulan
("moon kite"), which has been adopted by Malaysian Airlines as its logo.
Some things to buy:
Songket - Silk cloth woven with gold or silver threads. The Songket Bazaar is in Kampung Penambang, north of Kota Bharu.
Batik - Printed cloth with very colourful pattern and motifs.
Silver - Silverware, jewelry and brooches in the form of Wau Bulan (moon kite) or Wau Kuching (cat kite).
Keropok - Fish crackers are available in raw or ready-to-eat packaging.
Woodcarving - Handicrafts made from wood; eg, a pair of decorative fork and spoon.
Wayang kulit (shadow play) puppets - Characters from famous Hindu epics.
Local souvenirs can be found at Bamboo Fort Bazaar in Kota Bharu.
Fake goods (usually made in Thailand) can be found at Rantau Panjang and Pengkalan Kubur. Set aside those fake goods, these two places are shoppers' haven since they are duty-free zones.
Eat
Kelantanese cuisine has several specialities rarely seen elsewhere in Malaysia, and most Kelantanese people are very serious about their food. Eating out provides for plenty of options and is much cheaper here than the (often not-so-authentic) other versions of Kelantanese food found in Kuala Lumpur. The dominant themes are the heavy use of
kerabu
, a catch-all term covering various herbs and vegetables and often served as an accompaniment to dishes, and the multiple uses found for
coconut
, which can be found in almost every dish. Due to its close proximity to the Thai border,
Thai food
is also widely available; there are also many dishes that are distinct mixtures of Malay Kelantanese and Southern Thai cuisine.
Some specialties worth looking out for include:
ayam percik - grilled chicken with coconut milk sauce
laksam Kelantan - the local version of the ubiquitous noodle soup, here served with herbs, rolled-up flat white noodles and a rich white fish and coconut gravy
nasi dagang Kelantan - a mix of white and brown glutinous rice cooked with coconut milk, mild-tasting in itself but served with lots of tasty curries. Another version of nasi dagang is found in neighboring Terengganu, which uses white glutinous rice and a slightly different gravy.
nasi kerabu - spiced yellow rice akin to the Indonesian nasi kuning, served with a vast assortment of fresh herbs and fried coconut. Note that in most of the rest of the country, nasi kerabu means rice that has been dyed a shocking shade of blue! However, the authentic Kelantanese version of nasi kerabu is colored blue from the use of a wild flower, and not food coloring. It is served with slightly sweetened "budu", a condiment made of fermented anchovies that is a staple of Kelantanese cuisine. The unadulterated version of "budu" is very salty and used to dip herbs and raw vegetables and eaten with rice. Like the famous durian, the taste is acquired and the smell is often overwhelming.
nasi tumpang - rice rolled up in a banana leaf so it resembles an ice-cream cone shape, with omelette, curry and meat floss packed inside.
Popular desserts and snacks include
akok
(steamed egg-based mini cakes),
bahulu
(cakes), "serimuka" (a steamed dessert made from two layers of glutinous rice and pandan-flavored egg custard) and
keropok ikan
(fish cracker). Certainly there are two or three sweets for every savory dish native to Kelantan so you will not run out of things to try. Simply walk around the food section in Pasar Siti Khadijah and you will feast your eyes on various colorful sweet treats. A note of caution though: Kelantanese people are well known for their sweet tooth and even the savory dishes also tend to be cooked on the sweeter side!
Drink
Fresh coconut is RM3.
A fermented version of coconut milk is called "tuak", and it is usually sour. Dare to try.

Stay safe
Kelantan is generally safe, and people are generally friendly.

Respect
More than anywhere else in Malaysia, in Kelantan it's important to respect local mores, especially if you head out into the countryside. It is not necessary or expected for non-Muslim women to wear a headscarf (though it would certainly meet with approval), but both men and women should wear clothing that covers all or at least most of their legs (no short shorts), and women should wear blouses or dresses which cover their torso. Long sleeves are preferable for women, and outfits which show the shoulders or midriff should be avoided. The watchword is modesty. Tourists dressed in shorts and skimpy tops are really out of place in this state.
But regardless of how modestly you dress, if you're white, people may stare at you. If that happens, just smile.

Go next
Taman Negara (Pahang) - Malaysia National Park, world's oldest rainforest