Kelleys Island
Kelleys Island
is an island and city in
Erie County
,
Ohio
.
Understand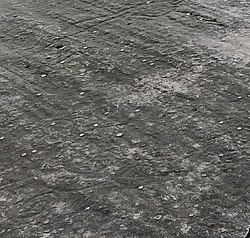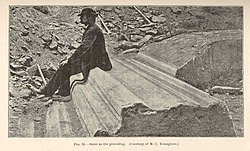 The island is sparsely-populated, with a small village on the south side of the island, residential areas on the east side, a limestone quarry on the west side, and a State Park on the north side. Ferries from the mainland dock at the village several times/day during prime tourist season.
History
PreHistory
During the Ice Age, receding glaciers carved glacier grooves across the island. Kelleys Island was originally inhabited by the Native Americans, creating Inscription rock on the southern shore sometime during the 1640s.
Settlement
By the early 1800s, the first white settlers arrived, but were unable to stay due to a variety of mishaps. By the 1820s the first permanent settlers established themselves. By the 1830s the first quarry opened, and by the 1840s the first winery opened on the island. The use of the island stone unfortunately destroyed most of the vast glacial grooves, outside of a small preserved area.
Get in
Kelleys Island can be reached by ferry from
Sandusky
or
Marblehead
Peninsula, by airplane or private boat.
By Boat
address: 101 W Shoreline Dr, Sandusky, Ohio

Offers passenger-only ferry service from downtown Sandusky, Ohio to Kelleys Island aboard hydro jet catamarans. Trip takes 20-25 minutes. Drops off passengers at The Casino downtown.




By Plane



Get around
The island has many miles of paved roads if you ferry your car to Kelleys Island.
Golf Carts are a popular way for locals to get around, and are available as rentals.
Many choose to travel by foot or bicycle.

See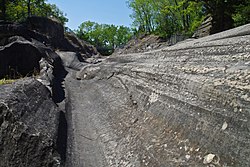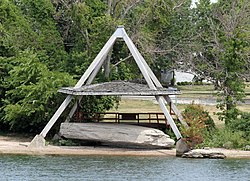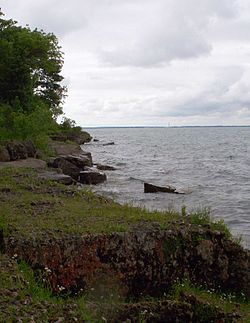 Ohio's largest island is full of adventure for all ages. It has 600 acres of state park lands, 17 miles of coastline, beautiful wildflowers, nature trails, a fossil-filled quarry, and wetlands which are admired by nature-lovers and outdoor enthusiasts alike. There is also a popular downtown district that offers shopping and entertainment, as well as dining and drinking establishments.
address: E Lake Shore Rd

A boulder covered in native petroglyphs. The petroglphys can be difficult to view looking down, angling your view from a lower position can make them more apparent. Please do not throw coins on the rock.

Kelleys Island Historical Museum

phone: +1 419-746-2399

address: 224 Division St

Exhibits include the Himmelein House, commercial fishing artifacts, Estes school, island churches and wineries, fossils, Indian artifacts and Shays locomotives. Also offers access to a historic church building and garden.

Charles Herdon Sculpture Garden and Art Gallery

phone: +1 419-746-2249

address: 110 Laylin Ln

A sculpture garden created by a former professor of the Columbus College of Art and Design. Wait outside until greeted for access to the indoor art gallery. The indoor gallery contains artwork for sale.

Kelley's Island War MemorialA memorial in a small public park downtown. The park offers drinking water, as well as a small playground.

Monument to the Unknown SoldierA small monument in the island cemetery.
Do
Glacial Grooves State MemorialThe world's largest accessible glacial grooves, embedded with fossils that are 350-400 million years old. Located on the north side of the island, the grooves can be viewed from a walkway and stairs. The wavy trough is long, wide, and up to deep carved by glaciers pressing large stones along the bedrock. Partially accessible to those in wheelchairs.

phone: +1 419-734-4424

address: 920 Division St

The park features hiking trails, camping, boat launch ramp, fishing, summer programs, picnic sites, and a sandy swimming beach. Nature in the park includes an Alvar ecosystem - scarce outside of Scandinavia, and rare plants such as the vulnerable Lakeside Daisy. Remnants of abandoned quarry operations can also be seen.

address: Monagan Rd

A nature reserve on the Island's east side with a single trail. The beginning of the trail is a low difficulty and usually a good place to spot birds. The end of the trail is often difficult to pass through as it is frequently obstructed by debris and mud. The trail ends on a beautiful white sand beach.

North Pond State Nature Preserve

address: Ward Rd

A preserved lake marsh with a variety of plants, amphibians and migratory birds. Many of the plants here are endangered. Contains a number of observation towers for Birders connected by wooden boardwalks. Does not allow pets.
Buy
Eat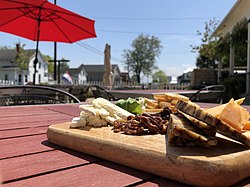 phone: +1 419-746-2506

address: 240 E Lakeshore Dr

A marina that offers a variety of amenities including laundry, restrooms, golf cart rentals, and fuel. The main building has a convenience store, and a cafe serving coffee, breakfast, and deli items.
Drink
Several bars exist in the village, and Kelleys Island Brewery produces several varieties of ale and lager at their facility west of the village.
phone: +1 419-746-2678

address: 418 Woodford Rd

Rustic indoor and outdoor setting, dining options, special events, catering, and wines. Has a Cantina next door that specializes in blue agave tequila. Horseshoe pit, arcade, volleyball, cornhole, and gift shop also available. Has some cute goats in their backyard, with feed available from their gift shop.

phone: +1 419-746-2281

address: 103 Lakeshore Dr

A downtown pub. Has good hours. Servings can be rather large. Specialties include perch and their "Brandy Alexander", a creamy drink.

Captian's CornerA lively pub with good hot food.

phone: +1 419-656-4335

address: 504 W Lakeshore Dr

Has a wide variety of microbrews and desserts.

West Bay InnA restaurant and Bar in a remote part of the Island. Not actually an Inn.

The Island HouseFocuses on spirits and desserts. Has some higher end meat and cheese options for food.
Sleep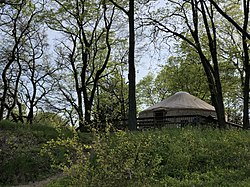 phone: +1 419 746-2546

address: 920 Division St

45 non-electric, 82 electric sites, showers, flush toilets, volleyball court, six miles of hiking trails, North Pond Nature Preserve, North Shore Nature Preserve, picnic areas, a picnic shelter, launch ramps, fishing, 100-foot swimming beach and hunting. Has two yurts with lake views that can be rented.

phone: +1 419 746-2254

address: 441 W Lakeshore Dr

30-room hotel with balconies and decks. Has a hot tub and pool. Bicycle rental included.

The Fly Inn Luxury B&BA bed and breakfast close to the airport
Connect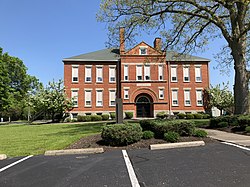 The south side of the island is well connected with 4G cellular service and businesses offering Wi-Fi. Outside of downtown, especially on the north side of the island, cellular signals can be poor or non existent. On the north shore you may be able to be able to intermittently connect to
Canadian
cell towers - Be aware that you may accidentally incur international charges depending on your provider and plan. To avoid this, as well as battery drain, consider switching your phone to airplane mode.
Kelley's Island Library & School

phone: +1 419-746-9575

address: 528 Division St

Offers free Wi-Fi. Limited hours for actually going inside, but the Wi-Fi signal reaches to the parking lot. May offer small art exhibitions and other programming on occasion.

phone: +1-419-746-2351

address: 427 W Lakeshore Dr

Shares a building with the electric co-op. The electric co-op has a free observation and rest area next to the lake and some coin operated binoculars.
Stay safe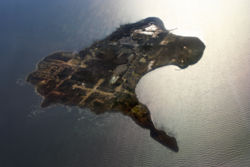 Despite its low population and remoteness, Kelleys Island still has a police department and an emergency medical service. Keep in mind that 911 won't work in areas with no signal.
The bedrock on Kelleys Island is very close to the surface, and often bare patches of it are exposed in parks. This rock can be slippery, especially after rain or near the lake. Always pay attention where you're stepping, especially near cliff edges.
Lake Erie is volatile and can be dangerous. Be careful while swimming, especially alone.
Don't enter the
abandoned buildings
in the woods. Most haven't been maintained since the 1930s.
When a sidewalk is available use it. Walking on the road is punished by a $100 fine from the island police.
Go next