Kelowna
Kelowna
is a city in the
Okanagan
region of
British Columbia
.
Understand

Kelowna is the largest inland city in British Columbia, located in the heart of BC's wine country. It has a metropolitan population of about 165,000.
Okanagan Lake is the main draw in the summer. This 135 km long jewel is a big draw for boaters (power and sail), swimmers and kite-boarders.
In winter thousands of tourists come from all parts of the world to ski at Big White resort, located 55 km from the city.
Tourists also come in the fall (mostly) to experience and taste the Okanagan's world class wines from various wineries throughout the valley.

Get in
By car
Highway 97
is the major highway through Kelowna, with
Vernon
and Highway 1 to the north,
Penticton
and Highway 3 to the south, and
Merritt
(via the Okanagan Connector, a.k.a. Highway 97C) to the west. Highway 33 provides secondary access to points south and east. It's a 4-5 hour drive from
Vancouver
via the Okanagan Connector, and 8-9 hours from
Calgary
.
By plane
As of 2015, the Airlines serving Kelowna International Airport are:
Air Canada
Air North
Air Transat
Alaska Airlines
Central Mountain Air
Pacific Coastal Airlines
Sunwing Airlines
Westjet
By bus
Ebus
serves Kelowna from Vancouver and Kamloops.
By train
There is no train service available to Kelowna however you can use the nearest train terminal in
Kamloops
(about 90 minutes north-west of Kelowna by car).
Get around
Traffic can be quite heavy on major roads in Kelowna during the summer months, especially at the approaches to the floating bridge. A lack of advance left turn traffic lights contributes to accidents at major intersections.
Kelowna Regional Transit System. Best times to travel are early mornings and late afternoons on weekdays. High traffic routes (such as Lakeshore #1, University #8, Rutland #10 are the most efficient and numerous routes). Bus drivers are generally courteous and will on request call ahead to your next bus to facilitate a timely transfer. When school is in session, expect to miss a bus (or two) due to over-filled buses. Check the user website for more details and schedules. $2.50 cash fare (2018).
Kelowna has an extensive network of bike lanes. Cyclists are advised to use bike lanes (when not obstructed by parked vehicles) and intersections with caution. Cycling on local highways is not recommended. See the City of Kelowna website for a detailed map.
There are several boat launches along the lakeshore with parking facilities. Be prepared to queue in the summer months. As for the lake itself, it can get crowded out there, especially with small watercraft.
The downtown area is pedestrian-friendly, especially along the waterfront.
Vehicle rentals
Budget Car Rentals
Enterprise Rent-a-Car
Avis Car Rentals
Discount Car and Truck Rentals
Hertz
Downtown
The Downtown Core is easily accessible with public transit as well as taxis and bicycles, once downtown you have two major parkades to choose from if you decide to drive yourself one is of Pandosy Street (the Verve Restaurant is in the first level) or at the library by the RCMP (Royal Canadian Mounted Police) Station, so parking shouldn't be a chore.
The rush hour (usually 4:30PM-6PM) can be a challenge in the downtown core as well as on the main transportation arteries: Highway 97C, Highway 33, Lakeshore Rd.
See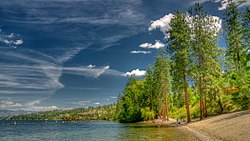 Bertram Creek Regional Park

address: end of Lakeshore Rd

One of the best kept secrets of Kelowna is Bertram Park at the end of Lakeshore Road, with beautiful beaches and grassy areas to picnic on it is one of the most idyllic places in Kelowna, it offers BBQ's as well as change/wash rooms.

City Park

address: Abbott St at Leon

A great environment in the summer to sun tan, play and enjoy yourself, or be with your family at the playgrounds. The water and skate park offer a great time in the sun.

Gyro Beach Park

address: Lakeshore Rd & Swordy Rd

Enjoy the half submerged playground in summer you can let yourself slide along the rope into the lake within which you may come across our lake's resident the Ogopogo (we are not joking, Loch Ness isn't the only body of water with a lake monster ). If you see Ogopogo make sure to be friendly as it is his home you're swimming in ;).

address: Knox Mountain Rd

Large park and natural area north of Kelowna's downtown. The view from the top has great views of the valley, including downtown Kelowna and Okanagan Lake. There is a road most of the way up with parking, that is open in the summer. There are also many trails for walking and biking that lead to other viewpoints and Paul's Tomb, the only beach in the park.

Mission Creek Regional Park

phone: +1 250 469-6140 (EECO Center)

address: 2363 Springfield Rd

Park set on both sides of Mission Creek. The EECO Center has environment exhibits and park information. The creekside trail has a fish ladder, an old homestead site, interpretive signs and a playground/picnic area. Salmon return to the spawning channel in Sept-Oct each year.

Stuart Park

address: Water St, between Mill & Doyle

Waterfront park with some nice views. Notable for Bear Plaza and it's public art, and the outdoor skating rink in winter.

Waterfront Park

address: 1200 Water St

Another park along downtown Kelowna's waterfront. It's well-maintained with a boardwalk along the waterfront, gardens, a sandy beach for swimming (Tugboat Beach) and seasonal concession stand and washroom facilities. There's also a bird sanctuary (Rotary Marsh) at the northern end.
Another "best kept secret" is a beautiful beach located off Lakeshore in the Mission area. To get to it, turn down Truswell Road and take a left on Martin Road. If you walk keeping on the right to the end of Martin, you will come to a river. Turn right down a narrow bank alongside the river and walk along it for a short distance and you'll find and absolutely gorgeous beach frequented mainly by the younger crowd. If you bring beer or "other things" BC is famous for, be careful, as this beach is certainly not a secret to the police. This beach is referred to by locals as "Hidden Beach", often reduced to "Hidden", or "Skim Beach".
Wineries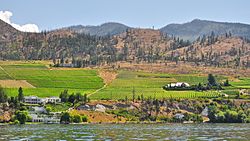 Wineries and wine tours have become popular things to do in Kelowna. There are over 20 wineries in Kelowna and the surrounding area, ranging from some of the biggest names in BC wine to small boutique wineries. The list below includes wineries that are in Kelowna only — several popular wineries associated with Kelowna, such as Mission Hill and Quail's Gate, are in neighbouring
West Kelowna
and covered there.
Do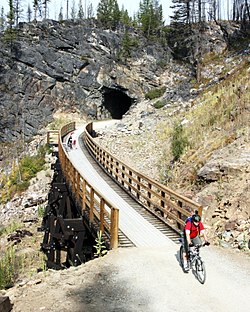 address: accessed via McCulloch Rd (main entrance) or June Springs Rd

Home of the famous wooden trestles of the old Kettle Valley Railway. Recently rebuilt after being burnt down - They provide a unique and beautiful view of the Kelowna area, as well as the uninhabited areas surrounding it. These are about an hour's drive outside of Kelowna - up a dirt road.

Kelowna Rockets / Prospera Place

phone: +1 250-762-5050 (box office), +1 250-860-7825 (team office)

address: 1223 Water St

The Rockets are the local team in the Western Hockey League (players are 16-20 years old). Tickets can be purchased online or through the box office at Prospera Place, their home arena.

Knox Mountain ClimbAn annual hill climb is one of the highlights of this peak.

Swimming - many sand beaches great beaches. Some feature swimming platforms (Gellatly bay aquatic park) and swing lines (Gyro park).
Bike and hike the local mountains (Kettle Valley, Myra Canyon, Knox Mountain)
Golf on any of the many great golf courses.
Play Tennis
Enjoy the Athletic Centers (Parkinson Recreation Center, Athens Recreation Center, Capital News Center).
Sailing, Seadoo-ing and Boating on Okanagan Lake.
Windsurfing
Skateboarding/longboarding--the skateparks are average but lots of great hills
Or the best yet... just be lazy and lay at the beach... or in winter in a jacuzzi surrounded by snow.
Hangout in city park and walk along the boardwalk.
See a Ballet Kelowna performance

H20 Adventure and Fitness Center

address: 4075 Gordon Dr Kelowna, BC V1W

H2O Adventure + Fitness Centre is the largest municipally owned water park in Canada and features an Olympic length 50 meter pool, wave pool, river run, 3 water slides, children's water play area, and an ocean wave surf simulator. And, for the fitness enthusiast, a 12,000 square foot cardio, weight equipment and exercise space await you.
Learn
Work

The main industry in Kelowna is tourism, with its requisite offering of service industry jobs at or slightly above minimum wage. The local ski hill Big White offers winter employment for ski/board instructors, liftees, servers, and so on. With the recent boom in housing, there is a shortage of skilled tradespeople in the construction industry.

Buy
Bernard Avenue (between Richter and Water Street) & the downtown area: Frock (vintage clothing), Olive & Elle (beautiful household items), Funktional
Pandosy St at/around KLO Road
Okanagan fruit tree co-operative, 816 Clement Avenue, Mon-Sat 9-5
Kolu, Rosebuds consignments
Orchard Park shopping centre
Eat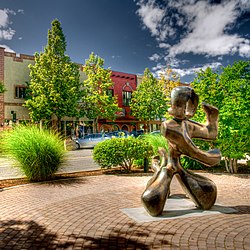 Budget
Mid-range
Bai Tong Thai food - On 275 Bernard Avenue, one of Kelowna's best Thai food places!

Memphis Blues

address: 289 Bernard Ave

A fantastic BBQ house, close to the water in downtown Kelowna.

O-Zeki Japanese

phone: +1 250 868-8805

address: 1560 Water St

Popular and well regarded bistro. Dishes focus mostly on BC seafood or meat from BC or Alberta. Seating is varied — there's one long communal table or you can choose a more traditional booth seat.
Splurge
Chop Steakhouse & BarSteak, seafood & drinks for a special night out.

Mon Thong

phone: +1 250 763-6595

address: 1180 Sunset Dr #105

Elegant French restaurant with many French classics — bouillabaisse, cassoulet, foie gras, duck confit, rabbit, lamb Provinçale and pommes frites. There's also a weekly "Chef's Table", a three-course fixed price menu.

The Rotten Grape

La Bussola Restaurant

Waterfront Restaurant
Drink
Pubs close at 1AM and clubs at 2AM.
The Grateful Fed, Bernard Ave, the main strip downtown, and has live music in the later evenings, with pub/deli style eats and drinks, and a patio in the warmer months.
Roses Waterfront pub located by the Grand/Kelowna Yacht Club.
Flashbacks Nightclub on Ellis Street (Close to Prospera Place)
The Blue Gator A Blues Club located on Lawrence Street. Has an outdoor sidewalk patio where you can eat/drink.
97 Street Pub At the intersection of Hwy 97 and Leckie Road (Beside the Best Western Hotel)

Doc Willoughby's Downtown Pub

address: 353 Bernard Ave

Sturgeon Hall

address: 1481 Water Street

Tonics Pub, Ellis Street. Good food, and great prices on drinks. Nice atmosphere and friendly, helpful staff.
Sleep
If you will be staying in Kelowna between May and September, book your accommodations well in advance, especially for weekends.
Budget
address: 2343 Pandosy St

The recommended of the two hostels in town. Interesting atmosphere, not overcrowded. There are 4-bed dorm rooms and a small number of private rooms for 1-2 people. Bedding and towels are provided and rooms have lockers for each guest. It has a limited number of beds, however, so it's easiest to book ahead. Office hours are 7AM-11PM.

phone: +1 250-899-3188

address: 730 Bernard Ave

Newly renovated comfortable hostel located right in downtown. Great for downtown shopping and beach strolling. Dorm rooms and some private rooms. Office hours are 8AM-9PM.

address: 245 Harvey Ave

Clean with good facilities and a very friendly party atmosphere. Outdoor courtyard area with DJs, BBQs and a pool in the summer. Daily activities year round. 4-8 bed dorm rooms and some private rooms.
Mid-range
Splurge
phone: +1 250-763-4500

address: 1310 Water St

Large hotel and conference center on Okanagan Lake. There are over 350 rooms, ranging from the standard two queen beds to suites with a whirlpool. The hotel includes a pool and fitness center.
Stay safe

Kelowna is a growing city and therefore has its growing pains, with these come the following recommendations; avoid Leon & Lawrence Avenues between Water and Ellis during night time. City Park at night is patrolled, however can be somewhat dodgy after hours too. Be cautious when visiting the other local parks and beaches during the evening as well as they are known for transients and illegal activity.
As long as you keep yourself aware of your surroundings, you will be fine.
In summer, the city is also prone to forest fires, having suffered large fires in 2003 and 2009. Depending on the season, there may be campfire bans or parks may be closed.

Cope
Kelowna General Hospital

Go next