Kemah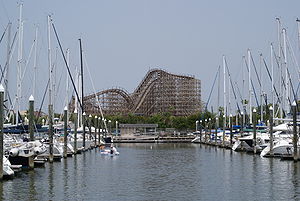 Kemah
is a city on the
Gulf Coast
of
Texas
. The boardwalk is a popular destination for people in the
Houston
area. The best time to come if you want to relax is during the week, but if you have kids and want them to be able to play in the fountains and things, come on the weekends.
Understand
In the mid-1990s, Landry's Restaurants bought the all the property along the south side of the Clear Creek channel. It was then rebuilt with a theme-park atmosphere and the energy in Kemah increased dramatically. All the boardwalk restaurants are chains owned by Landry's, and all the smaller shops lease space. Limited parking is free. There are plenty of other independent shops through the town, back off the boardwalk.

Get in
By car
Kemah is small enough to travel on foot or bike, but most people get there by car. From IH-10 in
Baytown
(east of
Houston
), turn south on TX-146. Kemah is just past the second or third very tall bridge. From
Houston
or
Galveston
, go towards the other on IH-45. Turn east on FM-517. Continue straight on FM-2004 until it ends in Kemah at TX-146 (if you accidentally "turn right" and stay on FM-517, just keep on going to TX-146 then turn left - you're only a couple of miles down the road).
By boat
Kemah Harbor Marina
offers transient docking services for $1 per foot. Slips up to 30' are almost always available, 30-50' boats should call in advance.
Get around
Due to the small size of the town there is no public transportation. Taxis are available, and plenty of parking is available.

See
phone: +1 281-483-0123

address: 2101 NASA Parkway, Houston

Rocket park is available for personal tours, though the Saturn V rocket is covered for maintenance.

phone: +1 281-244-2100

address: 1601 NASA Parkway, Houston

Lots of exhibits and rides, tram tours of the Johnson Space Center working facilities.
Do
Joe's Boardwalk BeastA fun ride through Galveston Bay, on a big speed boat. Closed in the winter.

Boardwalk TrainA mini-train that follows a track around the boardwalk.

phone: +1 281-535-0623

address: 512 7th St

A family-friendly dinner theater. Lots of fun.

phone: +1 281-334-6611

address: 2020 Anders Ln
Skate
There is one CORE skateshop in the Clear Lake area. It's right across from the boardwalk in Kemah in the Target shopping plaza, behind the Chili's.
phone: +1 281-334-6506

address: 243 Marina Bay Drive, Suite L
Sail
There are several marinas that offer various yachting services. Consider chartering a sailboat for half a day, or looking into a weekend-long sailing certification course.
phone: +1 281-334-2284

address: 555 Bradford St

Can direct you to their resident services, but recommends you contact providers directly.
At the Helm Charters and Sailing School

phone: +1 281-334-4101

Captain Kidd Charters

phone: +1 281-334-5433

Gateway Charters/Southwest Sailing Ventures

phone: +1 281-334-4606

Houston Yacht Sales Inc.

phone: +1 281-334-1400

Lighthouse Charters

phone: +1 713-822-0825
Fish
The area is renowned for its fishing. Red Drum are a popular hunt, as are croaker, flounder, and trout.
Marburgers Sporting Goods

phone: +1 281-474-3229

address: 1400 Bayport Blvd, Seabrook

Outfit for hunting or fishing. Knowledgable staff, decent selection.
Buy
Tabasco Country Store

phone: +1 281-334-4600

address: 10 Kemah Waterfront St

For anyone that wants a little spice in their life, this is the place to go. Every Tabasco is here from the popular red Tabasco to Tabasco candy. Tabasco is made on Avery Island, Louisiana

Kandy at Kemah

phone: +1 281-538-4077

address: 10 Kemah Waterfront St # T

A wide variety of candy and treats, including fresh fudge.
Eat
Budget
Coffee House

phone: +1 281-334-5351

address: 8 Kemah Waterfront St

Coffee and beignets. Buffet on weekend mornings.
Mid-range
Saltgrass Steak House

phone: +1 281-538-5441

address: 215 Kipp Ave

A chain joint, but still decent. If you can handle a little heat try the trail rattlers (jalapenos stuffed with shrimp and stuffing, deep fried - they're not really that spicy).

Claudio's

phone: +1 281-334-7744

address: 700 Kipp Ave

A classy restaurant and piano bar.

T-Bone Tom's

phone: +1 281-334-2133

address: 707 Highway 146

Steaks and country kitchen food. The burgers carry a good reputation.

Ichibon

phone: +1 281-538-0788

address: 406 Texas Ave

Japanese steak and sushi. If you sail way up Clear Lake, you'll see the owner's boat in a dock just past Nassau Bay.
Splurge
Aquarium

phone: +1 281-334-9010

address: 11 Kemah Waterfront St

"An Underwater Dining Adventure", the price is high, and the seafood is not the best, but only locals notice. The whole building is a huge aquarium with sharks, and exotic fish. This is a must, even if you just go to the bar, you have to go in and look.

The Flying Dutchman

phone: +1 281-334-7575

address: 9 Kemah Waterfront St

A local favorite, this was the first restaurant on the bay and will probably be the last too. The atmosphere is great, but like everything else on the boardwalk, the price is high.

Kemah Crab House

phone: +1 281-334-3360

address: 3 Kemah Waterfront St

East coast style sea food, with a good bit of local flair. The avocado crab salad is a little spicy but worth trying.

Landry's Seafood House

phone: +1 281-334-2513

address: #1 Kemah Boardwalk

Wide selection of seafood, wine, and desserts.
Drink
Molly's Pub

phone: +1 281-334-2777

address: 400 Texas Ave

One of a series of local bars, frequented by locals. They go for the Americanized Irish pub feel and keep a vast selection of beers on tap. Ask for the current Saint Arnold Brewery seasonal.

Zone 504 Sports Bar

phone: +1 281-538-8123

address: 504 Kipp Ave

Zone 504 is a lively sports bar voted Best of the Bay 2 years in a row. Excellent prices and fantastic bartenders. Recently rebuilt after hurricane IKE but has quickly regained its status as BEST PUB IN KEMAH!!! Beware though, a pack of wild dogs has been seen frequenting the establishment and leering at patrons, and locals consider it only a matter of time until someone's throat gets bitten out.

Monkey BarA more whimsical bar. You can find toucans in a big cage nearby.

Palapa's

phone: +1 281-334-3746

address: 608 6th St

A tropical-themed bar. Expect near-overpriced fruity drinks, but good service.
Sleep
Budget
Mid-range
Splurge
Pet lodging
Go next