Kemijärvi
Kemijärvi
is in
Finnish Lapland
. It is the north-eastern railhead for passenger traffic.
Understand
Kemijärvi can pride itself on being the northernmost city in Finland, and the only one with the city center north of the Arctic Circle. Formerly quite off the beaten path, opening of a new border crossing to Russia in nearby
Salla
has brought more international visitors to the city.
phone: +358 40-189-2050

address: Vapaudentie 8
Get in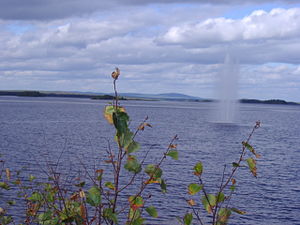 By plane
The closest passenger airport is in
Rovaniemi
, some 80 km away.
By train
The daily overnight train from
Helsinki
to Lapland goes all the way to Kemijärvi. The car train station has been decommissioned, so if you are taking your car with you, you will only get as far as Rovaniemi.
By bus
There are buses from
Rovaniemi
,
Kuusamo
and
Sodankylä
as well as
Kandalaksha
in Russia.
By car
As is the case elsewhere in rural Finland, driving is probably the most practical way of getting in if you are in a hurry. The distance from Helsinki and elsewhere in southern Finland is about 1000 km, so prepare for a whole day of driving. From elsewhere in Lapland you can usually get to Kemijärvi in 4–5 hours by car. Remember to watch out for
reindeer
on the road regardless of the time of the year! From the Russian border at Salla you can drive to Kemijärvi in less than one hour.
Get around
The town isn't larger than that you can get from any place to another in less than 10 minutes by foot. You can get further out by intercity bus, and if your destination isn't next to a highway you will need to drive or take a taxi.

See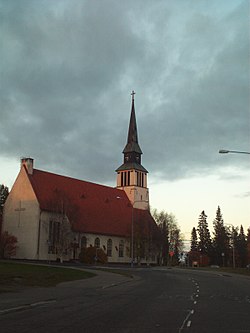 Lake KemijärviKemijärvi translates to "Kemi Lake", and the city shares the name with the lake just east of it. The lake and the landscapes with fells (hills) around it is beautiful around the year.

Kemijärvi churchBuilt in 1949, this is the most prominent landmark of the city.

The snowmobile and sawmill museum

address: Varastotie 11

Kemijärvi local history museum

phone: +358 40-503-9591

address: Sepänkatu 4

The regional museum shows how people used to live in the old days.
There are also a couple of galleries and workshops by local artists.
Do
Kemijärvi is more or less a town in the middle of the outback, so if you want to "take a hike" Kemijärvi is a good starting point.
Suomu ski resort is administratively in Kemijärvi, about 40 km southeast along highway 5 (E63).
Festivals
Buy
Kemijärvi isn't really a shopping destination. Most shops are located along Vapaudenkatu street, and there you can find basic stuff that you might need on your trip.

Eat
The hotels in the town also serve as restaurants and pubs. In the budget segment, the service stations' cafés offer meals from hotdogs and pizzas to schnitzel and fries.

Sleep
Budget
The
"everyman's rights"
and the fact that it easy to get out in the nature here make
wild camping
a viable option in the summer months. It is free, if not always comfortable accommodation.
Mid-range
phone: +358 16 458-2200

address: Vapaudenkatu 4

An aged hotel right at the main shopping street.
Splurge
phone: +358 16 320 7700

address: Kirkkokatu 9

A basic hotel in the city center, the rooms have been recently refurbished. TV and private bathroom in each room as well as unreliable WiFi. The hotel restaurant is also a good place to eat even if you don't stay there, they serve an extensive buffet for €11.50.
Connect
Postal code: 98100 Kemijärvi.

Go next
Rovaniemi – the largest city in Lapland and probably the most popular destination after Helsinki
Sodankylä – ... and the rest of northern Lapland
Kandalaksha (Finnish: Kantalahti) – if you have a valid Russian visa or don't need one