Kenai
Kenai
is in
Southcentral Alaska
.
Understand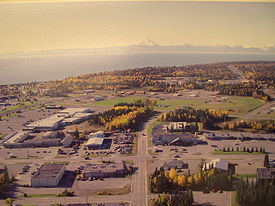 Kenai is named after the local Dena'ina (Tanaina) word 'ken' or 'kena', which means 'flat, meadow, open area with few trees; base, low ridge' this describes the area along the mouth and portion of the Kenai River near the City of Kenai. Before the arrival of the Russians, Kenai was a Dena'ina village called Shk'ituk't, meaning "where we slide down." When Russian fur traders first arrived in 1741, about 1,000 Dena'ina lived in the village.
Get in
By plane
By car
The main road in is via the Kenai Spur Highway (a 39 mile long road from
Soldotna
to
Nikiski
).
By boat
Although many fishing boats are based in Kenai it does not have a formal port and harbor. There are docks for offloading the catch, but commercial fishing boats are generally moored offshore in the Kenai River. The nearest deep water port is in Nikiski, however, its facilities are for the almost exclusive use of industrial vessels.
Get around
Like other towns in this area, Kenai does not have anything resembling a real mass-transit system. However taxis and rental cars are readily available. If you plan to rent a car in the summer months, make sure to make a reservation.

See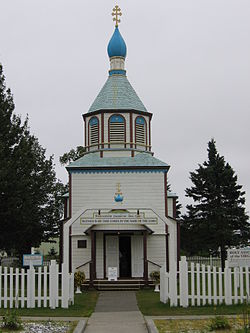 The main draw for visitors to this area is the Kenai River, which has spectacular salmon fishing. Visitors should make sure they have an Alaska fishing license and are aware of all current regulations before fishing. Although the river itself is public, much of the land along its banks is private property. There are several public parks and other access points. Make sure you are on public land, or charter a boat if you plan to fish.
If fishing isn't your thing, you may want to visit the picturesque Holy Assumption of the Virgin Mary Church, a historic Russian Orthodox church, one of the oldest in Alaska and designated as a national historic landmark.
Views from the bluffs, the tide flats, or the beach feature amazing views of Cook Inlet and the mountains of the Aleutian Range, including some of the best viewing of Mt. Redoubt, a massive volcano, last fully eruptive in 2009.
Do
Go fishing. See the "see" section.

Buy
While much of rural Alaska shuns "big box" stores, Kenai embraces them. Home Depot, WalMart, and Safeway all have large stores here. There is also a more local, but still huge, store called Three Bears that has groceries and dry goods, as well as a large outdoor department with fishing, camping, and hunting supplies . All of them are right on the highway and hard to miss. Country Foods IGA, located just off the highway on Willow Street, is like a trip to a time that is nearly gone in this country. A time when grocery stores were smaller and easier to navigate. They have an excellent meat and poultry department that always has great "two for one" deals on something.
If you find you didn't dress for the weather and are on a budget, the Bargain Basement, which lives up to it's claim of "a unique thrift store" is for you. This place is like a maze, with every kind of merchandise wall-to-wall and floor-to-ceiling, including military surplus gear. It's just past all the box stores on the highway.

Eat
Odie's Deli, which is based in nearby Soldotna, has a store in the Kenai Airport. (Don't worry, there's no security to get in as it's a small regional airport.) Giant, tasty sandwiches on fresh baked bread. You can pick off the menu or create your own. If you're not super hungry, get a half size, or you can save half for later. $10-$15 per person.
Louie's Restaurant, in the front of the Uptown Motel, is a good place for a sit-down lunch. They have a collection of Alaskana throughout the dining room, so it feels more like a hunting lodge or something despite the big screen TVs. The burgers are great. $15-$20 per person.
Acapulco Restaurant is in the strip mall next to the Safeway. Decent Mexican food, reasonably priced. $10-$20 per person.
If you're in more of a hurry or have kids with you or whatever, there are also several chain food stores including McDonalds, Arby's, and Pizza Hut.

Sleep
The Aspen Suites is in the heart of Kenai. they offer long-term rates if you're planning to stay a while.
The Quality Inn is also in the heart of Kenai, and was recently completely remodeled.
If you're flying out early you may want to consider the Kenai Airport Hotel. As the name suggests, it's practically in the airport, you won't even need a ride.
As with most of rural Alaska, there are many, many bed and breakfast establishments to choose from. Ask about views or river access if you plan to fish.
Although Kenai has several city parks, none of them have camping facilities. If you head another half hour or so down the Kenai Spur highway, it dead-ends at the Discovery Camground at Captian Cook state recreation area, a very nice wooded campground on the bluffs above Cook Inlet.

Connect
If you're heading on to Homer, you can take Bridge Access Road across the tidal flats to to Kalifornsky Beach Road, and follow that south to Kasilof, avoiding having to go back through Soldotna, which can get congested in the summer. To go anywhere else by road you have to back to Soldotna on the Kenai Spur Highway.
The Keani Airport has scheduled flights to Anchorage and numerous charter flying operations if you're going somewhere more remote.
There are no marine tranportation facilities in the area.

Go next