Kennewick
Kennewick
, is a city located in Benton county along the
Columbia River Plateau
region of
Washington State
. Along with the cities of
Pasco
and
Richland
, Kennewick is known for being the largest and most populous city within the area known as the "Tri-Cities" of Washington. The "Tri-Cities" area is the fourth most populous metropolitan area within Washington State; behind
Seattle
,
Spokane
and
Tacoma
.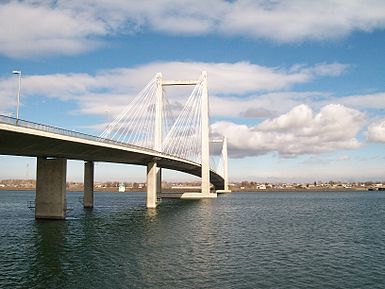 Understand
Kennewick
and the greater
Tri-Cities
region draws a great deal of their cultural influence from having a past that was heavily enriched by the Cold War. In nearby
Richland
, the
Hanford Nuclear Site
is the home to many historical landmarks, as well as the world's first full-scale nuclear reactor. The atomic bomb that was dropped on
Nagasaki
,
Japan
in 1945 contained Hanford produced plutonium. Today, the nuclear site has changed its mission from plutonium enrichment to environmental clean up and restoration.
In modern times, agriculture has been a major factor in the area's economy. Wheat is the most widely grown crop in the region, as well as fruit such as apples, cherries, and grapes (the region is home to more than 160 wineries). This is due mainly to the high quality of the region's soil and the ease of irrigation made possible by three nearby rivers (Columbia, Snake and Yakima Rivers).
Kennewick
is the commercial district for the
Tri-Cities
region. Residents from central and southeastern Washington state, as well as from northeastern Oregon, visit the city for its shopping resources and entertainment venues. There are 34 maintained public parks and facilities spread throughout the city with 855 total acres of which about 400 is green space, including Columbia Park, which is a 400-acre recreational area with nearly 5 miles of Columbia River shoreline.
The wine industry is prevalent in the
Kennewick
and
Tri-Cities
region, with over 160 wineries within an hour's drive. Due to the region's climate of long, warm summer days (an average of 300 days of sunshine per year), and crisp cool nights; combined with rich volcanic soils and controlled irrigation, make it a nearly perfect location to grow premium grapes. A wide variety are grown throughout the region including Chardonnay, Cabernet Sauvignon, Riesling, Pinot Noir and others.
There has been significant population growth in
Kennewick
and the greater
Tri-Cities
region over the last decade as the region also harbors a large technological industry. A major employer of many residents in
Kennewick
is
Pacific Northwest National Laboratory
, which is one of the
U.S. Department of Energy's
major national laboratories. In the past,
Forbes
has named
Kennewick
the #2 area in the country for job growth. For over 12 years,
Kennewick
has been listed in
Forbes
Top 100 Best Places For Business & Career.
Forbes
listed
Tri-Cities
as "Top 10 Cities For Engineers."
More recently,
Kiplinger
has rated the
Tri-Cities
region as one of the top 10 places to live and raise a family.
CNN/Money
has ranked the
Tri-Cities
region as one of the top 10 best bets for gains in housing value, due to its relatively stable economic conditions since the early 2000s.
Get in
By air
Tri-Cities Airport
is located 2 miles northwest of Pasco and is the third largest commercial airport in the state of Washington. It operates flights daily to and from
Seattle
,
Tacoma
,
San Francisco
,
Los Angeles
,
Phoenix
,
Las Vegas
,
Salt Lake City
,
Denver
and
Minneapolis
-
Saint Paul
.
By train
address: 535 N 1st Ave, Pasco WA 99301

The following are the Amtrak route serving Pasco:
Amtrak Empire Builder makes a once daily trip in each direction between Portland and Spokane via Vancouver, WA; Bingen, Wishram and Pasco. The train joins (or splits going westbound) with the other branch coming from (or going to) Seattle in Spokane. Eastbound trains continue to Chicago from Spokane. The Amtrak intermodal station, which is shared with Greyhound and Grape Line buses, is a new facility located in Pasco, close to major hotels and attractions
By bus
phone: +1 509 547-3151

address: (bus depot) Intermodal Station @ 535 N 1st Ave, Pasco WA 99301

Travels on Interstate 90/82 (Seattle, Ellensburg, Sunnyside, Pasco and Stanford OR at I-84) and I-84/US 395/I-90 (Portland, Hood River, The Dalles, Pasco and Spokane). NOTE: Greyhound no longer go to Walla Walla but they do sell ownward tickets on the Grapeline bus to Walla Walla.

Confederated Tribes of the Umatilla Reservation (CTUIR)

phone: +1 541 429-7519

address: (bus stops) 22nd Ave Transit Center (Pasco), Three Rivers Transit Center (Kennewick), Huntington Transfer (Kennewick) and 27th St P&R (Kennewick). They make an extra flag stop to the Amtrak/Greyhound station on request for drop off only.

Goes down to Hermiston and Irrigon, Oregon on the "Tri Cities Trolley" route. Transfer to the "Hermiston Hopper" in Hermiston to continue to Pendleton, OR.
By car
Highway 395 is one of Kennewick's busiest roads, running right through the center of the city north and south. Oregonians can easily travel to Kennewick, as it is less than an hour's drive from the Washington-Oregon border.
For information pertaining to the driving conditions around Kennewick and in the greater
Tri-Cities
region, check the
Washington State Department of Transportation (WSDOT)
website .
Get around
By bus
phone: +1 509 735-5100

address: Three Rivers Transit Center

Operates fixed route buses within the Tri Cities area and to Benton City, West Richland and Prosser. They also offer a taxi feeder service to/through areas not served by regular buses from designated bus stops.

phone: +1 509 545-0684 (to arrange a ride)

address: (door to door shuttle, evenings and Sundays)

Trans+Plus provides a unique, demand response, curb-to-curb service within Ben Franklin Transit's boundary area, except for the Hanford area north of Battelle Blvd and the Prosser and Benton City areas.
By car
Car rentals are available through
Avis
,
Enterprise
and
Hertz
at the
Tri-Cities
air terminal.
Streets are wide and logically laid out. Kennewick is more Spread out than other cities its size, so there is almost no traffic.
Main East/West thoroughfares are
10th ave.
on the South end,
Clearwater
in the Center which connects with
Kennwick ave.
to serve the Downtown, and
Canal Drive
at the North. You can also utilize
Highway 240 Eastbound
if you wish to quickly get from one side of Kennewick to the other.
Main North/South thoroughfares are also conveniently laid out.
Steptoe
runs from
Clearwater
to
240
on the west end,
Columbia Center Blvd.
traverses the width of the city from
Col. Park Trail
to the southern limit, intersecting
240
along the way.
Kellogg
runs straight through the center of town, intersecting
Canal
and
10th
. Finally,
395
serves the East end and is known as
Ely Street
on some maps and signs.
Also note that there are only 3 locations you can cross the river into Pasco:
I-182
,
395/240
, and
397/Chemical Drive
By taxi
A-1 Tri-Cities Taxi
provides personalized service throughout the
Tri-Cities
area for affordable rates and operate 24/7.
See
Do
Entertainment
The Playpen

phone: +1 509 585-1937

address: 213 W Kennewick Ave

Is a night club featuring dance and music.

phone: +1 509 619-0929

address: 117 W Kennewick Ave

Is a nightclub and restaurant featuring live music from local, regional and low key national bands. It features a 300 square foot stage and main floor with two bars and seating in the restaurant.

phone: +1 509 737-3700

address: 7000 W. Grandridge Blvd

A multi-purpose arena which has an approximate seating capacity of 7,715 event goers. It hosts nationally renowned shows such as Riverdance, Cats, and The Producers, as well as performances from acclaimed musicians ranging from B.B. King to Slipknot. In February 2016, The Harlem Globetrotters performed basketball tricks and theatrical physical comedy for Kennewick's cheering audience. Sports tickets to watch hockey teams, such as the Tri-City Americans, or football teams, such as the Tri-City Fever, are sometimes available. Pizza and drinks are available from vendors such as Papa John's Pizza. There are many single-user bathrooms for families with children and handicap accommodations. Tickets for events are available through Ticketmaster.
Hiking
The Chamna Natural PreserveA new parkland near the confluence of the Yakima and Columbia Rivers. It offers hiking through a multitude of habitats ranging from grasslands to riparian wooded areas.

The Sacagawea Heritage TrailA recreational and educational trail along twenty-three miles of beautiful Columbia River shoreline in Tri-Cities, Washington. It is a bi-modal trail and all trail amenities enable all outdoor enthusiasts to experience an environmentally sound and unique shrub-steppe habitat.

Twin Sisters RockConsists of two basalt pillars that extend from the cliffs along Wallula Gap, overlooking the Columbia River.
Wine Tasting
Kennewick has a plethora of local wines because there are over 160 hundred nearby wineries. Many of these wineries offer wine tasting and tours.
Eat
The Country Gentleman

phone: +1 509 783-0128

address: 9221 W Clearwater Ave #A

phone: +1 509 546-1413

address: 539 N Edison St

Down-home Mexican food & all-day lunch specials served from a family-owned food truck. An often-overlooked culinary gem.

Sterling's Restaurant

address: 3200 West Clearwater Ave

This is the local branch of a 3-restaurant chain that started in Richland. There is an all-you-can-eat or single trip salad bar, several soups prepared daily, and a wide and impressive menu featuring appetizers, fresh omelets (breakfast and dinner), steak, seafood, chicken, pasta, salads, burgers, and a kid's menu with shrimp, chicken fingers, french fries and fruit. Beer, wine, and spirits are on the drink menu.
Drink
Coffee
Dutch Brothers Coffee

phone: +1 509 783-2414

address: 4305 W. Clearwater AVe

Wonderful double chocolate mochas
Microbreweries
phone: +1 509 946-5465

address: 1015 Lee Blvd, Richland, WA

Is a microbrewery and eatery featuring such locally famous brews as Half-Life Hefeweizen, Atomic Amber and Plutonium Porter. The eatery features gourmet wood-fired pizzas.

phone: +1 509 582-5340

address: 206 N Benton St

The only brewery in Kennewick, they have a second location at the marina.
Sleep
Stay healthy

During the summer months, the temperature in Kennewick and the greater Tri-Cities region often exceeds 100 °F. If you plan on being outside for long periods of time, be sure to drink plenty of WATER and limit the intake of alcohol and caffeine to prevent dehydration and heat stroke.

Stay safe

Kennewick and the greater Tri-Cities region are extremely safe areas for travelers. The city enjoys a crime rate that is well below the national average; violent crime is almost none existent. The most widely reported crime in the city is theft. As with any travel destination, if you take the proper precautions to keep your possessions safe, you should have no problems at all during your stay.

Go next