Kenora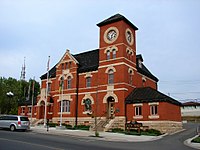 Kenora
is a small city in
Northern Ontario
. It had a 2016 population of 15,000. Kenora is the westernmost major centre in Ontario. Surrounded by wilderness and thousands of lakes, and on the northern tip of Lake of the Woods, Kenora is in "cottage country" and is a vacation resort in Central Canada.
Understand
In 1905, the town of Rat Portage was amalgamated with the towns of Keewatin and Norman in 1905 to form the present-day City of Kenora. Kenora's name came from the three towns: Ke - Keewatin, No - Norman, Ra - Rat Portage.
In the summer months visitors flock to the area for swimming, biking, fishing, hiking, and boating. In the winter months, visitors come for ice fishing, snowboarding, skiing (downhill and cross country) and snowmachining.
Kenora has two travel information centers. On the Harbourfront, there is a blue and grey building on Bernier Dr. The Discovery Centre serves visitors year-round from its location at 931 Lake View Drive, just off of Highway 17 West (the Trans-Canada Highway).
Kenora is sometimes stereotyped as an archetypal "hoser" community, evidenced by the phrase "Kenora dinner jacket" as a nickname for a flannel shirt.

History
Kenora's future site was in the territory of the Ojibway when the first European, Jacques de Noyon, sighted Lake of the Woods in 1688. Pierre de La Vérendrye established a secure French trading post, Fort St. Charles, to the south of present-day Kenora near the current Canada/U.S. border in 1732, and France maintained the post until 1763 when it lost the territory to the British in the Seven Years' War — until then, it was the most northwesterly settlement of New France. In 1836 the Hudson's Bay Company established a post on Old Fort Island, and in 1861, the company opened a post on the mainland at Kenora's current location.
Gold and the railway were both important in the community's early history: gold was discovered in the area in 1850, and by 1893, 20 mines were operating within 24 km (15 mi) of Rat Portage. The first Canadian ocean-to-ocean train passed through in 1886 on the Canadian Pacific Railway.
Later, a highway was built through Kenora in 1932, now a part of the Trans-Canada Highway, placing the community on both of Canada's major transcontinental transportation routes.
During the Prohibition era in the United States, the Lake of the Woods served as a smuggler's route for the transport of alcohol.
The importance of the logging industry declined in the second part of the 20th century, and the last log boom was towed into Kenora in 1985. The tourist and recreation industries have become more important.

Climate
Kenora has a humid continental climate with warm summers and cold, dry winters. Winters are cold with a January high of −11 °C (12.2 °F) and a low of −21 °C (−5.8 °F). Temperatures below −20 °C (−4.0 °F) occur on 45 days. The average annual snowfall is 158 centimetres (62 in), which is lower than places to the east as it is influenced by the dry air of continental high pressure zones, resulting in relatively dry winters. Summers are warm with a July high of 24 °C (75.2 °F) and a low of 15 °C (59.0 °F) and temperatures above 30 °C (86.0 °F) occur on 5.3 days. The average annual precipitation is 662 millimetres (26 in), with most of it being concentrated in the summer months with June being the wettest month and February the driest.
During the winter Kenora will get precipitation mostly in the form of snow, other forms of winter precipitation include ice, sleet, and freezing rain. Snow cover usually lasts from November till March, about 154 days or 42% of the year. The city frequently gets thunderstorms during the summer, averaging 24 days a year with thunderstorms.

Get in
By plane
phone: +1 807-548-5377

Bearskin Airlines provides air service with multiple daily flights to Kenora from Dryden, Fort Frances, and Winnipeg with same-plane service from Sioux Lookout and Thunder Bay. Kenora is seasonally an international airport for general aviation (customs: May 15-Oct 15, 8AM-8PM daily). Connections to points beyond are available; the closest hub for scheduled international service is Winnipeg ().
By car
The Trans-Canada Highway - Highway #17 - passes through Kenora continuing on to the Manitoba border. Highway 17A is the bypass route for Kenora for through traffic.
By rail
Via Rail
provides service on the Canadian National mainline from Toronto through Northern Ontario to Winnipeg, Manitoba and westward. The closest stop to Kenora is in Redditt, Ontario, 25 minutes north of the city. The stop in Minaki, Ontario, 45 minutes north of Kenora is also easily accessible.
By bus
Kasper Bus
provides service to Kenora from Thunder Bay and Winnipeg, Manitoba along Highway 17, with stops in communities along the route.
Get around
Kenora is a very pedestrian-friendly city and downtown area is very conducive to walking.
Taxi service is also easily available within the city:
CO-OT Taxi, +1 807 468-3031
Blue Taxi & Limousine Service, +1 807 467-3309
See
Lake of the Woods: Kenora is on the northern tip of Lake of the Woods in "cottage country". It is the second largest inland lake in Ontario and a resort for outdoor enthusiasts. The lake has over 14,000 islands and the vast majority of the waterfront is undeveloped wilderness. Renting a boat, canoe, or kayak or taking a guided tour is a great way to see the lake.
Kenora Heritage Townscape Murals: A range of 21 murals on the sides of buildings in Kenora and nearby Keewatin depict events and scenes relative to local history. A self-guided tour pamphlet enumerating all the murals is available at the Tourist Information Centre.
Lake of the Woods Museum, at 300 Main Street South, is one of the finest small museums in Canada. The Museum was established in 1964 and seeks to promote understanding of and respect for the cultures and heritage of the Lake of the Woods area, and to engage a diverse community in discovery and learning. Today, this well-established museum is home to a varied and intriguing collection of artifacts and thematic displays and special events.
Keewatin Potholes, 1 block south of Highway 17 at 6th St. in Keewatin. These round, cylindrical holes in the outcrop appear to be man-made but they were formed by the action of running water during glaciation. These holes are thought to have formed from water-spun rock fragments that have slowly eroded holes in the bedrock. The Keewatin rockholes provide evidence for glaciation in the Lake of the Woods area and demonstrate that sediment-laden, high-velocity water can perform major and unusual feats of erosion.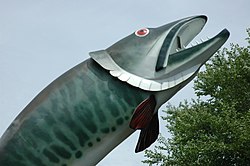 Husky the Muskie: In 1967, the year of the Canadian Centennial, Kenora erected this sculpture which has become the town's mascot and one of its most recognizable features.
M.S. Kenora, a great way to experience the splendour of Lake of the Woods. Built as a freight ship on Lake Winnipeg in Manitoba, it was rechristened as the M.S. Kenora in 1984. The cruise passes by Coney Island beach, through the scenic channels south of Kenora, and returns through the exciting 'Devil's Gap', a channel guarded by a mythical rock bearing its name. Bald eagles and wildlife can also be sighted. There is a fully licensed restaurant onboard. A daily dinner cruise is offered and a Sunday brunch cruise. Air-conditioned cabin and outdoor decks.
Do
Fishing
The Lake of the Woods is home to variety of fish species.
For the seasoned professional, the majority of lodges are in the heart of fishing supremacy; some lakes in the area have even been designated as trophy waters. Accommodations offer a variety in bait and lures, as well as boat rentals complete with live wells, fish finders and navigational aids.
For those interested in guide services, the area has several.
Cycling
There are some very challenging trails close to town. For the sensation of exposed rugged bedrock and a wonderful view of the town and the lake saddle up and ride to the top of the Little Amik Trail. The trail takes a small loop and is moderately challenging if only approximately one kilometre long. A good warm up.
From the parking lot you can choose to go a little more hardcore to the North or take a scenic ride to the beaches to the south and west. Taking a turn to the left and past the Paper Mill will bring you to Scramble Ave. Go to the end of the street and you will find an advanced level trail which leads to Garrow Park on Rabbit Lake. Be cautious. Many riders have been injured on the rocks, roots and rivulets.
Make your way to the east end of Rabbit Lake and you'll find a trailhead which leads to the pipeline and hydroline (beside the school board storage building). From here turning left, to the West, will bring you back toward town but you will have to conquer a few hills and swampy sections. Turning right, to the east, is the beginning of the 'epic' ride. Big hills, big swamps and some endurance oriented excursion grinding will give you hours of sweat and enjoyment. Don't worry about getting lost - you are never very far from a road or highway to head home on. If you know you're going to go hard, fill your water bottles and tell someone where you plan to go. Ask at a local bike shop for more information.
Just west of Casey's Bar & Grill you'll find scenic Sandy Nook and even further west (just past Keewatin) on Hwy 17, look for the Mackenzie Portage Road which leads to the moderately challenging Vernon Trails.
A 40-min drive north on Hwy 596 will lead you to the Minaki Yurt Adventures race trail. It is a well developed and maintained 25-km course featuring some moderate to advanced level riding. They offer bike rentals, lessons, great local hospitality and unique accommodation options.
For those with a pioneering spirit and explorers enthusiasm there is great potential for discovering old logging roads and all terrain vehicle trails in the forest areas. Adventure tourists can take pleasure in the wilderness, wildlife, landforms and the unique history of the Kenora area as one of the most rugged destinations they may ever ride a bike through.
Skiing
phone: +1 807 548-5100, +1 807 468-5377 (off season)

has 11 downhill runs, 2 T-Bar lifts, a Terrain Park, a large & spacious, and 20 km of beginner to expert classic and skate technique cross-country skiing trails. 5 km of the classic and skate cross-country ski trails are lit in the evening hours for nighttime use. The Rollercoaster, Two Towers and Matoo's Trail are among the best Nordic ski trails in Manitoba and Northwestern Ontario.
Vernon Nature Trails, down McKenzie Portage Roard, offers 5 km of groomed classic technique cross-country ski trails through different area ecosystems, ranging from oak ridges, to pine forests, to deciduous woodlands.
The Club Minaki trail system, approximately 45 minutes north of Kenora, offers 20 km of classic technique cross-country ski trails. The Grey Owl and Jackpine trails are highly recommended.
Rushing River Provincial Park, 25 km southeast of Kenora, offers 10 km of groomed classic technique cross-country ski trails along scenic terrain.
Golf
Kenora Golf & Country Club, Golf Course Road, +1 807 468-7995
Beauty Bay Golf Course, Essex Road, +1 807 548-4777
Bergman Driving Range, +1 807 543-3562
Hunting
Hunting on the Lake of the Woods provides a serene environment with a variety of species to hunt. Traditional bow hunting and other unique hunting experiences are available. Try timber wolf hunting or the fall bear hunt; grouse and duck hunts are always favourites; and of course there is deer and moose hunting available. Many resorts offer hunting packages for the experienced gamesman or the beginner.
Canoeing & kayaking
The Kenora area features over 20 major canoe routes, as well as several businesses, which offer both rentals, and lessons developed to cater to everyone from beginners to experts.
The Hardwear Company, 160 Main St. South, offers anywhere from half day to week long rentals of kayaks and canoes and will provide two hour lessons, off of the Harbourfront, (there is a two person minimum for all lessons). This is a beginners' course, which teaches the layout of a kayak, how to enter and exit, how to turn, proper stroke technique, as well as how to execute safety maneuvers. +1 807 468-1226.
Another avenue people may wish to pursue is Green Adventures, which rents all the equipment needed for a kayaking, as well as offers six different tours which range in difficulty from beginner to expert. They also offer more inclusive packages which include the required gear and transportation as well as meals.
Buy
Green Adventures

phone: +1 807 467-8535

address: 806 River Drive

phone: +1 807 548-1103

address: 901 Anderson Road

Family events are planned during holidays such as Easter, Family Day, Thanksgiving. Activities include pony rides, tractor wagon rides, draft horse sleigh rides and wagon rides, bonfires, pumpkin hunts, trail rides and equestrian lessons are provided year round.
Eat
Kenora has more than 50 restaurants offering traditional fare and ethnic treats.
Plaza Restaurant & Tavern

phone: +1 807 468-8173

address: 125 Main St S

Greek restaurant.

901 Westside

phone: +1 807-547-2901

address: 901 Ottawa St., Keewatin

Salads, burgers, pastas, pizzas, steaks. Vegetarian-friendly, gluten-free options.

The Cornerstone Restaurant

phone: +1 807 468-7787

address: 154 Main Street

Bar and grill.

My Place Restaurant

address: Ottawa Street

Contemporary cuisine including coconut shrimp and mango chicken salad. They also make a mean martini.
Drink
There are many popular bars and pubs in the city.
Hap's Bar and Grill on Main St. with an outdoor patio facing the Harbourfront.

Lake of the Woods Brewing Company

phone: +1 807 468-2337

address: 350 Second St S

Microbrewery with four flagship beers, and seasonal brews. The Taproom offers a full food menu. Tours available by online reservation $12-23 per person.

Lakeshore

address: Keewatin

Keewatin's only bar. Beside the Keewatin Legion and the one-lane bridge.
Sleep
Anchor Inn

address: 551 Lakeview Dr

A small inn, resort and marina with some cottages and a restaurant.

phone: +1 807 468-8845

address: 1230 Hwy 17 East

Seasonal, group and fishing/hunting rates. Meeting and picnic facilities, in-room refrigerator and microwave at extra cost. Wi-fi, weekday newspaper, continental breakfast. Pet friendly.

Days Inn

phone: +1 807 468-2003

address: 920 Hwy 17 E

Kenora Inn Motel

phone: +1 807 468-3071

address: 1429 River Rr

Lakeside Inn & Conference Centre

phone: +1 807 468-5521

address: 470 First Ave S

On Lake of the Woods, boat docking, pet friendly, indoor pool, Internet, restaurant and meeting facilities.

Lake-Vu Motel

phone: +1 807 468-5501

address: 740 Lakeview Dr

Laurenside Inn

phone: +1 807 468-6065

address: 1404 River Dr

Luby's Motel

phone: +1 807 468-3044

address: Hwy 17 E

phone: +1 807-547-2888

address: 1505 Erie St.

phone: +1 807 468-9655

Selah Motel

phone: +1 807 468-5916

address: 700 Hwy 17 E

Southview Inn

phone: +1 807 547-2571

address: Hwy 17 W

phone: +1 807 468-8016

address: 240 Lakeview Dr.

Banquet/conference room (Minis Hall) for 100 people, Casey's Bar & Grill adjacent. Pet friendly, wi-fi, continental breakfast.

phone: +1 807 468-3155

address: 800 Highway 17 East

Internet, hot tub, sauna, fitness centre, indoor and outdoor pool. Refrigerator and microwave in-room.

Waterview Inn

phone: +1 807 468-3389

address: 630 Lakeview Dr
Go next
Kenora is only 45 minutes from the
Manitoba
border, 2 hours from
Winnipeg
, Manitoba, 3 hours from the
United States
border and 6 hours from
Thunder Bay
.
Kenora is the nearest airport to
Angle Inlet, Minnesota
, the only part of the 48 contiguous United States which is north of the 49th parallel.
Redditt
is a 25-minute drive north of Kenora on Highway 658. It has a "sign post" railway stop and a tourist attraction.
Redditt train stationThis is a sign post, not a station. It is not normally staffed. The Canadian stops here only if reservations are made at least a day in advance (westbound Train 1: 5:25AM the day prior to departure, eastbound Train 2: 10:50PM the day prior to departure).

Redditt Bottle HouseA small house, made out of empty bottles.