Kenosha County
Kenosha County
is a county in
Southeast Wisconsin
and home to Wisconsin's fourth largest city,
Kenosha
.
Regions
Kenosha County has two primary regions separated by Interstate 94: the developed eastern portion of the County in and around the City of
Kenosha
and the mostly rural western area. The urbanized area is relatively similar to most other rust belt areas and is often the portion of the County considered to be possibly part of
Chicagoland
.
Cities
: A rural community located in eastern Kenosha County located near the intersection of US 45 and WI 50.
: The county seat and primary city in the County. More than half of the County's population is located within the city limits.
: A rural community located in central Kenosha County.
: A suburban, bedroom community located immediately to the south of Kenosha.
: A lake community located in western Kenosha County on Silver Lake.
: A rural community located in western Kenosha County on Lake Elizabeth and Lake Mary. Home of the Country Thunder music festival.
Get around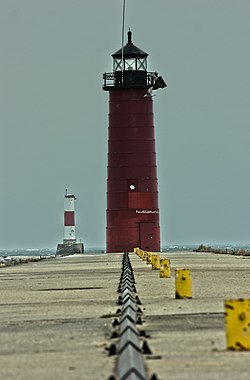 Except within the City of Kenosha, travel in the area is mostly done via car. Major routes within the County include the following:
Interstate 94: Moving north-south, Interstate 94 runs immediately to the west of the City.
WI 50: The County's major east-west thoroughfare, WI 50 originates in the City at WI 32 and services Kenosha, Bristol and Paddock Lake before crossing into Walworth County near Lake Geneva.
WI 32: (Sheridan Road) The major north-south route through the eastern edge of the city, it services Somers, Kenosha, and Pleasant Prairie before crossing into Illinois at Winthrop Harbor.
WI 142: The major route between Kenosha and Burlington, it runs primarily between the two.
WI 83: A north-south route running through the central section of the County and servicing Paddock Lake and unincorporated Salem before entering Illinois north of Antioch.
The City of Kenosha offers mass transportation in and around the City including a bus system and limited service streetcars.
Due to the high concentration of lakes in the area, the road system lacks the grid pattern found commonly in the area. Therefore, it is easy for visitors to become lost, especially in the western portions of the County.
Do
Richard Bong State ParkA managed prairie nature reserve. It has trails for hiking and biking. The reserve is an excellent location for bird watching. Yes the name is funny, but resist the urge to steal the park signs.

phone: +1 262 862-2301

address: 11931 Fox River Rd, Wilmot

A ski resort located in unincorporated Wilmot.