Kent (Washington)
Kent
is the fourth largest city in
King County
in the
Puget Sound
region of
Washington State
. Located directly between the cities of
Seattle
and
Tacoma
, Kent has several distinct neighborhoods and commercial districts within its boundaries.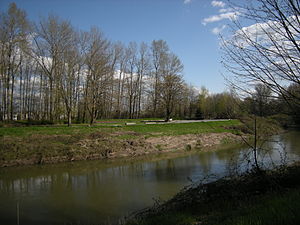 Get in
Kent is located just a short distance off of I-5 with several exits.

Get around
Visitors are often surprised to find out just how large Kent actually is. Most tourists would want to concern themselves with the historic downtown area and nearby shopping centers.

Do
Kent Cornucopia DaysJuly. South King County's largest Family Festival is a community service project of the Kent Lions and is completely run by volunteers who insure that our premier event benefits over 250 charitable organizations.

phone: +1 253-856-6777 (main), +1 253-856-6999 (tickets-by-phone)

address: 625 W James St
Sleep