Kerak
Kerak
(also spelt
Karak
, Arabic
al-Kerak
) is a small, Arab city (population 170,000) in southern
Jordan
.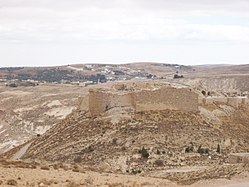 Understand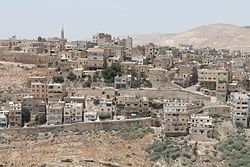 It has a significant Christian population. Kerak is on the King's Highway, 124 km south of the capital
Amman
, and is the site of a magnificently-situated Crusader castle, now an evocative ruin on the skyline above the city.
In biblical times Kerak was the capital of the Moab Kingdom. Later it was ruled by the Nabataeans, after which the Romans took over. Under the Byzantines it was used as the seat of a bishopric. Left abandoned until 1140, when the crusaders acknowledged its strategic meaning and built a mighty fortress here. Only 50 years later it was conquered by the Arabs.
Get in
There are three bus stations in Kerak. is near the castle, and
the is in the south-eastern part of the city about 5 km from the old city. Ask someone local which one to use for the surrounding area, or to get to Madaba or Petra.
Minibuses
Aqaba
(1.75 JD) run roughly hourly. These also pass through
Madaba
and Ma'an (for
Petra
).
From
Amman
, mini-buses leave from the South Bus Station (
Mujemma Al-Janoob
) when full (2.25
JD
, 2 hr, Oct 2018). They arrive at the station below the castle. A taxi up to the castle (
al-Qasr
) will cost 2 JD. It is a 20-min walk back down to the bus station. It is easy to see the castle on a day trip from Amman.
Get around
Between the old city and the rest of the city local (shared) taxis should be used for around 2 JD.
By car, the roads in town are narrow and usually one-way, but the town is compact, so you can park wherever you find space and walk to the castle.

See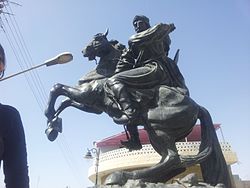 Citadel of Kerak

phone: +962 6 567 8444

A former Crusader stronghold, it was ransacked by Saladin and left to rot for 500 years until restoration started. It is impressive site. While parts are still in ruins, other parts have been restored, including some lengthy underground passages. And it had a commanding view of the area. Allow 60-90 min to visit.

Karak Archaeological MuseumThe museum is in the lower court of the castle. This museum introduces the local history and archaeology of Kerak castle, region and city. Detail history of the Crusader and Muslim dynasty at Kerak is introduced in museum, in addition to the exhibition of excavated artefacts from Kerak castle.

Al Karak Museum

Old cityAs the commercial center, many different local shops can be found here, even fast-food or small eateries.

Roman Church Hall

El-LejjunThe archaeological remains of a fortress built in 300 AD named Betthorus then, associated with the Roman legion and for protection the Limes Arabicus. The fortress was later destroyed by an earthquake.

Mu'tahThis is supposed to have been the first battlefield between Christians and Muslims, 629 AD.

Prophet Nuh shrineThe reputed tomb of Noah who survived the flood in the Bible and Quran. On a hilltop in central Kerak.
Do
Wadi Bin HammadThis is an official tourist spot, but mostly only appreciated by local people. This in turn means it is widely untouched and without the common touristic hassles. The wadi can be wandered easily and without much effort in about 2 hr, rewarding the curious traveller with a beautiful green surrounding including waterfalls and even hot springs. Hiking further will lead you to the Dead Sea, even though you might need help of a guide with the necessary equipment. Be careful when it is raining or about to rain. You might have to take a taxi to get there, because it is not along the highway.
Eat & drink
Many medium-priced restaurants with local and partly international cuisine can be found around the castle. From there into the old city, restaurants get less expensive.
Kerak is most famous for the Jordan national dish
mansaf
, which you should definitely try. It is rice with lamb or chicken meat served with a sauce made from special yoghurt called
jameed
.
Karak Rest HouseSee also Sleep. Next to the citadel and with views all the way to the Dead Sea on a good day, but the food is overpriced and mediocre.

Delicious MealYou can get an excellent schwarma here and it's really cheap too. Much better than the overpriced mediocre food next to the castle.

Kir HebesHas some interesting offerings like ostrich, otherwise fairly good standard Jordanian fare. Has local wines and other alcohol. The tables by the street are nicer.

Syrian RestaurantThis is supposed to be an insider tip.
Sleep
Towers Castle Hotel

phone: +962 3-2354293

address: Al-Qala'a Street, Town Centre

Towers Castle in downtown central Karak is an Egyptian-run hotel with large, clean rooms, and it is popular with business and pleasure travelers. Breakfast is included in the room rate.

Karak Rest House

phone: +962 3-2351148

The fanciest digs in town with 3 stars, with excellent views. That said the price for the rather minimal rooms is still a little steep, and you'll be woken up bright and early by the mosque next door.

Cairwan Hotel

phone: +962 3-2396022

address: King's Highway, Town Centre

Nine well-appointed rooms, bed-and-breakfast style hotel.

Al-Kemmam Hotel

phone: +962 79-5632365

address: Al-Maydan Street, Town Centre

This small, men-only guest house in Karak's central neighborhood is a good option for men seeking basic accommodations. The kitchen is available for guests to prepare their own meals.

Al-Mujeb Hotel

phone: +962 3-2386090

address: King's Highway

The Al-Mujeb Hotel is a convenient option for those travelling with a private vehicle – public transportation is not nearby. Guests will find satellite television and refrigerators, as well as a helpful staff. This hotel is somewhat larger than other area guest houses, and it is a good choice for groups traveling through the area.
Go next
– a village on the way to Dana Reserve or Petra, respective, might be worth a visit for its authenticity.
– great nature reserve famous for its impressive canyons. Read more here. Limited access in winter.
Dead Sea – besides Petra the most famous tourist attraction in Jordan.
Madaba – known as the 'City of Mosaics' is famous for its Byzantine and Umayyad mosaics, especially a large Byzantine-era mosaic map of Palestine and the Nile delta at St. George Church.
Dana Nature Reserve – stay in a local village within the Nature Reserve, and enjoy unforgettable hiking in an offshoot of the Great Rift.
Petra – The most famous sight in Jordan.