Kerava
Kerava
is a town in Central
Uusimaa
, in
Southern Finland
. It's located about 30km to the north from
Helsinki
and is part of the greater metropolitan area.
Get in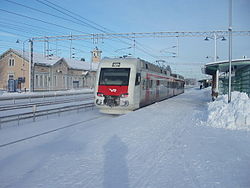 By public transport
Kerava is served by Helsinki commuter trains, with 3 faster "R", "H" and "Z" trains (20 min from Helsinki) and 5 "K" trains per hour (35 min from Helsinki). The railway station is right next to the town centre. In addition, there are bus routes from other parts of the capital region. Consult the
HSL route planner
for up to date schedules and routes — also for getting around Kerava itself.
By plane
All international and domestic flights to Helsinki land at the
Helsinki-Vantaa International Airport
(
HEL
), 15 kilometers to the south-west of the town. From airport to Kerava, take the commuter train P to Tikkurila and change for a Kerava-bound commuter train. Travel time to Kerava from the airport is about 45 min.

By car
Kerava is next to the Helsinki-Lahti motorway. It takes about 30 minutes to get in from central Helsinki, if there are no traffic jams.

Get around
In downtown, you can get around by foot. To go elsewhere, drive or travel by bus or taxi.

See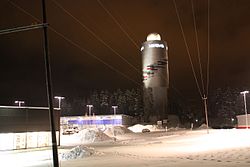 An industrial town emerging from scratch along the railway a little more than a century ago, you won't find any old town in Kerava. However the city has its fair share of modern art and architecture.
Sampola underpassPassing under the railway and connecting eastern Kerava with the central parts, this underpass is decorated with light installations and paintings.

Kerava churchA rather cubist building, built in 1963 with white tiles and concrete.

Many modern sculptures and statues around downtown.

The new water towerDoubles as a water tower and a modern artwork.
Do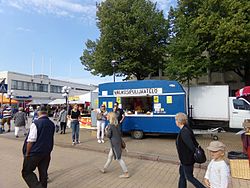 ValkosipulifestivaalitThe Garlic Festival is one of the main events in the city. The main shopping street Kauppakaari is filled with market stalls selling garlic, products with garlic, street food and some other products. There's also a stage with music and dance performances and entertainment for kids.
Buy
Along the main street Kauppakaari you can find all kinds of shops and restaurants. At its eastern end and across Keskustan Kehä you can find two hypermarkets, Prisma and Citymarket.

Sleep
With Cosmopoli having closed, there are no hotels (administratively) in Kerava. The nearest hotels are:
Hotelli Krapi, Rantatie 2, Tuusula, tel. +358 9 2951501
Hotelli Rivoli, Järvenpää, tel. +358 9 27141
In addition, you can find a wide selection of accommodation in
Vantaa
, especially near the airport.