Kericho
Kericho
is in Kericho County, on the edge of the Mau Forest within the highlands west of the East African Rift.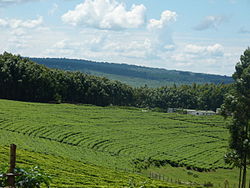 Understand

Kericho is known for its vast tea estates.

Climate
Kericho has a warm and temperate climate throughout the year with sunny days preceding rain in the evening and on occasion hail and thunderstorms.

Get in
Kericho is on the
B1 Road
which connects
Nakuru
via Mau Summit to
Kisumu
and
Busia
on the Kenya-Uganda border.
From Nairobi
phone: +254 738200316
operates two buses daily to Kericho. Alternative public transport includes 11-seater shuttle vans and informal 7-seater bush taxis which link Kericho to Nairobi, Kisumu and other towns in the region.
Shuttle vans
Get around

Kericho town can be covered easily on foot or on bodaboda motorcycle taxis.

See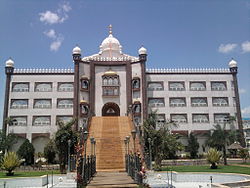 Tea estates. Guided tours can be arranged directly with the factories.

Guru Nanak Nishkam Sewak Jatha

phone: +254 721 297135, +254 733525770

The largest Sikh place of worship in Africa

Sacred Heart CathedralThis is the second largest Catholic Church in Kenya.

Chagaik ArboretumA restful garden surrounded by trees within the tea plantations leading down to a small dam.

Unilever Arboretum
Do
Walk around town.

Swimming pool

address: Tea Hotel

phone: +254 52 30536

phone: +254 722110493

Private club with a nine-hole golf course, a bar and limited accommodation facilities.

Wessyde LoungeNight club open on most days.
Buy
Green Square Mallhas a large Tuskys supermarket

Tuskys Supermarket

phone: +254-5320048

address: crn Kenyatta Road & Temple Road

phone: +254-706729760

address: Moi Road

Equity Bank

address: Temple Road

Has a Mastercard/Visa Card ATM.

address: Uhuru Road
Eat
phone: +254 733 504942, +254 720 861079

The menu here is mainly Punjabi Indian and there is a good is a good view of the Kimugu River.
Drink
Sleep
phone: +254 711860777

Clean rooms, food is available on order and wifi is available.

Rays Place

phone: +254 710407933

The gardens at the back open up to a great view of the surrounding tea estates.

phone: +254 795508898

Bar and restaurant available.

Saiga Lodge

phone: +254 518011711

address: John Kerich Road

The small entrance from the street opens into a surprisingly large courtyard. Has clean rooms with mosquito nets and okay bathrooms.

Rex Lodge

phone: +254 36131323

address: Temple Road

Single/double rooms.

Kericho Garden Lodge

phone: +254 36120878

address: Moi Highway

Camping/single/double rooms.

phone: +254 721700358

address: Tengecha Road

Clean single/double rooms. Hot water. has a restaurant.

Mwalimu Lodge

phone: +254 722733663

address: Moi Highway

Has 36 single/double rooms with own bathroom.

Simmass Hotel

address: Temple Road.

Single/double rooms with own bathroom.

Lenox Hotel

address: Temple Road

Double room with own bathroom.
Connect

There is a "Cyber" (Internet Cafe) next to Saigo Lodge, and some more Cybers all over town.

Go next