Kerkrade
Kerkrade
is a city in the
South Limburg
region, in the
Dutch
province of
Limburg
.
Understand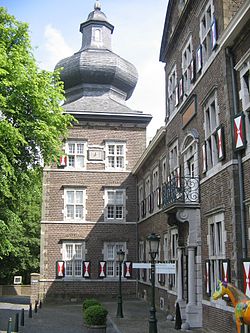 Throughout most of its history, modern day Kerkrade was part of the historic city of Herzogenrath. The South Limburg area was commonly disputed between different duchies and nations around it, and Herzogenrath changed hands repeatedly. It was ruled over time by the Duchy of Brabant, by Spain and later by the French. When the Kingdom of the Netherlands was formed after the French revolutionairy and Napoleonic wars, the area's ownership was determined at the Vienna Congress. There, the border was drawn right through the middle of historic Herzogenrath, creating the two adjoining towns of Kerkrade in the Netherlands and modern day
Herzogenrath
in Germany. When the Belgians declared their independence, they claimed the Kerkrade area as their own, but Dutch ownership was eventually restored in 1839.
In 1104, a abbey was founded in former Herzogenrath, by an Angustian priest named Ailbertus. After his death, his bones were buried in the abbey's crypt. The monks of Rolduc started coal mining activities in the area in the 18th century and received the sole right to exploit the coal mines on Kerkrade's soil in 1723. They thus laid the foundations for what would become the main economic activity in the town and the whole region.
At the beginning of the 20th century, the first state mines were opened. Coal mining became the beating heart of the region's economy and the main source of income for many of its people. When all the mines were closed in the 1960s, Kerkrade became somewhat impoverished. Still considered one of the underdeveloped parts of the region by some, Kerkrade is not a main travelers' destination. However, as renovations and facilities development take place, the town is gaining tourist popularity rapidly.
Travelers who do take the effort to visit Kerkrade will find a good number of interesting sights as well a good attractions in and directly around town.
Get in
By train
There is a train station in Kerkrade, which is served by regional trains and connects the town to
Landgraaf
and
Heerlen
. In Heerlen there's a rail connection to the intercity trains to and from the north
Heerlen. In Landgraaf you can change for the German towns of
Herzogenrath
or
Aachen
By bus
Bus lines lead to other Dutch towns in the region as well as to Aachen and Herzogenrath in Germany. However, not all of them pass through the main bus station in the city center so
check which stop to use
. Many buses stop at the Parkstad Limburg stadion or Gaiapark, which is still a good distance from the town center. However, you can easily change there for buses to Kerkrade center.
Line 44 between Heerlen and Aachen passes through
Line 41 runs between Kerkrade and Sittard via Heerlen and Hoensbroek
Line 30 goes to Herzogenrath
Line 28 runs from Schinveld to Kerkrade Bleijerheide via Heerlen
By car
There are two main roads connecting Kerkrade to the outside world:
N300 in the direction of Simpelveld, which connects there to the N281 and the E14/A76
By plane
The nearest airport is Maastricht-Aachen airport, with a few international connections. As for the rest of the region, larger Dutch, Belgian and German airports are within reasonable travel distance, so consider:
Eindhoven Airport, 113 km or ~2 hr by train
Düsseldorf International Airport, 107 km or ~2½ hr by train
Brussels International Airport, 134 km
Amsterdam Schiphol Airport, 227 km or ~3 hours by train
Get around

The city center is doable on foot and buses are good to get to specific places a bit further away. The main bus station is on the Rolduckerweg, at the corner of Poststraat.

By bike
A bike is a fine way to see town and a few villages around, but renting one here can be a bit of a challenge. Ask at the tourist information office in the Continium museum, or rent your bike in a more touristic town in the area.

By car
Parking is quite abundantly available but in the center you usually have to pay. Large free parking places can be found at Diepenbrockstraat (near the Rodahal), Einderstraat and Old Hickeryplein.

See
phone: +31 45 - 567 60 70

address: Dentgenbachweg 105, 6468 PG

This zoo was voted the most beautiful one in the Benelux. It has different habitats for the animals living in it, even putting animals together in habitats which they would normally share in nature. The idea is to give a more complete picture of the living conditions of animals in the wild. The zoo is themed into several continents.

phone: +31 45 56 70 809

address: Museumplein 2

This science and technology discovery museum combines information on mining in the old days with a view into the future. It addresses issues such as climate change, nano technology, the cars of the future etc. Despite the obvious focus on education and children, it is fun for grown ups just the same.

phone: +31 45 54 66 888

address: Heyendallaan 82

This 900-year-old abbey now serves as a conference center and hotel. It's an impressive view from the outside, and a Dutch national heritage site. Or follow in the foodsteps of the monks that lived in this tranquil place for centuries and stay the night. A few guided tours are organized irregularly, to explore the history of Rolduc. Check the website for dates and other information.

phone: +31 45 54 66 888

address: Kerkradersteenweg 4

This 14th-century castle is surrounded by a water-filled moat. It was named after the family van Ederen that once owned it. Throughout its history it served as a home for many noble families. Nowadays, it houses an upscale restaurant and (in the castle's farm buildings) a luxurious hotel. It has a private entrance to the Gaiapark Zoo.

Baalsbruggermolen

address: Baalsbruggerweg 28

The only abbey watermill in the Netherlands, the mill is being restored to its former glory in the Worm River which borders Germany and the Netherlands.

phone: +31 64 17 00 429

address: Domaniale Mijnstraat 30

One of the only 2 mineshafts still standing in the Netherlands, showing the mining history of the old southern part of Limburg. A group of volunteers is restoring this shaft to its former state.
Do
Buy
The tourist information office in Continium, has a range of local products. Kerkrade has a fair range of general shopping option in the center but if you're on a hunt for clothing or up for a real shopping spree, catch a bus to Heerlen instead.
Post office

address: Marktstr 23

The local post office can help you out with most services, including international postal.
Eat
address: Oud-Erensteinerweg 10

Dinner at Erenstein Castle is only an option if you're looking to indulge in a splurge. This upscale restaurant isn't cheap, but for the price you get a royal dinner. Take a stroll around before you order and then enjoy the original, good cuisine.

Ristorante Pizzeria Da Constantino

phone: +31 45 542 0284

address: Piusstraat 7

Serves pizza and other Italian dishes.
Drink
For clubbing or serious nightlife your best bet is to head to nearby Heerlen, as most youngsters from here do. However, Kerkrade itself has a few bars that are fine for a beer or two. Walk around the market square and you'll find a few options.
phone: +31 45 535 3811

address: Markt 54

A good place for an afternoon or early evening drink. It closes at 21:00.

phone: +31 45 - 88 88 542

address: Markt 49

Many bars here focus on local clubs and associations, around anything from sports to carnival clubs or darts groups. This old-fashioned bar with a party venue is one of the examples.
Sleep
phone: +31 45 54 66 888

address: Heyendallaan 82, 6464 EP KERKRADE

Hotel Wilhelmina

phone: +31 45 541 38 23

address: Akerstraat 168, 6466 HP Kerkrade

phone: +31 45 542 2442

address: Schaesbergerstraat 94-96, 6467 ED Kerkrade

phone: +31 45 535 15 26

address: Laurastraat 39, 6471 JH Eygelshoven
Stay safe
Kerkrade, as so many other cities and places in Limburg, is a hub of drug trafficking. Crime goes hand in hand with these practices. If you just want to smoke a joint, go to one of the legalized "coffee shops".
Prostitution in lawful in the Netherlands and there are some of these brothels in Kerkrade. Getting in bed with a street prostitute carries a very high risk of getting an STD. Stay safe: if going to a brothel always use a condom.
Meeting "junkies" and wanderers, which happens occasionally at supermarkets and in city centres, is a hassle as they are often asking for money. Locals find this annoying, since they already have an income from the state to survive and are often begging to obtain money to purchase illegal street drugs. Giving money to drug addicts encourages drug-related crime and might also encourage other beggars to panhandle you. Normally, these people do not pick-pocket your wallet but, as in any city in the world, keep an eye on your personal items.

Go next
Destinations in the direct surrounding area include: