Kerman (province)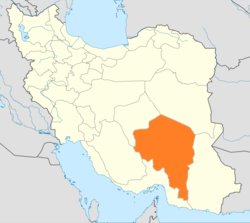 Kermān Province
is one of the 30 provinces of Iran.
It is in the southeast of the country. Its center is Kerman. The province of Kerman is the second largest in Iran, 181,714 km². The population of the province is 2.6 million. The main townships of Kerman province are: Baft, Bardsir, Bam, Jiroft, Rafsanjan, Zarand, Sirjan, Shahr-e-Babak, Kerman, Mahan and Kohnoj.
Other destinations
Khabr
Kohpayeh
Koh-banan
Sirch
Joopar
Understand
Kerman province is considered a paradise for palaeontologists because of an abundance of vertebrate fossils from different geological eras. Fossils include Placodermi, jawed and jawless armoured fish dating back to Devonian era or first geological era (395-365 million years ago), dinosaurs dating back to the Jurassic era (195-65 million years ago) and mammals from the Third Geological Era (ranging from 2-7 million years ago).
The history of human settlements in the territory of Kerman dates back to the 4th millennium BC. This area is considered as one of the ancient regions of Iran and valuable historical vestiges have been discovered here. Jiroft is an example, where a previously unknown settlement dating back to around 2500 BC has just been established by archeologists. Kerman has an abundance of historical sites and landmarks, 283 in total, according to Iran's Cultural Heritage Organization. Ancient abandoned citadels such as Arg-é Bam and Rayen castle have been preserved in the desert for two thousand years.
Historical documents refer to Kerman as "Karmania", "Kermania", "Germania" and "Žermanya", which means bravery and combat. Geographers have recorded Kerman's ancient name as "Go'asheer" (Bardesheer).

Get in
By plane

Kerman International Airport (KER) has regular flights to all major and some smaller cities in Iran.

By bus
Kerman is well connected to most parts of the country by bus.

By car
Freeways connect the province to Yazd, Sistan-va-Baloochestan, Hormozgan, Khorasan-e-Jonoobi and Fars.

By train
Kerman is connected to the whole railway network of Iran. It is connected to Yazd and also it will be connected to Zahedan in the near future (under construction).

See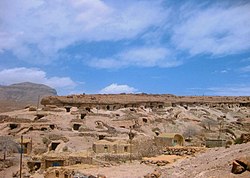 Eat
kashk Bademjan
Dizzy
Khoresht Sabzi
Kalle Pacheh
Candies:
Shohan
Ghotab
Pistachio
Date

Learn
Kerman province contains the following universities:
Islamic Azad University of Shar-e-Babak
Islamic Azad University of Kahnuj