Kermanshah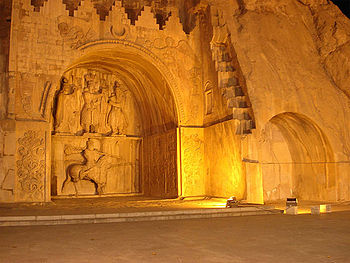 Kermanshah
is a city in
Western Iran
.
Understand
Kermnashah has a large population, and Kurdish language as well as some dialects of
Kurdish
is widely used in the city. Its climate is mild and it has many natural and historical sightseeings.
Get in
By plane
Kermanshah has an international airport that can be reached from some airports in Iran, especially from and to Tehran, and Mashhad. There are also regular flights to Kermanshah Airport from
Istanbul
.
By car
You can hire a car, however the easiest way to travel is via taxi.
By train
Kermanshah railway station was inaugurated in March 2018. There will be two weekly direct trains to Tehran and Mashhad.
By bus
There are buses to Kermanshah from Tehran and other major cities.
See
There are four museums that are established in old houses of Qajar period. These are Museum of Ethnography at Tekyeh Moavenalmolk, Zagros Paleolithic Museum and Museum of Epigraphy and Qajar Hand Writings at Tekieh Biglar Baigi. The Zagros Paleolithic Museum contains rich collections of stone tools and animal fossil bones from various Paleolithic sites in Iran. It is the first established museum in Iran that devoted to Paleolithic period of Iran. The Museum of Traditional Martial Art (wrestling موزه پهلوانی) in Kermanshah contains many wax models of traditional wrestlers.
Talab-e Hashilan: There are tiny flosting islands in this marsh with various plants sheltering 200 species of birds. The 1500-hectare marsh is 32 km distant from Kermanshah. Prav Cave in the Prav Mountains between Taq Bostan and Bisotoon heights is the deepest cave in Asia (the deepest cave in the world is Ali-Sadr Cave in Hamedan northeast of Kermanshah). There are famous glaciers and a marvelous 762-meter deep valley in it with several streams.Qoori Qal'eh cave is another of the natural wonders of the province, located 92 km from the city heading toward Paveh. The cave's spine is 3,140 meters long and the cave-length is 12 km with a beautiful natural surrounding of a variety of forest trees. In the cave, the first phase of which has been developed, there is an ever-flowing stream of 111 liters per second, and chambers with enchanting icicles and colorful columns. In fact, it is a romantic sight never to be forgotten.

Taq-e BostanOne of the most impressive reliefs inside the largest grotto or ivan is the gigantic equestrian figure of the Sassanid king Khosrau II (591-628 CE) mounted on his favorite charger, Shabdiz. Horse and rider are arrayed in full battle armor. The arch rests on two columns that bear delicately carved patterns showing the tree of life or the sacred tree. Above the arch and located on two opposite sides are figures of two winged angles with diadems. Around the outer layer of the arch, a conspicuous margin has been carved, jagged with flower patterns. These patterns are also found in the official costumes of Sassanid kings. Equestrian relief panel 7.45 m across by 4.25 m high.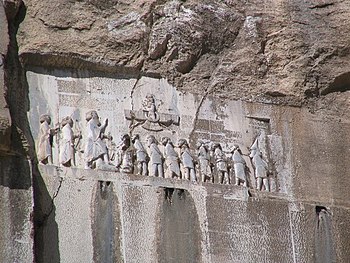 Behistun InscriptionThe Behistun Inscription (also Bisitun or Bisutun, Modern Persian: بیستون ; Old Persian: Bagastana, meaning "the god's place or land") is a multi-lingual inscription on Mount Behistun, a UNESCO World Heritage Site.
The inscription includes three versions of the same text, written in three different cuneiform script languages: Old Persian, Elamite, and Babylonian. A British army officer, Henry Rawlinson, had the inscription transcribed in two parts, in 1835 and 1843. Rawlinson was able to translate the Old Persian cuneiform text in 1838, and the Elamite and Babylonian texts were translated by Rawlinson and others after 1843. Babylonian was a later form of Akkadian: both are Semitic languages. In effect, then, the inscription is to cuneiform what the Rosetta Stone is to Egyptian hieroglyphs: the document most crucial in the decipherment of a previously lost script.
The inscription is approximately 15 m high by 25 m wide, and 100 m up a limestone cliff from an ancient road connecting the capitals of Babylonia and Media (Babylon and Ecbatana). It is extremely inaccessible as the mountainside was removed to make the inscription more visible after its completion. The Old Persian text contains 414 lines in five columns; the Elamite text includes 593 lines in eight columns and the Babylonian text is in 112 lines. The inscription was illustrated by a life-sized bas-relief of Darius, holding a bow as a sign of kingship, with his left foot on the chest of a figure lying on his back before him. The prostrate figure is reputed to be the pretender Gaumata. Darius is attended to the left by two servants, and ten one-metre figures stand to the right, with hands tied and rope around their necks, representing conquered peoples. Faravahar floats above, giving his blessing to the king. One figure appears to have been added after the others were completed, as was Darius' beard, which is a separate block of stone attached with iron pins and lead.

Mo'avenalmolk MosqueThis Shia mourning site is unique because of its exclusive tilings, picturing the Ghazi (warrior) Islamic era, the Battle of Karbala, and pictures of Achaemenid kings and Persepolis.

Kouhestan ParkThis park is near the Taq Bostan Mountains. It has a beautiful view of the city.
Buy
Giveh is a kind of soft, comfortable, durable and handwoven-top shoe common in several parts of Iran especially in rural and mountainous areas of Kermanshah Province. The production centers of Giveh in Kermanshah Province are Paveh, Harsin, and Kermanshah. Giveh is made up of two parts: sole and upper. The sole is usually rubber or leather the upper is woven thread. Before the arrival of rubber industry to the area Giveh-makers would use a kind of wild-bull leather to make giveh and the upper was of wool or cotton thread. Most rich people would wear them. With the arrival of rubber industry lower class people use rubber in the sole of their shoes.
Sleep
Budget
Kermanshah Oak Hostel , No. 12, Naghibzadeh alley, West Motahhari (Sirous) St., Javanshir intersection, Kermanshah,. checkin: 14:00 checkout: 12:00. A newly renovated building in the heart of traditional Kermanshah, offering dorms and private rooms to the guests from December 2018. Dormitories have beautifully designed bunk beds with private curtains, individual lockers, sockets and light on each bed. A budget guesthouse, suitable for families, couples and backpackers; Breakfast and WiFi are included. It is close to old bazaar of Kermanshah and other sightseeing of Kermanshah. Dorms from €5.5 Private rooms from €17.5. Contact: +989124239737
Mid-range
Splurge
phone: +98 083 3421 9151

address: Taq Bostan Blvd

5 stars, the most comfortable hotel in the city. Breakfast time: 07:00-10:00 - Lunch time: 12:30-15:00 - Dinner time:20:30-23:00.

phone: +98 083 3429 6002

address: Taq Bostan Square

4-star hotel with a restaurant.
Stay safe
Emergency services
Police: 110
Fire department: 125
EMS: 115
Road EMS: 115 or 112
Go next
Shopping. Nan-Brenji, Nan-Roghan, and handicrafts including gilim, giveh (cotton shoe), and local dress can be bought.