Keszthely
(pronunciation: , Slovene:
Blatenski Kostel
; German:
Kesthell
) is the oldest town in the
Lake Balaton
region of
Hungary
.
Understand
It is at the western tip of Lake Balaton and boasts a history of more than 750 years. The town is endowed with a wide range of architectural gems displaying Gothic, Baroque, Transylvanian and Eclectic styles.
The Festetics Palace, now the Helikon Castle Museum, must rank as the town's major attraction. Its construction was started at the beginning of the 18th century, by Kristóf Festetics, on the site of the former Pethő castle. It obtained its final Neo-Baroque form in 1887. With some 111 halls and rooms, this is one of the largest palaces in Hungary and is maintained in wonderful condition by the Hungarian government. One of the most beautiful rooms and one of the greatest assets of the castle is a magnificent historic two-level library housing over 100,000 volumes, which were miraculously saved from destruction during the Second World War. The library was started in the 1700s and its collection includes copies of the earliest printed books, unique prints, scientific and art books together with its music collection of manuscripts by Haydn, Pleyel and Goldmark. The ground floor houses an exhibition of the beautiful and precious military arms of Hungary, a loan from the Hungarian National Museum.
The reception wing of the palace is now used as a conference center and a meeting place for scientific and international conferences. Participants may be accommodated in the 15 quest rooms and 4 suites within the palace. During summer, concerts are held weekly in the grounds.
The Festetics were one of the richest aristocratic families in Hungary and had a considerable influence on the development and culture of Keszthely and the surrounding areas. Family members founded pharmacies, hospitals, Grammar schools and in 1779 Count György Festetics founded "The Georgikon", which was Europe's first Independent Institution of agricultural higher education. It was established with an 11-hectare dendrological garden. Its successor, the Georgikon Faculty of Agronomy, now functions within the local university.
A nice feature within the town is the Helikon environmental park, which sits between the town and the lake foreshores. It is prevented from reaching the lake by the railway. Across the railway beside Ferenc Csik promenade are to be found a large number of outdoor cafes and restaurants much frequented by students from the nearby university. A popular snack served at these cafes is the famous Hungarian Lángos, a deep fried potato pancake topped with either garlic dressing or cheese or both. On summer evenings the area is alive with people eating Lángos and drinking beer.
The center of Keszthely is a large square alongside Lajos Kossuth street. This square contains two major buildings. The Gothic parish church, built on the site of a former 12th-13th-century church by Palatine István Lackfi. Renovations at the end of the 19th century gave the church its Neo-Gothic tower and rose windows. In 1974 a number of sensational 15th-century frescoes were discovered in the sacristy.
At the southern end of this square stands the Gymnasium built at the turn of the last century and now housing the successor to the grammar school founded by Count Pál Festetics in 1772. The section of Lajos Kossuth street leading from the square to the palace of the Festetics is now a pedestrian mall were one can find a number of fine restaurants which, in season, serve large numbers of alfresco diners.
phone: +36 83 314-144

address: Kossuth Lajos utca 30

Information about accommodation, transport, programmes, attractions and services in Keszthely and in the region. It distributes free brochures, sell maps, tourist card, picture postcards, and gives information about local programmes, accommodation. Spoken languages: English, German, Italian.
Get in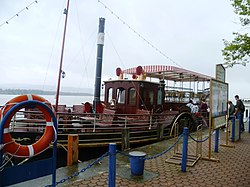 By train
Trains are available in every two hours from
Budapest
-Déli pályaudvar via
Székesfehérvár
,
Siófok
,
Fonyód
and Balatonszentgyörgy (junction point to
Nagykanizsa
), moving on the South Coast of the
Lake Balaton
. The journey takes nearly 3 hours and costs 3705 Ft. Other direct connections are:
At the summer, direct trains are available from
Győr
,
Pécs
,
Szeged
,
Szombathely
and Záhony (via
Nyíregyháza
and
Debrecen
).
phone: +36 1 349-4949
address: Mártírok útja 8
By bus
Buses are available in nearly every two hours from
Budapest
-Népliget. The journey takes 2.5 hours and costs 3705 Ft.
phone: +36 83 515-173
address: Mártírok útja 2
By boat
Boats are available between Jun 2–Sep 9 once a day to Balatongyörök, Szigliget and Badacsony.
phone: +36 84 310-050
Get around
The town is compact and may be easily explored on foot.
By bus
Volánbusz
operates local buses in Keszthely. Ticket (in 2019): 220 Ft, pass (in 2019): 4600 Ft per month. Tickets can be purchased only at the driver. Further information:
public transport timetable
,
public transport map
.
By taxi
By bike
There is a
bike rental network
. Bikes can be pick up and hand down in any Tourinform offices in this region (Keszthely, Gyenesdiás, Vonyarcvashegy, Balatongyörök and Héviz). Bike rental: 1500 Ft for two hours, 2200 Ft for one day.
See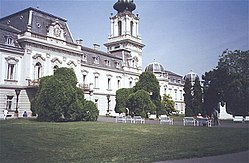 Palace ParkThe park which used to measure 42 hectares, is now a nature reserve, there is a French garden and an English garden where we can find numerous tree rarities. Old and exotic trees and hundreds of years old, colourful flowerbeds, fountains, statues are there– among them the full-figure bronze statue of George Festetics I, the garden pond and the fountain decorated with stone lions. Other statues: Immaculata sculpture, Statue of St. Helena
Churches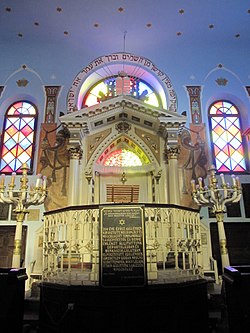 address: Tapolcai út 3

Part of a Carmelite convent

address: Deák F. u. 18.

Catholic church

Holy Family Church

address: Balogh Ferenc utca 3

address: Piac tér/Fő tér 5.

The Neo-gothic parish church.

address: Hanczók u.20

Catholic church.

address: Kossuth Lajos utca 22

Built in 1852 in the neo-classical style. The shape was altered in 1894 when the building was remodeled in the spirit of eclecticism. In 1898 an organ built by Sándor Országh was installed. The temple served the local Neolog congregation. The building used to be accessed via a narrow mew from Fejér György Street where the Jewish School once stood. The building was erected according to tradition on a lower level as compared to its surroundings. Its East-West length, breadth and height are almost equal. The inside is surrounded on 3 sides by a gallery for women supported by iron columns. The original neo-classical architecture is preserved on the east side of the synagogue.
Museums
address: Kossuth u. / , Balaton u. 2.

A Neo-Baroque building. There are permanent exhibitions telling the visitors about the development of the Balaton, its flora and fauna and the historical relics of its surroundings. Also here you can find the Roman and Medieval Lapidary and the memorial room of the famous painter, János Halápy.

Bacchus Wine- and Wine Tool-Museum

Cadillac MuseumModels of 1923 and 1990.

Doll museum

address: XVI.

Erotic Renaissance Wax Museum

Georgicon Farm Museum, Grange MuseumA former farmstead, which used to serve educational purposes now is a museum building. There are exhibitions about the history of higher agricultural education in Hungary, about corn production, viniculture. There is also a carriage exhibition with a wheelwright and a blacksmith workshop. The steam-plough is an imposing sight especially if you consider that it is still in working order.

Keszthely Ethnographic Museum - Wax Museum

phone: +36 83 319 322

address: Katona József utca 19

A permanent exhibition of over one hundred examples of our hand work, lovingly created by the proprietors Simonfai Jenő and his wife Agnes.

Mikus Gallery

Radio and TV Museum

Railway History Museum.

Historical Wax Museum

Vidor Toy Museum

Nostalgia and Kitsch Museum

Torture Museum
Others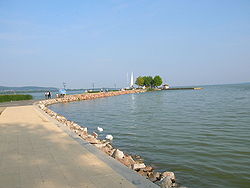 address: Kastély u. 5.

Balaton Hotel and Hullám Hotel

address: Balaton-part

address: Deák F. u. 25.

address: Georgikon u. 20.

This building was the first institute of higher agricultural education established by Festetics György in 1797, Today it is a hotel.

address: Sopron u. 7.

address: Fő tér 10.

Fórum House

address: Bem Street and Rákóczi Street cnr

One of the most beautiful modern buildings of the town.

address: Fő tér

Holy Trinity Column

address: Fő tér

address: City Beach

Part of the City Beach.

Snail Parliament

Pantheon of Keszthely

Holy Trinity Column

address: Fő tér

Market

address: Bem Street

Worth visiting mainly on Wednesdays and Saturdays, that is the weekly market days. Rákóczi Street at the lower entrance of the market has also become a kind of shopping centre.

Villas around Erzsébet királyné StreetCan be see from Main Square to the Balaton coast. The villas were built at the beginning of the 20th century.

Star Castle

Balaton Theatre and Congress Centre

address: Fő tér 3.

Goldmark Károly Community Centre

Pedestrian Street

address: Kossuth Lajos u.

Port and mole at the Balaton
Further afield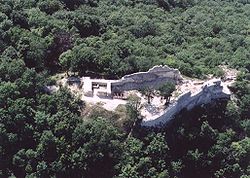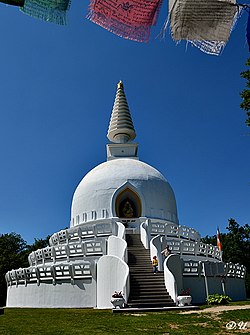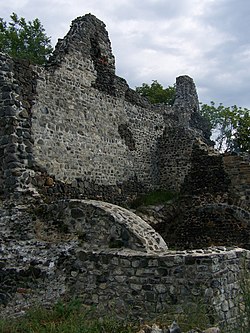 In Rezi:
Rezi Castle

address: Rezi

Built in the 14th–15th century.

John the Baptist Roman Catholic Church

address: Petőfi Sándor utca 29, Rezi

Built in 1756 in Baroque style.
In Várvölgy:
Saint Dominic Roman Catholic Church

address: Kossuth Lajos utca 80, Várvölgy

Built in 1899 in neo-Gothic style. Based on the ruins of the Gothic church ruins from the 14th century.
In Zalaszántó:
Country House

address: Vadász utca 20, Zalaszántó

Built around 1850.

phone: +36 30 589-7934

address: Fő utca 102, Zalaszántó

phone: +36 83 572-010

address: Ádám utca 2, Zalaszántó

phone: +36 30 864 8067

address: Világosvár 13, Zalaszántó

Buddhist sanctuary on the summit of the Virágosvár Hill (313 m a.s.l.), it is 30 m high and 24 m wide.

Saints Cosmas and Damian Roman Catholic Church

address: Fő utca, Zalaszántó

Built in the 15th century in Gothic style.

Tátika Castle Ruins

address: Zalaszántó

Medieval castle ruins.

Wendelin of Trier Roman Catholic Chapel

address: Fő utca, Zalaszántó

Built in the 18th century.
Do
Beaches
phone: +36 83 312-241

address: Csík Ferenc sétány

The island-bath keeps the silhouettes of the original building. The pier, which protrudes deep into the lake provides a harbour for the boats cruising the lake on schedule and a favourite fishing place at the same time.

address: Entz Géza sétány

address: Libás strand út

Free services: Wi-Fi throughout the beach. Water rescue and Emergency Medical Service (during opening hours), parking, changing rooms, disabled toilets, open air showers, modern children's playground, sandy beach path. Snack bar, deck chairs, cabins, bicycle storage, bouncy castle for kids (Ugrálóvár), trampoline, kayak, canoe, paddle boats, windsurf.

Southern Free Beach
Sport
Events
Various folk dance festivals.
Borutca (Wine Boulevard), end of July on the coast: this is a presentation of the wines of the Balaton region with cultural performances.
Walking tours
Walk in the Keszthely Mountains and the Balaton Uplands National Park. The 'Countrywide Blue Tour in Hungary' passes through the town. You can take long walks around the lake in the beautiful protected green woodland area surrounding the thermal waters (Hévíz).
# Keszthely-Felgyenes-Naturpark Visitor Center (Nagymező)-Náradfő-Vállus-Kő orra-Lesenceistvánd-Tapolca: National Blue Trail (Time: 7 hours, Distance: 25 km, Ascent: 349 m)
# Keszthely-Vadaskert-Hévíz-Gyöngyösi csárda (Restaurant)-Rezi Castle-Zalaszántó-Tátika-Sarvaly-Sümegprága-Sümeg: National Blue Trail (Time: 5 hours, Distance: 16,5 km, Ascent: 308 m.)
# Hévíz Thermal Lake-Wine cellars of Bükk-Savanyós Springs-Felsőpáhok (Time: 2.5 hours, Distance: 9 km, Ascent: 95 m)
# Keszthely-Semely Hill-Cserszegtomaj-Rezi-Ilona Valley-Falumalmi Erdészház (Forest House)-Zerna creek-Zalaszántó (Time: 4 hours, Distance: 15 km, Ascent: 236 m.)
# Keszthely-Várvölgyi road-Sátormagas alja-Sátormagas-Csetényi meadow (rét)-Várvölgy village (Time: 4 hours, Distance 14.5 km, Ascent: 223 m.)
# Keszthely-Sömögye Dülő-Felgyenes-Büdöskúti Valley-Vadvízárok-Büdöskút puszta-Székmány-Balatonederics Vasútállomás (Railway Station) (Time: 4.5 hours, Distance: 16 km, Ascent: 285 m.)
# Gyenesdiás Vasúti Megálló (Railway Station)-Vadlánlik-Tüskéslap-Naturpark Visitor Centre (Nagymező )-Petőhegy (Berzsenyi-kilátó)-Büdöskútpuszta-Padkő-Szobakú Cave-Bélap Valley-Balatongyörök (Railway station) (Time: 3.5-4 hours, Distance: 13 km, Ascent: 270 m.)
# Bélap Völgy-Bisekü-Márványkőfejtő-Sárkányerdői Vadászház-Balatonederics (Time: 1 hour, Distance: 3.75 km, Ascent: 324 m.)
# Vonyarcvashegy Vasútállomás (Railway station) – Kitaibel-Kilátó-Cseri kapu-Berzsenyi-Kilátó-Büdöskútpuszta-Szent Miklós forrás-Hegyes tű-Nemesvita (Time: 2-2.5 hours, Distance: 7 km, Ascent: 272 m.)
# Gyenesdiás Nagymező Natúrpark-Berzsenyi Outlook tower-Büdöskútpuszta-Szent Mikós forrás-Szent Miklós völgy-Vállus-Jáger houses (Csettegő Spring) (Time: 2.5 hours, Distance: 9 km, Ascent: 112 m.)
Buy
phone: +36 30 319-4073

address: Frech Miklós utca 2-4

Shopping center.

Coop

phone: +36 83 510-655

address: Rákóczi tér 13

Supermarket.

Interspar

phone: +36 20 823-8256

address: Tapolcai út 37

Hypermarket. Traditional restaurant and pizzeria.

phone: +36 30 496-5789

address: Rákóczi tér 20

Shopping center.

phone: +36 83 312-295

address: Piac tér

To the west of the central square is the marketplace. On Saturdays and Wednesdays the square and some surrounding streets fill with market vendor stalls selling a wide variety of wares. Flowers, fruit, vegetables, and of course paprika are available in abundance together with tools, clothes and other paraphernalia. In the spring Cherries and Walnuts are a great buy.

Spar

phone: +36 20 823-7207

address: Bercsényi Miklós utca 65/a

address: Murvás utca 2

Shopping center.

address: Csapás utca 27

Hypermarket.
Eat
Budget
In Keszthely:
Mid-range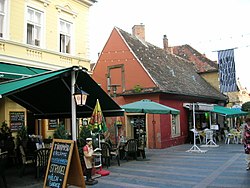 In Keszthely:
In the surroundings:
Splurge
In Keszthely:
In the surroundings:
Drink
Cafes
Pubs
Bars and nightclubs
Sleep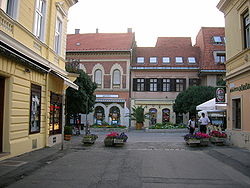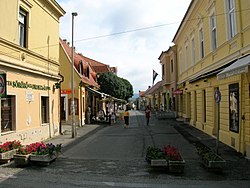 Keszthely has a variety of places to stay, ranging from rentable apartments to the 5-star 224 rooms, 8 suites.
Budget
In Keszthely:
In the surroundings:
Mid-range
In Keszthely:
In the surroundings:
Splurge
In Keszthely:
In the surroundings:
Connect
Keszthely's postal code is
H-8360
, and its telephone area code is
83
.
phone: +36 83 321-446

address: Zeppelin tér 3

Keszthely 1 Post Office

phone: +36 83 312-070

address: Kossuth Lajos utca 48
Go next