Ketchikan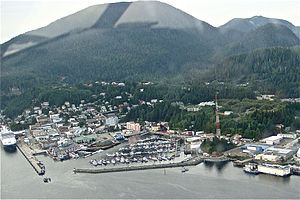 Ketchikan
is a scenic town of approximately 14,000 people, located along the Tongass Narrows, at the foot of Deer Mountain, on Revillagigedo Island in
Southeast Alaska
. It is the southernmost and fourth largest city in
Alaska
.
Understand
Over 800,000 visitors come through Ketchikan each year by cruise ship. Most spend only a few hours in town, limiting their tourism and recreation choices. Visitors who arrive by air, via the Alaska Marine Highway System, or by private vessel and who have more time to spend can choose from a wider array of activities.
The
Ketchikan Visitors Bureau
, near the cruise ship berth 2, publishes a comprehensive area guide that provides maps, contact information for tour operators and local attractions, sample itineraries and community information.
A walking tour map is published by Pioneer Printing and the
Ketchikan Daily News
and is available in many locations throughout the downtown area.
Probably the most scenic downtown stretch is historic
Creek Street
, which is only a short distance (three to four blocks) away from the cruise ship docks. Once a raucous red-light district, and during prohibition a row of speakeasies, these days Creek Street is home to a quieter class of establishment but still retains its delightful historic charm. Visitors walking downtown should be sure to include it in their walking tour to see the
picturesque wooden buildings
that stand on stilts above Ketchikan Creek.
Summer visitors can look down from the bridges that cross the creek and expect to spot
salmon
gathering in the brackish waters near the creek mouth, preparing to make their final ascent upstream, where they will spawn and die. Depending on time, tide, and other conditions you might also see a
hungry harbor seal
or two cruising the creek mouth for easy prey.
Climate
Located in the vast coastal rainforest of Southeast Alaska, Ketchikan is one of the rainiest cities in North America with just over 160 inches of average annual precipitation. Visitors should therefore come prepared for rain, especially if they plan activities on the water or in the forest or otherwise away from town and easy access to shelter. During the summertime precipitation is generally light and sporadic and daytime temperatures average in the high sixties (F). Wintertime is marked by heavy, cold, wind-driven rain and temperatures in the high thirties.
Get in
Like most towns in the SE Alaska, Ketchikan can be reached by sea or by air.
By sea
Ketchikan is served by the ferries of the
Alaska Marine Highway System
. The Alaska Marine Highway System ferries, as well as the ferries of the Inter-Island Ferry Authority (which serves Ketchikan, Metlakatla, and several communities on
Prince of Wales Island
), arrive at a ferry terminal approximately 2 miles north of downtown. The ferry terminal is served by local bus service (however, ferry arrivals and departures may occur at any hour, while bus service hours are limited) and has pay phones available to call for taxi or shuttle service. Walk-on ferry passengers who don't have a vehicle available in Ketchikan can find food and lodging directly across the street from the AMHS ferry terminal.
Most visitors, however, see Ketchikan as a
port of call
, arriving and leaving on the same day via the
cruise
ships that ply Alaska's famous Inside Passage from early May through late September. The large cruise ships call at one of the four cruise ship berths; berths 1-3 are located in downtown Ketchikan, while berth 4 is further north at Newtown. If there are more than four ships visiting Ketchikan at the same time, the additional ships will anchor in the Ketchikan Creek and passengers will take a short tender trip to the downtown pier. A free
Salmon Run Shuttle
operates a 20-minute downtown loop 7AM-7PM serving all cruise ship berths. When a ship is docked in berth 4, an additional free Bear Shuttle operates a 10-minute waterfront loop serving all cruise ship berths.
Several smaller harbors offer transient moorage to private vessels cruising the Inside Passage.
By air
The town is served several times daily by jet service from
Seattle
and
Juneau
. Visitors who arrive by air at the
Ketchikan Airport
must take a short ferry ride or water taxi or may take the Ketchikan Airporter a shuttle service that will deliver to the destination of their choice, from the airport's location on nearby Gravina Island (2006 cost, $5.00) which will deliver them to a terminal about 1.5 miles north of downtown and approximately 0.5 miles from the nearest food and lodging. The Ketchikan side of the airport ferry service is connected by
local bus service
and there are payphones available on the airport side and the Ketchikan side to call for taxi or shuttle van pickup.
Get around
By foot
Ketchikan's historic downtown is small and easily accessible by foot from the most common tourist access point, the massive downtown dock where summer cruise ships moor. To anticipate how busy the downtown area might be, visitors can check the
cruise ship schedules
to see how many cruise ships are in port. However, the rest of the town stretches along the waterfront for miles to the north and south of downtown and is not crowded.
By taxi
Taxi services can provide visitors with access to outlying areas and to tourist destinations outside of town.
By bus
The town's
bus service
operates three bus lines (Red, Green, and Blue) for locals and visitors. They provide visitors access to Totem Bight State Park (Blue Line) approximately 10 miles north of town to Fawn Mtn School (Red Line), approximately 4.5 miles south of town. Buses run 60 minutes apart. Fare: $1 adult; $.50 senior/student. A free Downtown Shuttle runs May through September, making 20-minute loops from the four cruise ship berths to Totem Heritage Center and back.
See
Coming by cruise ship?
Don't immediately book trips and activities via your tour operator, you can save yourself a small fortune by arranging directly with the actual attraction. In some cases, as much as 50% of the price of a ticket bought through the cruise lines goes straight to their pocket...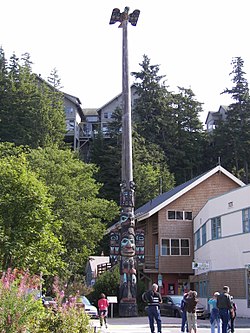 Totem-pole collectionsKetchikan is situated at the meeting place of three Alaska Native cultures, Tlingit, Haida, and Tsimshian. Evidence of the rich artistic and dance traditions of the native cultures is apparent throughout the town, most visibly in the totem poles scattered through the historic district and found in larger groupings in totem parks near town:
Do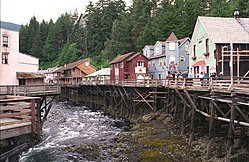 Set on the hillsides above the waterfront on a heavily forested, mostly wilderness island, the town of Ketchikan is worth visiting on its own merits. However, visitors with time for an extended stay should make an effort to explore the steep rainy forests, deep-water channels, secluded bays, and hundreds of small islands in the surrounding area. Travelers with access to a boat of some sort, whether single-person kayak or gargantuan luxury yacht, should devote some time to exploring the scenic passages and inlets of the nearby waterways where fish are bountiful, it's not uncommon to see whales and porpoises, and bears and eagles can frequently be seen on the shore.
Buy
Many kinds of shops exist in the downtown area, including museums, galleries, souvenir & jewelry stores and many fine restaurants.
Several galleries specialize in
native-design art
. Consider some of the strikingly executed carvings or baskets, or if you're on a more modest budget, a print.
Ketchikan's art scene isn't limited to native art, however. The town's scenic location and active participation-friendly art community have attracted artists working in a number of media. Local photographers offer some remarkable photos of the area's scenic wonders be sure to save some time to actually
see
the wonders, though and not just their photos. Other artists work in a variety of media; many are influenced by local scenery and/or wildlife. Excellent work can be found throughout a price range which can accommodate almost any budget.
Crazy Wolf StudioThis shop has a fine collection of hand carved masks and other art by Haida, Tlingit, and Tsimshian carvers.

Eagle Spirit GalleryLess focused on Southeast Alaska - sells artifacts from throughout the state

Marvin OliverSells native design prints and sculptures featuring bold colors and unusual materials.

Soho CohoA popular local gallery that sells modestly priced artwork by several local artists and does a brisk trade in whimsical fish-themed T-shirts designed by gallery owner Ray Troll.

Parnassus Books

address: upstairs in the historic Star Building at the upper end of Creek St

Locally owned and well stocked with the works of Alaska authors and books on the history, flora, and fauna of Ketchikan and Southeast Alaska.
Eat
So you like the taste of the fish?
If you're looking for something with local flavor to bring home with you, the area's seafood is exceptional and can be packed and shipped frozen back to just about anywhere in the country. If you're concerned about shipping frozen fish consider smoked salmon, which travels well. If unsure, ask the store owner to tell you what kind of salmon and where it was caught and packed. Of the five types of wild Pacific salmon, king (chinook), silver (coho), and sockeye (red) will usually be clearly labeled; they're more highly sought after and command a price premium. Salmon that is unlabeled, or is labeled only as "wild Alaskan salmon" is usually either pink (humpback) or chum (dog) salmon.
Fish
is the local specialty. The fishing industry in Southeast Alaska is not what it once was but vast amounts of salmon are still landed every year and processed and shipped to all over the world. Wild Alaskan salmon is world famous, and rightly so. Ask a local fisherman, however, and many will express a preference for the lighter-flavored halibut. Either is a fine choice, as are several other species caught in local waters, including rockfish, ling cod, and dungeness crab.
Crab
many visitors, excited to be in Alaska, are eager to dine on the famous Alaskan king crab. What most don't realize is that king crab aren't commonly found anywhere close to Ketchikan and there is no commercial king crab fishery here, and the chief ports of the king crab fishery are
Kodiak
and
Dutch Harbor
far to the north and west of Ketchikan. In other words, if you order king crab, you're going to be served crab that has been frozen and flown in, so it won't be any fresher than if you'd ordered it at a restaurant back home. If you crave a crustacean sensation order
local dungeness crab
instead. Dungies aren't as large or as exotic as king crab and it takes a bit more work to eat them but their meat is pleasantly mild and sweet-tasting and you'll get a fresher meal at a cheaper price.
Filipino cuisine
Ketchikan has a substantial Filipino minority population and there are a number of local restaurants that serve Filipino cuisine, either on its own or in conjunction with a more traditional American menu as well.
phone: +1 907 247-4055

address: #3 Salmon Landing

Fresh Alaskan seafood. Located just three minutes from the cruise ship docks.

Ocean View RestaurantServes from a wide menu of mostly Mexican and Italian dishes, is probably the most popular restaurant in town. The food is flavorful and the atmosphere is welcoming and family-friendly. Vegetarian options abound, something that cannot often be said in Ketchikan.

The Galley

address: Located across from The Plaza shopping mall in the

An old local favorite. The Galley offers Asian food and diner fare, from pancit (a traditional Filipino noodle dish) to burgers. Lumpia, a Filipino version of a spring roll, fried rice and noodle dishes are the local favorites.

Cape Fox Lodge

address: accessible from Creek Street via a bright red funicular lift

Serve a good meal in a nice atmosphere. There is a respectable beer and wine list, and the views of the waterfront are very nice. Prices are a little on the high side for the quality of food and service received but are not out of line with Ketchikan norms.

Chico's

address: downtown

Small family run Mexican restaurant. Free chips and pretty good salsa. Food is pretty authentic, especially for up here. Very friendly service and good food.

Burger QueenA popular local take-out opposite the water just past the downtown tunnel. Fast food with a local flavor. It doesn't look like much from the road, but any trip to Ketchikan without a BQ halibut sandwich is a wasted trip.

The Pioneer Cafe

address: 610 Main St

Formerly named "Pioneer Pantry", and still called that by many locals, the Pioneer Cafe has moved from its former location on Front Street and reinvented itself in a new Mission Street location as a 1950s-style diner. Deliver to local addresses.

Anabelle'sThis is a sweet little restaurant, lavishly furnished, that takes you back to the days when the nearby Red Light District was in full swing. Linen napkins and goblets for your water, along with servers in white shirts and black vests give this moderately-priced eatery an heir of sophistication. They are known for their chowder and the reputation is deserved. They also make a great Southwestern Halibut Wrap.
Sleep
Summertime visitors to Ketchikan should remember that summer is high tourist season and the town has a modest number of hotel rooms. There are other options available besides traditional hotel rooms, however. Quite a number of local bed and breakfasts host visitors. And many stay at remote lodges, some accessible by road from Ketchikan, others requiring travel via boat or float plane to reach them.
phone: +1 907 225-5461

address: 2303 5th Ave

Open April through October. One female dorm, one male dorm, and one private room with double bed (sleeps 2 people). No lockouts or curfew, quiet time after 10:30PM. Check-in and check-out times flexible due to fluctuations in transportation schedules.
Campgrounds
Campers can find pleasant accommodation for tent camping or RVs at campgrounds at Ward Lake, Last Chance, and Settler's Cove. However, facilities are primitive and electric and sewer hookups are not available. Tent campers can also generally camp at undeveloped sites in the Tongass National Forest. Check with the Ketchikan Area Ranger District for details and, where necessary, permits.
For the more adventurous, the US Forest Service maintains a network of backcountry cabins and camp shelters throughout the region. Reservations for cabins can be made on-line and a night at a forest service cabin usually costs $35 - 45. Camp shelters are usually free and usually are on a first-come, first-served basis. Check with the Ketchikan Ranger District for details or visit the web site for the
Tongass National Forest
. Cabins are primitive - a spartan setup with a kitchen area, a stove (for heating, not too practical for cooking) and sleeping platforms for four (or in a real pinch six) but are generally isolated and located in sites of notable natural beauty. Transportation to and from the cabins poses the biggest challenge for most visitors, as none of the Ketchikan-area cabins are available via the road system. Most are located next to salt water and accessible by boat, some are on inland lakes and require a hike in or transport via float plane, which can be arranged through a number of local float plane services.
Go next
Misty Fiords National Monument - About sixty miles from Ketchikan, on the eastern side of Revillagigedo Island and the mainland opposite, lies this 3,570 square mile National Monument, which straddles the 2,000-foot deep waters of narrow Behm Canal and spans rich marine, coastal and mountain forest ecosystems. The highlights of the monument are two spectacular fjords, Rudyerd Bay and Walker Cove, each of which winds miles into the mountainous coastal mainland. Thousand-foot waterfalls zigzag down spectacular cliffs, their flow augmented in the spring and early summer by melting snow, and fed throughout the year by the copious amounts of rain that define Southeast Alaska's coastal climate.