Key West
Key West
is a city and an island of the same name, the county seat of Monroe County, and an island in the
Florida Keys
. It is considered the southernmost city in the continental United States.
Understand
History
In Pre-Columbian times Key West was inhabited by the Tequesta and Calusa peoples. The first European to visit was Juan Ponce de León in 1521. As Florida became a Spanish colony, a fishing and salvage village with a small garrison was established here.
The island was used by fishermen from Cuba and from the British Bahamas, who were later joined by others from the United States after the latter nation's independence. While claimed by Spain, no nation exercised de facto control over the community there for some time. The island was considered the "Gibraltar of the West" because of its strategic location on the 90-mile (140 km)–wide deep shipping lane, the Straits of Florida, between the Atlantic Ocean and the Gulf of Mexico. On March 25, 1822, Matthew C. Perry sailed the schooner Shark to Key West and planted the U.S. flag, physically claiming the Keys as United States property.
Key West was relatively isolated until 1912, when it was connected to the Florida mainland via the Overseas Railway extension of Henry M. Flagler's Florida East Coast Railway (FEC). The Labor Day Hurricane of 1935 destroyed much of the railroad and killed hundreds of residents. The FEC could not afford to restore the railroad. The U.S. government then rebuilt the rail route as an automobile highway, completed in 1938, which became an extension of United States Highway 1. The portion of U.S. 1 through the Keys is called the Overseas Highway.
Modern Key West and the Florida Keys has a Tourist Development Council which collects a surtax on hotel bills to promote more and more tourism in the Keys in an uncontrolled positive feedback loop. Spending a million dollars a month on international travel promotion schemes, the island chain is crowded and expensive. Traffic is slow but the pace is frenetic.

Climate

Key West claims to be the only city in the lower 48 states to have never had a frost or a snowfall. Because of the proximity of the Gulf Stream in the Straits of Florida, about 12 miles (19 km) south and southeast, and the tempering effects of the Gulf of Mexico to the west and north, Key West has a notably mild, tropical climate.
Precipitation is characterized by dry and wet seasons. The period of November through April receives abundant sunshine and slightly less than 25 percent of the annual rainfall. This rainfall usually occurs in advance of cold fronts in a few heavy or light showers. May through October is normally the wet season, receiving approximately 53 percent of the yearly total in numerous showers and thunderstorms. Rain falls on most days of the wet season. Early morning is the favored time for these showers, which is different from mainland Florida, where showers and thunderstorms usually occur in the afternoon. Easterly (tropical) waves during this season occasionally bring excessive rainfall, while infrequent hurricanes may be accompanied by unusually heavy amounts. At any rate, Key West is the driest city in Florida. Summer is generally a few degrees cooler than the interior due to the moderating effects of the water, and with tropical breezes is a welcome relief from the interior's scorching temperatures.

Get in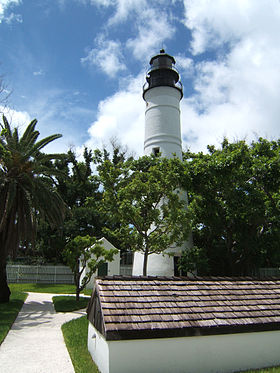 By plane
(
EYW
) is the major airport for Key West and the lower keys located southeast of downtown at 3491 S Roosevelt Blvd (FL A1A). The airport terminal is accessed from S Roosevelt Blvd along Faraldo Circle (its own access road). Major airlines serving the Key West are:

Fares tend to be higher than to and from the large metropolitan airports. A popular alternative is to fly into Miami International Airport or Fort Lauderdale International Airport, rent a vehicle and drive down the Overseas Highway (US Hwy 1) to Key West (See "By car" in the below). Likewise you may also catch a ride with Keys Shuttle from Miami International and Ft Lauderdale International Airports to your hotel or to any address in Key West and anywhere in the Keys. Call them to schedule pick-up for the return trip back to Miami or Ft Lauderdale (see "By bus" in the below).
Car rental, although unnecessary in small Key West, is available from Avis, Budget, Dollar, Hertz, and Thrifty. Alamo, Enterprise, and National have offices off site, with a free shuttle from the Airport. Parking on Key West can be a challenge in terms of the number of available spaces, and the size of spaces, so smaller cars are popular selections.

By bus
Public Buses, The Lower Keys Shuttle operated by Key West Transit provides 9 daily trips between MM 0 in Key West and MM 53.5 (Sadowski & US Hwy 1) in Marathon Key. Cost is $4 for the Lower Keys Shuttle. At MM50 (at Sombrero Beach Rd), you transfer to Miami-Dade bus route 301 Dade/Monroe Express for onwarad service to Florida City (via MM 74 in Islamorada; MM 87 in Tavernier; and MM 98 in Key Largo). The Dade/Monroe bus operates 10 times daily between 7:30am and 11:00pm from Marathon and more frequent from Islamorada. In Florida City transfer to the #38 bus (Busway/Max)to the Dadeland South Metrorail Station where you catch the Metrorail train into Miami. The Dade/Monroe express costs $2.65 each way. Official Key West page on cross keys transit options

phone: +1 305 296-9072

address: 3535 S Roosevelt, Suite #104

Buses serve Key West with two departures per day from Miami and Miami International Airport, stopping at Big Pine Key, Marathon, Islamorada and Key Largo in the Keys en route. Journey time is around four and a half hours. Passengers transfer in Miami to continue to other destinations.

phone: +1 305-894-6409

address: (Company Office) 2401 Collins Ave Suite #C3; Miami Beach, FL 33140

Travel from Miami or Miami Beach to Key West. Hotel pick-up is available from select Miami Beach Hotels and Downtown Miami. Bus Service is available 365 days a year, and rates start from $69.00 for round-trip.

phone: +1 305 423-9045

Motorcoach transportation services and escorted tours to Key West from Miami.

phone: +1 305 289-9997

The company provides door-to-door service between to the Keys from the Miami and Ft. Lauderdale-Hollywood International Airports (and vice versa).
By sea
phone: +1 239 463-5733

address: (Terminal) 100 Grinnell St

Daily high-speed passenger ferries from Ft. Myers Beach and Marco Island. The ferries dock at the Key West Bight Ferry Terminal. The ferry ride takes approximately 3.5 hours and the Ft. Myers Beach vessels have a capacity exceeding 300 passengers and amenities aboard include; out-door sundecks, flat-screen TV's, galley service and a full bar.
Private Boaters Experienced boaters can navigate to Key West along the Atlantic side of the Keys or by traveling on the Gulf of Mexico side. The first part of the trip takes you through the specially-marked Intracoastal Waterway. After Long Key, however, international markers apply. Consult the appropriate Coast Pilot and Light List manuals. Numerous marinas are waiting to entertain you, but you should make reservations ahead. If sailing in from foreign ports in the Caribbean be sure to contact to determine where to sail into prior to travel. Their Key West office is at 301 Simonton St, Simonton & Caroline St in downtown.
Cruise Ships In 1969 the Port of Key West received its first regularly scheduled cruise ship. The three docking facilities Mallory Square Dock, Pier B (privately owned by Westin), and the Navy Mole -- service over half a million passengers a year. A schedule indicating when a particular cruise ship will be calling on Key West is available at the Port Office and online. See the online docking calendar or the respective website of a particular cruise line.

Since the re-establishment of US-Cuban relations at the end of 2014 and the easing of travel sanctions between the two countries there have not been any establishment of, or plans for regular ferry services between Key West and Cuba. Private mariners will still need a license from the Office of Foreign Asset Control (OFAC) to be able to sail their own vessels to Cuba. Please check with U.S. Customs & Border Protection as to where to sail into from foreign ports and regarding the rules for travel by private vessel or aircraft between the Florida Keys and Cuba.

By car
The Overseas Highway terminates in Key West, and links all the towns in the Keys with mainland Florida and links into the US Interstate network. Driving to Key West is straightforward (3 1/2 hours from Miami) and scenic with ocean vistas but driving around town is difficult and parking is expensive.
From Miami International Airport: Take LeJeune Road south to 836 West. Follow the Florida Turnpike south toward Key West. The Turnpike ends at US 1 in Florida City. Follow U.S. 1 south as far as it goes and you will be in Key West.
From Ft. Lauderdale-Hollywood International Airport: Exit the airport and follow the signs for 595 West. Take 595 to the Florida Turnpike and follow the signs for the Florida Keys and Key WEST.
From the north: take the Florida Turnpike south and follow the signs for Homestead and Key West. The Florida Turnpike ends at US 1 in Florida City.Follow U.S. 1 south into the Florida Keys.
From Florida's West Coast: take 1-75 Alligator Alley east to the Miami exit, and south to the Turnpike Extension.

Get around
With many narrow and one-way streets, driving Key West is difficult and parking is expensive. Many visitors choose to rent motor scooters, bicycles, golf carts, explore on foot or use public transportation. When renting a golf cart keep in mind that you have to find parking for this vehicle as well. Scooters and bikes can normally be parked on the sidewalk right outside your destination.
The tourist area in Key West is Duval Street.
Key West Transit
offers a fairly comprehensive bus system for local travel in and around Key West and up to MM 53 on Marathon Key in the Lower Keys. For taxi you may contact
One Key West
at +1 305-295-5555 to arrange for a pick-up or a ride share service such as Uber or Lyft.
Taxis and ride share services
are plentiful and affordable.
If you plan to
rent a car
be aware that the Enterprise and Alamo desks are not located at the airport. You have to call the shuttle bus and wait for 12 minutes to catch a ride to the Truman Ave location. Budget is the only car rental agency in Key West that does not charge additional fees (usually $10/day from anyone else) for a second driver. Renting a car is more necessary if you plan to travel extensively or point to point in different parts of the
Florida Keys
then if you're staying exclusively on Key West where you won't need a car at all. If your lodgings are in Old Town you can more easily walk or bike to all the attractions.
See
A Key EncounterA non-profit "museum" that is on the upper level of Clinton Square Market Mall. A Key Encounter features "Nature Theater", a 3 screen movie theater showing the Christian God's creation of the animals and everything He is believed to have made. It also features "The Jungle Walk" that has live animals and animatronic animals including a 22.5 foot stuffed skin of an Anaconda that ate a woman down in Brazil years ago. And "The George M. Kretschmar, Jr. Planetarium".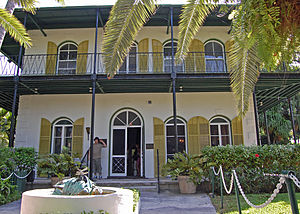 address: 907 Whitehead St

Hemingway lived and wrote here for a decade. He also raised cats, the descendants of which still roam the grounds and have extra toes.

phone: +1 305 292-0037

address: 601 Howard England Way

The perfect romantic place to cuddle up with someone special, unwind, and watch the sun set as sailboats glide by... all without the crazy circus of Mallory Square. It doesn't get any more romantic in this crowded city. Nature trails, 1866 fort with a real moat, beaches, snack stand. The beach area is the southernmost point in the continental US accessible to the general public, regardless of what the famous buoy at the corner of Whitehead and South Streets says.

Harry S. Truman Little White House

address: 111 Front St

A historic retreat used by President Harry S. Truman. Guided tours are available, as well as a gift shop. It's still used as a retreat and place of business by US government officials today.

Key West AIDS Memorial

address: White Street and Atlantic Boulevard

The City of Key West has lost more than a thousand of its citizens to the AIDS epidemic. Some of their names are inscribed on a memorial near the White Street Pier. The memorial is embedded in the sidewalk near the ocean, and made of flat smooth granite. The memorial was dedicated on World AIDS Day in 1997, and funded entirely through private sources. At the time of dedication, there were 730 names engraved on the memorial. There are spaces for 1,500 names, and each year more are added and dedicated in a ceremony, also on World AIDS Day in December. A group called Friends of the Key West AIDS Memorial takes care of the memorial.

Key West Art and Historical Society Museum

phone: +1 305 296-3913

address: 3501 S. Roosevelt Blvd

Visitors can explore the preserved battlement's collection of relics from the Civil War, learn about the wrecking and cigar-manufacturing industries which shaped the Florida Keys, view the unique folk art of Mario Sanchez and the imaginative metal sculptures of Stanley Papio, as well as meet the Ghosts of East Martello, including the infamous Robert the Doll. The building, formerly the Fort East Martello, is on the National Register of Historic Places

Key West City CemeteryIn Key West, burial customs reflect combinations of African, Hispanic, Anglo and other mixed heritages. Due to the water table of the Keys, most burials are in above ground tombs. Grave markers with unusual inscriptions such as I told you I was sick, Devoted Fan of Julio Iglesias and At Least I know where he's sleeping tonight are not unusual. Cemetery maps are available at the front gate.

address: 938 Whitehead St

With a panoramic view of the island.

McCoy Indigenous Park

phone: +1 305 292-8990

address: 1 Whitehead St

Offers a panoramic view of the island from its observation tower.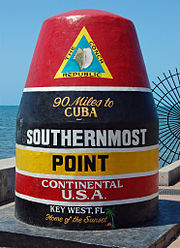 Southernmost PointA "buoy" (actually an old sewer junction painted to look like a buoy) placed at this point contains a claim that it is the southernmost point in the continental USA, but the claim is inaccurate. The true southernmost point of Florida is on Ballast Key, a privately owned island about 9 miles (14 km) from Key West which includes signage prohibiting unauthorized visitors. The marker is also not the southernmost point on Key West island—a private yard is immediately southeast of the buoy, and the island's true southernmost point is in the Truman Annex west of the buoy, which is U.S. Navy property and can be entered only by authorized Navy personnel. The buoy isn't even the southernmost point that can be accessed by the public—that would be the beach area of Fort Zachary Taylor (see above). Nonetheless, it's one of the city's most visited and photographed spots.

Wildlife Rescue of the Florida Keys

address: Atlantic Boulevard and White Streets

This rescue operation has released more than 2,000 healed animals into the wild since 1993. They take care of any animal that needs attention, from sea birds to raccoons, and at any given time you might see up to 100 creatures healing at the center. They come from all over, from the Seven Mile bridge to the Dry Tortugas. You can visit the patients any day from 9AM to 5PM, and the park is open sunup to sundown. It's free, but they like donations and volunteers.
Do

Key West is not the greatest place to bring a family. There are beaches and a few small parks during the day... for those that are awake. Enjoy an early night and prepare for the next day's adventure. However, if you are traveling with young ones, stay in a hotel off the main streets. For those who stay out all night you may not get to do these things but you should try. Because many locals get around by scooters, bikes, and/or electric cars, you may want to consider renting them at one of the many rental shops throughout the island.

Nature
Watersports
Other
Festivals
Buy
Key West is not like Miami. There aren't many high end shops or big name brands. While there are a few, Key West is not the place for this type of shopping. Fly into or out of the Miami airport and spend a day in South Beach if this is what you are looking for. There are a lot of shops in Key West, especially along Duval Street, which goes from coast to coast. You can find something to wear at night which in Key West isn't much (price or material). Lose your sunglasses...they have them. Need suntan lotion..check. Want a tattoo? You could get probably get 20 or so if you went to every tattoo place in Key West. This is not a good idea if you have been drinking. You may regret it the next sober morning when you realize you have one or more.
Eat
Budget
Conch Republic

address: 631 Greene St

Enjoy their spacious waterfront setting where the atmosphere is like a trip back in time to the way Key West used to be. Enjoy fresh fish and a raw bar. Feel like you are dining outside with the large windows that remain open during the day. A great place for a drink & some snacks specially during football season.

El Siboney

phone: +1 305 296-4184

address: 900 Catherine St

This Cuban restaurant, tucked into a quiet residential intersection, flies well below the tourist radar. Delicious food at very reasonable prices. To sum it up, this is where the locals go for Cuban.

Jimmy Buffett's Margaritaville

phone: +1 305 292-1435

address: 500 Duval St

Key West is pretty close to paradise, so you might as well have a cheeseburger while you're there. Prices are kind of high: 11 bucks for a Cheeseburger in Paradise.

Schooner Wharf

address: Caroline Street

A surprising choice for breakfast, this rough and ready landmark has a three-egg seafood omelette that, coupled with a bloody mary or two, will shock you back to life from a throw down night on Duval.
Mid-range
A & B Lobster House

address: 700 Front St

The main dishes are mid-range in price, and paired with great tasting appetizers and salads it will be hard to forget your meal here. While Key West is warm and the porch may seem like a good idea make sure the ladies have jackets. It is right on the water and with the fans on high blast it can get a little chilly.

phone: +1 305 294-2469

address: 900 Southard St

phone: +1 305 295-2620

address: 410 Wallstreet

If you want authentic, delicious Cuban food look nor further. I have been visiting this place for about the last 5 years when I drive down to Key West. Be ready for a special treat on the days that Pepe himself takes over the kitchen and creates his delectable masterpieces. The prices are very reasonable and their Mojitos have a kick. Everynight at Sunset, they have a band playing and enough space for dancing and having a couple of drinks at the bar.

Roof Top CafeExactly what the names suggest, this is a restaurant situated on the roof top of a building. Overlooking Mallory square this place is perfect for dining during sunset or under the stars. As well as dinner they also serve Breakfast and lunch. Nothing is too expensive and the food is of good quality.

The Half Shell Raw Bar

phone: +1 305 294-7496 231

address: Margaret St

A Taste of Old Key West! Traditional Key West Raw Bar & great Key West seafood restaurant! Oysters, clams, shrimp, more! A low key restaurant for casual lunch or dinner. Settle down to an informal atmosphere, local characters, great bar and waterfront dining. It's a little piece of Old Key West on the historic Key West Bight. Drop in! Enjoy a frosty drink and the freshest seafood this side of the reef!

Upper Crust restaurantA local favorite right on Duval Street next door to Antonia's, they serve what is called "not your average pizza." Unlike other pizzerias, this place serves very thin crust pizza that can be made with or without tomato sauce. Also serves salads and even a few types of sea food as well.
Splurge
Nine One Five

address: 915 Duval St

Dinner served from 6PM-11PM. With weather so nice you want to spend as much time outside as possible. So why not take your dining outside.or as close as possible? Join others on the porch of this dignified Victorian home. Similar to tapas dining, everything is intended to be shared and mixed and matched.

phone: +1 305 296-2777

address: Truman Avenue at Packer Street

This mod-style restaurant has good seafood and a large colorful aquarium. The staff is intelligent and polite. The fish dishes are usually fresh and innovative. Reservations a must.

phone: +1 305 296-4300

address: 1075 Duval St # C12

They serve breakfast lunch dinner and even Sunday brunch. The menu is very similar to many other restaurants. A lot of fish and seafood. A lot of "tropical' flavors and many fruits are included in the ingredients of their dishes.

Louie's Backyard

address: 700 Waddell Ave

This high-end establishment sells "dining with a view," and this is what you get because food is unremarkable.
Drink
There are a large number of drinking establishments of various types. The main tourist strip on Duval Street has numerous watering holes.
phone: +1 305 294-9354

address: 724 Duval St

Part of the gay-oriented Bourbon St. Complex on the 700 block of Duval.

address: 428 Greene St

Ernest Hemingway's old stomping grounds. Pirate's Punch in a 22 oz cup.

phone: +1 305 296-9373

address: 305 Duval St

So you're not in New Orleans.who says that means you can't have Mardi Gras! Featured on MTV's Real World Key West here it is Mardi Gras everyday.

phone: +1 305 292-2032

address: 400 Front St

Take a peek at the "hog cam" on their website.

phone: +1 305 292-1262

address: 211-C Duval St

Webcams here, too. Can be a lively place at times.

Rick's/Durty Harry's Entertainment

address: 202 Duval St

Club w/ 6 different venues & 10 bars. Live entertainment, VIP bar overlooking the action, famous juice & premium spirits bar, dance club, adult entertainment, & live Rock & Roll!

phone: +1 305 294-8759

address: 201 Duval St

Ernest Hemingway's "new" stomping grounds. Sloppy Joe's used to sit at the current location of Captain Tony's, but the landlord raised the rent on the owner back in 1937. Legend has it that upon hearing the news, the bar owner and his customers (including Hemingway) moved the bar, barstools, alcohol, etc. across Duval Street to a former restaurant - its current location.
There are also plenty of places to wet your whistle that aren't necessarily right on Duval Street.
phone: +1 305 294-6133

address: 601 Whitehead St

The last (or first, depending on your direction of travel) bar on US 1. Not your typical trop-rock bar, the Green Parrot leans more toward blues. Great bands, and an unbelievable selection of blues on the jukebox. Just remember, no snivelers.

phone: +1 305 294-3302

address: 202 William St

A last little piece of Old Key West, Schooner Wharf is an open air bar that sits on the Key West Bight. Grab a brew and watch the yachts.

Finnegans Wake

address: 320 Grinnell St

Celebrate life in true Irish Style.

phone: +1 305 296-0815

address: 900 - 904 Duval St

An Irish pub and restaurant attached to a bed and breakfast located right on Duval Street. Daily happy hour specials offered as well as great Irish food. Come in and say hi and enjoy a nice cold pint.
Sleep
phone: +1 305 294-4480

address: 302 Angela St

Clean rooms, shared and private baths, pool, complimentary breakfast, wi-fi. Friendly and helpful staff knowledgeable of the city.

phone: +1 305 296-7975

address: 905 Truman Ave

Villa and condo rentals in the historic Old Town.

phone: +1 305 292-1532

address: 1401 Atlantic Blvd

40 yds from the Atlantic Ocean and Rest Beach. Beautiful landscaping with only 2 private Jacuzzi Suites. Complimentary Wi-Fi, off-street parking and bikes.

phone: +1 305 296-0815

address: 900 - 904 Duval St

Family run bed and breakfast located right on Duval Street just steps away from Old Town. Swimming pool and restaurant/bar located on the premises. Each room has its own private porch and private bathroom. Family friendly.

phone: +1 305 296-2991

address: 430 Duval St

Built in 1926 and home of Key West's highest sunset celebration.

address: 511 Caroline St

A small hotel just steps from Duval on Caroline, plenty of free parking, open bar cocktail party with piano player every afternoon, breakfast buffet with cooked to order eggs.

address: 3990 South Roosevelt Blvd

The newest resort-style property among luxury Key West hotels. This place has a good rooftop view of the water. However, book early as the place is popular and there is limited space available.

Douglas House

phone: +1 305 294-5269

address: 419 Amelia St

This hotel offers a pool-side setting with swimming pool and heated jacuzzi, surrounded by lush tropical gardens.

phone: +1 305 296-6868

address: 1015 Fleming St

Key West's original guest house. Fully renovated, lush grounds.

address: 329 Elizabeth St

A fun and relaxed B&B, with 10 rooms, all with private baths. Amenities include a heated lagoon style pool with spa jets and a cascading waterfall, surrounded by tropical gardens that weave throughout the inn grounds. Along with a nightly happy hour, a continental breakfast is available each morning.

phone: +1 305 294-9227

address: 512 Simonton St

In the heart of the historic district, 23-room bed and breakfast. Complimentary breakfast is served in the mornings and a wine and cheese tasting each night.

phone: +1 305-294-5229

address: 725 Truman Ave

Offers 6 different boutique hotel options in the Old Town.

Hyatt Centric Key West Resort & Spa

phone: +1-305-809-1234

address: 601 Front St

Newly renovated. Intimate resort with casually elegant Floridian touches, combined with sumptuous, rich fabrics and stunning ocean views. Private marina to fish, scuba, snorkel, parasail, waverunners, or sail on the "Floridays," the resort's 60-foot Irwin sailboat which offers daily sunset cruises and private charter trips. Exercise studio, private beach, pool with oversized whirlpool. Indoor and outdoor dining is available at two restaurants, where guests can watch the sunset.

address: 3420 N. Roosevelt Blvd (US 1)

Accommodations feature a king or double queen size beds some with oversized bathrooms. Freshwater pool, tiki bar and poolside restaurant.

phone: +1 305 294-5702

address: 411 William St

Charming and historical hotel offering 24 suites for lodging outside of Old Town.

address: 415 William St

This three-story Victorian in the heart of old town is full of color and art.

address: 200 William St

Waterfront resort offering spacious accommodations, complimentary Wi-Fi, complimentary parking and three tree-lined pools.

phone: +1 305-809-8204

address: 5950 Peninsular Avenue

Deep-water access, an onsite marina, onsite access to fishing charters and six oceanfront pools. Oceanfront rooms and suites with floor-to-ceiling windows with full ocean view and a private balcony. Also features seafood dining at the onsite Yellowfin Bar & Grill.

Pelican Landing of Key West

phone: +1 305 296-0500

address: 915 Eishenhower Dr

Complete with rooms, suites, retreats and penthouses, this lovely building has an enjoyable pool, a free boat slip when you check in (subject to availability), maid service, friendly staff, and beautiful decor. The boat slip is a manatee area: Feel free to search and see the beautiful animal, but be careful not to harm them. There is free parking and free bike racks. Elegant flowers grow in the gardens along with the palm trees.

Pier House Resort and Caribbean Spa

phone: +1 305 296-4600

address: One Duval St

Pier House completed an 11 million dollar renovation in 2008. Elegant accommodations, lush gardens, a private beach, a selection of restaurants and bars, a full-service spa.

phone: +1 305 296-5000

address: 1435 Simonton St

With the only natural beach on the island as a backyard, this hotel is a block away from Duval Street.
phone: +1 305 296-7593

address: 3444 N. Roosevelt Blvd
Camping
There is no camping in Key West, but you can find expensive campgrounds outside the City limits on
Stock Island
. Within Key West itself, parking is very limited and RV's are generally discouraged, so your best shot is to stay somewhere outside the city and drive a smaller vehicle into town.
phone: +1 305 294-1465

address: 6401 Maloney Ave

phone: +1 305 294-0857

address: 6700 Maloney Ave

phone: +1 305 296-5260

address: 5236 Suncrest Rd
There are a few more
a little ways up the Keys
that cater to RVs. The number of campsites are limited, so try not to be too shocked by the prices. Make your reservations well in advance six months to a year so you are sure to get your spot. You will notice the use of "MM" or "Mile Marker" in the addresses. This is how US 1 is marked. MM 0 is in Old town Key West and the beginning of US 1. The numbers go up, so you can tell just how far an address is from Key West.
Go next