Kgalagadi Transfrontier Park

The
Kgalagadi Transfrontier Park
, (
Botswana
,
South Africa
), is in the Kalahari regions of
Botswana
and
South Africa
, and came into being as the merger of the Gemsbok National Park in Botswana and the Kalahari Gemsbok National Park in South Africa.
The park offers a majestic and infinite desert landscape with migrating herds of wildebeest, gemsbok, springbok and eland, cunning predators like lion, cheetah and leopard and unending red dunes with unique flora and a diversity of epic proportions is what draws the visitor to this ancient land of the Kalahari Desert.
Understand
History
The Kgalagadi tribes-people with the local Khoe-inhabitants of the desert were the first humans to inhabit this desolate desert habitat. Although they were nomadic, the name stayed. The name Kalahari was derived from the Kgalagadi word Makgadikgadi, meaning great thirstland or saltpans.
The first Afrikaans/Dutch speaking settlers in the area came to trade with the people living in the Kalahari. The Kalahari Gemsbok National Park in South Africa was established in 1931 and the Gemsbok National Park in Botswana was established in 1938. These parks shared a common border.
Since 1948 there has been informal cooperation agreements between conservation agencies in Botswana and South Africa to ensure the wellbeing of animals in both parks and to control development in the area.
The two parks were combined in 1999 and on 12 May 2000 the new Kgalagadi Transfrontier Park was formally opened by South Africa's President Thabo Mbeki and Botswana's President Festus Mogae and was the first Transfrontier park in Africa.
Kgalagadi Transfrontier Park Communities
Some of the original inhbitants of this wilderness area still live around and within the park.
The Mier (the Afrikaans word for ant) community of the Kalahari mainly originated more than 150 years ago settled across an large area that reached up to the Orange River and into the German West Africa (now
Namibia
) and Bechuanaland (now Botswana). They mainly farmed with sheep, goats and cattle in the hardveld south of the Kalahari dunes.
The Khoe-speaking community of Southern Africa is not one tribe but a collective of different peoples with different languages and cultural practices. They are united by their experience of being hunters and gatherers in the Kalahari Desert. The environment they live in has been inscribed on the
world heritage list
as the "ǂKhomani Cultural Landscape".
Today there are about 100 000 Khoe-speaking people in these parts. They live in small, scattered pockets in the urban and rural areas of
Angola
, Botswana,
Zambia
, Namibia, South Africa and
Zimbabwe
. In March 1999, they had a portion of their territory restored by the government of South Africa. This land included a large area in the Kgalagadi Transfrontier Park forming the Ae!Hai Kalahari Heritage Park.
Landscape
The total land area of the park is in the order of 38 000 km², with 28 400 km² of the park located in Botswana and the rest in South Africa. The Kalahari is a semi-arid wilderness with bright red sand dunes and covers most of Botswana and reaches into Namibia, South Africa and other African countries. The landscape typically consists of saltpans, open plains to flat bushveld which becomes more dense towards the south. It is a huge area of unspoilt desert and bushveld with small vegetation-covered red dunes, grasslands, scrub bush and woodlands. The Kgalagadi's pans and rivers are bordered by high dunes. The pans fill up with water during the rainy season and contain nutrient-rich soils, and salts. The name Kgalagadi means
the great thirst
in Tswana.
Flora and fauna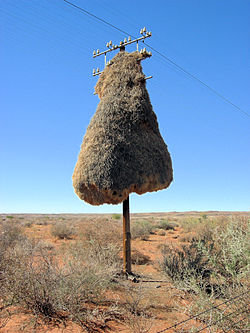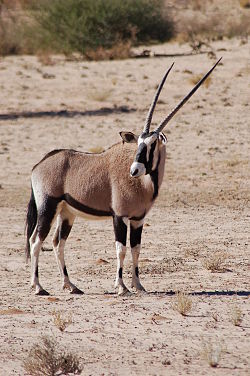 The Kgalagadi is best known for unique desert-adapted mammals, birds, reptiles and rodents, especially the black maned Kalahari lions and gemsbok.
Other animals include the endangered wild dog, leopard, giraffe, blue wildebeest, brown hyena, eland, aardvark, bat-eared foxes, pangolin and meerkat.
Kgalagadi is a fascinating stop for birdwatchers and apart from migrating flamingos and pelicans, this is an excellent area for raptors, with over 50 recorded species. Bateleur, Pygmy falcons, Sociable weavers and Vultures (
White-backed and Lappet-faced
) are common.
Flora included the water-holding tsamma, a melon like creeper and the distinctive massive camel-thorn trees which can be found in any of the river beds.
See also
African flora and fauna
for more information on these or any other wildlife you may encounter during your visit.
Climate
In summer (October to April), the temperature in the Kgalagadi climbs up to 40°C and sometimes higher. The annual rainfall is rarely more than 100 mm, and some years it even stays below 50 mm. Typically this is the time of the iconic Kalahari thunderstorms.
In winter (June to August), the temperatures lie around 25°C. This results in the air ibeing dry and very clear days can be expected. The nights are extremely cold. Winter is also the best time for animal viewing. Because of the drought, the game is forced to come to the waterholes in the riverbeds.
Orientation
There are large sections of the park totally isolated and not reachable without 4x4. The South African side of the park is wedged in between the two main (mostly dry) rivers the Nossob (meaning dark clay) and the Auob (meaning bitter water) which have their sources in the Anas Mountains near
Windhoek
, Namibia. Mata-Mata is s 2½-hr drive from Twee Rivieren. Nossob is 3½-hr drive from Twee Rivieren. Both these routes follow the riverbeds.
Get in
You may enter the park from either country and even use the park as a transit between Botswana and South Africa, provided that your documentation (passport, visa) is in order.
The Twee Rivieren (South African side) and Two Rivers (Botswana side) gates act as border posts.
Hired cars may be collected at Twee Rivieren provided that an advance booking is made with a car hiring company.
By car
From Botswana
Drive from
Gaborone
for about 550 km until
Tsabong
. From there travel for about 310 km on gravel road. This road is negotiable by 4 x 2 vehicles during the dry season and 4 x 4 vehicles during the wet season. The alternative route is to travel from Gaborone to Hukuntsi on tarred road for 565 km followed by approximately 110km of sand road which is negotiable by 4 x 4 vehicles only.
From South Africa
The park is about 250 km from
Upington
in the far northern Cape and 904 km from
Johannesburg
. Visitors driving from
Gauteng
or
Mpumalanga
have a choice of two routes, either via Upington on a tarred road or via
Kuruman
,
Hotazel
and
Vanzylrus
(about 340 km gravel).
By plane
Easiest way to get to the Kgalagadi is to fly to Upington and then hire a car and drive yourself to the park. Car rentals available at
Upington Airport
include
Avis
,
Budget
,
Tempest
, and
Hertz
. Three flights daily from Cape Town and Johannesburg on
SAA
. Light aircraft may land on a tarred runway at Twee Rivieren. Prior permission must be obtained from the park.
Fees
South African citizens and residents (with ID) will have to fork out R50 per person, per day. SADC nationals (with passport) pay R102 per person, and the fee for foreign visitors is R204 per person. Children under 12 years pay half price and under 2 years enter for free. Alternatively a
Wildcard
can be bought, for SADC nationals and international visitors. Depending on the duration of the stay that can be cheaper.
Get around
You can freely explore the whole park, regardless of what country your entered from. Provided that you exit at the same gate that you entered from, you do not even need to carry a passport. No roads in the park are paved, all have gravel surfaces. 4x4 vehicles are needed in the Botswana parts of the park. All roads in the park have gravel surfaces and can get badly corrugated at times. When driving from one rest camp to the other, travelers should depart with travelling times in mind to ensure arrival before sunset as no traveling is allowed in the park after dark. Gate times in the park are strictly adhered to and you may be fined when arriving late in the camp.
January to February 06:00 – 19:30
March 06:30 – 19:00
April 07:00 – 18:30
May 07:00 – 18:00
June and July 07:30 – 18:00
August 07:00 – 18:30
September 06:30 – 18:30
October 06:00 – 19:00
November and December 05:30 – 19:30
See
Kgalgadi Museum

MeerkatsThese animals are fascinating to watch and you could easily do so for hours. There is a gang of them at the Twee Rivieren Visitors Centre. These little rascals are so entertaining that they even star in their own TV show, the highly acclaimed Animal Planet program Meerkat Manor.
Do
Self drive game viewing

4 x 4 Routes

phone: +27 54 561-2000

Game drives

address: Twee Rivieren and Nossob camps

Maximum of 20 people per gamedrive.

Holiday programs

address: Twee Rivieren camp

Slide shows and lectures

Day walks

address: All three major camps

Game watchingLet the wildlife come to you and spend a day next to the more than 120 waterholes in the dry riverbeds

Locate a mob of meerkats and follow their frenetic foraging and vigil antics in the dunes
Have brunch at one of the many picnic spots and get indimidated by the complete silence of the Kalahari
Say hello to the visitors in the chalet/ rondawel next to you and share stories of your day's sightings over a fire and some 'skaap tjops' (lamb cutlets).

phone: +27 824350007

Specializes in Kgalagadi Transfrontier Park (3 -10 days) and Augrabies falls national park safaris.
Buy

No real shopping in this remote desert area but look out for little San/ Bushman children selling seed-jewelery near the Twee Rivieren Gate.
The three shops at the main camps Twee Rivieren, Mata Mata and Nossob offer some curios like ostrich eggs, some coffee table books and field guides, but they are mostly overpriced.
Use the shops to buy your daily food like bread, meat, milk, eggs and anyhting else you might need in the middle of nowhere.

Eat
The Kgalagadi offer no real unique food but do try the main camp shops for some ostrich steak or springbok biltong. A must try for your BBQ at night is the delicious Karoo lamb cutlets which is a South African classic. If you feel at a loss, just ask around at night in any of the camps. Every local South African sitting around their campfire with a beer will be more than willing to give you a taste of their pap and boerewors (Maize porridge and sausage).

Drink
Make sure you drink loads of water and keep emergency water in your vehicle. This desert is extremely harsh. Tap Water is safe to drink, but is often very salty and not good for making coffee or tea. Bottles of still water can be bought at any shop.

Sleep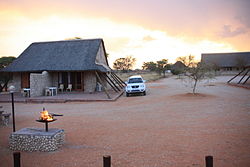 Lodging
South Africa
Luxury camps
phone: +27 21 701 7860

!Xaus Lodge is a 24-bed thatched luxury lodge, owned by the ‡Khomani San and Mier communities, that overlooks a large salt pan. The viewing deck offers the chance to observe the animals at the waterhole below. Other amenities include a plunge pool and curio shop.
Traditional rest camps
Mata MataThis camp is on the banks of the mostly dry Auob River on the western border of the Park. The camp borders Namibia and is surrounded by thorny Kalahari dune bushveld. Giraffe are a favourite sight. The camp has a reception, swimming pool, shop and fuel facilities.

NossobNossob Rest Camp is situated within the dry riverbed of the Nossob and is surrounded by huge Camel-Thorn Trees and is famous for its sightings of Lion and Cheetah. The camp has a reception, swimming pool, predator information centre, shop and fuel facilities.Nossob is about a 3.5-hr drive from Twee Rivieren.

Twee RivierenTwee Rivieren is the Kgalagadi's administrative headquarters and by far the largest rest camp. Situated on the banks of the dry Nossob riverbed, the activities and facilities are diverse, as are the animals and plants found within the camp and in the surrounding areas. Twee Rivieren has a reception, shop, fuel, restaurant, information centre and swimming pool. This is the only camp with 24-hr electricity and cell phone reception.
Wilderness Camps
To create a real wilderness experience none of these camps are fenced and a Tourism Assistant is on duty at all times.
BitterpanHigh above the red sand dunes sits this 'camp on poles' overlooking a waterhole. Bitterpan is situated halfway on the new 4x4 route through the dunes from Nossob to Mata-Mata and the Kalahari Tent Camp. It is on a one-way route starting from Nossob.

GharagabThis charming camp is located in the far northern region of the park and has elevated views of Kalahari dunes and the Acacia woodlands. Situated 164 km (four hours) drive north of Nossob on the road to Unions End. The camp is unfenced, and there is a tourism assistant on duty.

GrootkolkA quite and unassuming little camp tucked away in the dunes, overlooking a waterhole, 20 km from Union's End where the three countries South Africa, Botswana and Namibia meet. Grootkolk is 6 hours drive from Twee Rivieren and 2½ hours from Nossob.

Kalahari Tented CampSituated up on a sand dune, overlooking a waterhole in the dry bed of the ancient Auob River, the Kalahari Tent Camp is a unique and novel way of staying over in the Kalahari. This camp has 15 desert tents with rustic finishes using wood, sand and canvas exteriors. The tent camp is 3 km from the Mata-Mata Rest Camp where Kalahari Tent Camp residents can refuel and get basic supplies at the shop.

KieliekrankieAn absolute unique and breathtaking camp situated high on the dunes overlooking a small waterholes with regular sightings of brown hyena. The beautifully designed camp sits comfortably in the dunes and feels part of the environment. Look out for the patch of tsammas growing on the doorstep of hut 2. A unbelievably tranquil experience.

UrikaruusA small and very special camp with elevated walkways between the huts. This enables game to literally walk underneath you. this creates an earie feeling if late at nights hyenas are scavenging right underneath you. Awesome sunsets are on display every late afternoon from you balcony.
Botswana
Camping
is the only way to spend a night on the Botswana side of the park. Bookings can be done by phoning the Botswana side of the Park on + 267 318 0774.
Bosobogolo Pan

Kaa

Khiding Pan4 campsites with pit latrines and small waterhole.

Leshaloago1 campsite with pit latrine and 1 campsite without. Small waterhole.

Mabuasehube PanThis area is situated in the extreme east of the national park. A number of individual campsites overlooking the pan, some of which have small waterholes. Some have picnic tables.

Monamodi

MpaathutlwaCampsites with pit latrines and a small waterhole.

PolentswaThis site is situated in the northern section of the NossobValley. 3 undeveloped campsites.

RooiputsThis camping site is situated 25 km up the Nossob River Valley from the entrance gate. 6 individual campsites. There are no facilities available.
People with disabilities
One chalet at Twee Rivieren, one reed-cabin at Bitterpan, one sand-cabin at Grootkolk and two desert tents at Kalahari Tented Camp have ramps and accessible ablutions with roll-in showers. All these units have certain access flaws. The SA government has instructed the park to upgrade all fasilities to include wheelchair access. There is also an accessible ablution block (roll-in shower) at Nossob Camp and at Twee Rivieren. Mata-Mata has an accessible public toilet.
Access Attractions:
The park's appeal is certainly its wilderness. Not a lot facilities exist for all guests. The predator centre and hide at Nossob and the information centre at Twee Rivieren are all accessible.
Backcountry
Stay safe
It is important to check with Park Head Offices on the state of the Parks roads. Sometime in the rainy season (October to February) flash floods and mud can make travelling in a 2x4 vehicle almost impossible.
Telephone: + 267 318 0774
Fax: +267 318 0775
Email: dwnp@gov.bw
Post: Dept. of Wildlife and National Parks – Botswana, P O Box 131, Gabarone,Botswana.
Telephone:+ 27 (0) 54 561 2000
Fax: + 27 (0) 54 561 2005
No pets are allowed in the park.
Firearms must be declared at the gate where they will be sealed. The seal will be broken upon departure.
Watch out for scorpions in the summer. Always check your shoes every morning before putting them on.
If you breakdown, stay in your vehicle. it is the safest place. Do not try to walk to the next camp. Lions don't really distinguish between human and wildebeest!
This is a low risk of malaria but do consult your doctor or chemist.
Go next
There are a lot of options of things to do in and around the Kalahari area.
Augrabies National Park When South Africa's largest river, the Orange is in flood, Augrabies is the sixth largest waterfall in the world. The Khoi people called it 'Aukoerebis', the place of the Great Noise, referring to the Orange River thundering downwards for 60 metres in a spectacular waterfall.
Orange River Wine Cellar You can edo a wine tasting on this world-standard wine farm just outside Upington. The wineries are all located in close proximity to the Gariep (Orange) River, and stretch over a distance of more than 350 km, from Kakamas in the west to Keimoes, Upington, Grootdrink and, finally, Groblershoop Wine Cellars in the north-east. The head-office of ORWC are situated at the Upington Winery. Give them a call on (054) 337 8800 if you want to visit.
Witsand Nature Reserve Home of the famous Brulsand or Roaring Sands of the Kalahari. Under the right conditions, these dunes create an fascinating rumble when step on or disturbed. Few reserves or National parks in the Northern Cape are as scenic as Witsand Nature Reserve. Witsand has flowing white dunes – twenty to sixty metres high – surrounded by the red Kalahari sand, Acacia bush and the Langberg Mountain range. Witsand Nature Reserve is teeming with bird life, including the Namaqua sandgrouse, sociable weaver and Africa's smallest raptor the pygmy falcon. Witsand is also a favourite duneboarding venue.
Ai-Ais/Richtersveld Transfrontier Park The harsh Richtersveld nurtures 30% of all South Africa's succulent species among which the famous halfmens (half man plant). Rugged and shap edged ravines, high mountains and a stark landscape form South Africa's largest (160,000 ha) mountain desert park. With less than 50mm of rain annually, you could spot leopards, lizards, Hartmann's mountain zebra, brown hyena, klipspringer, ground squirrel and meerkat. The park is jointly managed by South African National Parks and the Richtersveld community. The Richtersveld National Park in South Africa has been joined with the Ai-Ais Hot Springs Game Park (Fish River Canyon) in Namibia, to form the immense Ai-Ais/Richtersveld Transfrontier Park.
Other accommodation outside the park also include Springbokpan, the beautiful Motsi and Tarkuni in the Tswalu Reserve .