Kharagpur
Kharagpur
is an industrial and railway township in
Southwest Bengal
.
Get in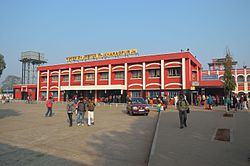 By rail
By car
Reach Kharagpur via the NH 6 and NH 60 junction, known as "Kharagpur Chowringhee".
See
Hijli Shaheed BhawanKnown as Nehru Museum of Science and Technology.

Khargeshwar Temple

address: Inda

Balaji Mandir

phone: + 91 9093417426

address: Dhekeya, Malancha

Kalaikunda Air Base

Salua Air BaseAir base during WWII

Railway Garden

Hijli eco park

phone: +91 322 646899

address: Nimpura Road, beside Puja Mall (Big Bazaar)

Cossey riverside

Gole Bazaar Durga Temple

address: Old Settlement, Opp. B.N.R. Excellence Academy

The temple was established in the early 20th century by some Bengali people working on the railways. It is famous for its Durga Puja and is very popular. It also serves as a seat of culture for the city.

Balaji Vaikuntha Devasthanam

address: Old Settlement

Nice place for meditation with a very neat and clean premise. There are beautiful statues of Vishnu, Lakshmi, Shiva, Narasimha and other gods and goddesses.
Do
address: IIT

Khargeshwar TempleThis is one of the oldest temples in the city, a Shiva temple, from which derives the name of the city Kharagpur.

Hijli Eco Park

address: Paschimpathri

It's a famous picnic spot in winter. There is a small deer park inside.
Buy
Gole Bazar

address: Nimpura Road

Gate Bazar

address: Malancha Main Road

Spencer's

address: Kaushallya
Eat
The shanty restaurants in Bogda bus stand are always ready with cooked food, comprised of coarse rice, watery dal, etc. The owner will welcome you in such a fashion like that they have been waiting for you only for a long time with their culinary expertise.
More than 50 restaurants are present all over Kharagpur with delicious food.

Taaz biriyani

address: New Bus Stand

Flavour

address: Nawab Conclave, Ground Floor, O.T Road, Ananda Nagar Colony, Inda

Scrummys Kharagpur

address: OT Road, near Allahabad bank, Inda

The Waldorf

address: Chota Tengra

Momo Center Salua

address: SH 5, EFR,Salua, Salua

Great India Restaurant

address: NH 6, Saha Chowk, Malancha

Hotel Capsicum

address: NH 6, Saha chowk

Food City

address: 253/219, Malancha Road
Drink
Mahua from Santhal women on the way to Bhosraghat.
Little Sisters Restaurant & Bar

address: Chota Tengra

Hongkong Restaurant Cum Bar

address: No shooting Area, Kharagpur Local, Salua

Havana Restaurant

address: Kaushallya
Sleep
Guin Brothers Hotel & Lodge

address: Traffic side railway booking counter

phone: +91 3222-225021, +91 8001200463

address: Orissa Trunk Road

Has a minibar and parking.

Hotel Dwarika

phone: +91 9474811485

address: Gole Bazar, Bhandari Chawk

Hotel Greenland

Hotel Greenland Towers Pvt. Ltd.

phone: +91 3222 291605

Hotel Park

address: Dhami Centre, Chhota Tengra

Restaurant, Credit Cards accepted, TV in rooms

Hotel Swagat

address: DVC/IIT

Hotel Tamrolipto Park

address: NH 6, Saha Chowk, Dhekia
Connect
Cell phone coverage is excellent with all major mobile service providers offering their services in the city. The area
dialing code
for Kharagpur is
3222
. From overseas dial +91 3222 XXX XXX, from within India dial 03222 XXX XXX. For mobile phones, dial +91 XXXXX XXXXX. Internet cafes are also available in plenty and charges between 10-25/hour.
Emergency
Police

phone: 100

Fire

phone: 101
Police stations
Kharagpur Town

phone: +91 3222 255967

Kharagpur Local

phone: +91 3222 227841
Go next