Khasab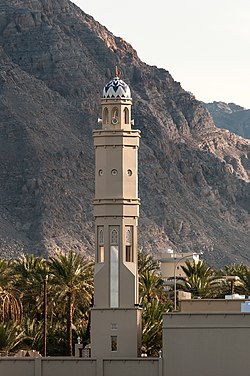 Khasab
(Arabic: خصب‎) is a city in the northwest Omani exclave of
Musandam
and home to about 18,000 inhabitants. It is the state capital of the Musandam peninsula on the coast of the Hormuz Strait between
Iran
, the
United Arab Emirates
and Oman.
Understand
Khasab was isolated from the rest of the region for a long time. In the 16th century Portuguese troops conquered the peninsula and established colonial structures. After Oman regained control, Khasab was controlled tightly due to its strategic position. The construction of the new road from the United Arab Emirates was started by the city to develop its infrastructure and encourage more tourism and investment. It is most popular to spend a weekend off from
Dubai
or to visit on your way to
Muscat
, taking the twice a day ferry-boat along the deserted and arid rocky coast of Musandam.
The city is the starting point to explore the little-known Musandam Peninsula and its special and unique traditions and culture. Travellers can enjoy great sights in and around the city that can be seen in two or three days cruising the region.
Khasab is best visited in the winter, as it is one of the hottest places in Oman, with summer temperatures regularly climbing over 45°C.
The world's highest minimum temperature (41.2°C, since broken) was recorded on the airport in 2011, and in 2017 the highest nighttime low temperature recorded (44.2 °C) was recorded.
Get in
Khasab is not easy to access, although you have a few transportation options, including daily morning flights from Muscat, a weekly ferry from Muscat or semi-weekly ferry from
Dibba
, or driving from the UAE through the Al Darah border post.
By plane
phone: +968 2673 1592 (airport office), +968 2673 1592 (flight information)

Oman Air has daily flights from Muscat to Khasab, lasting 45 min. During peak tourism periods, Emirates offer charter flights from Dubai.
By ferry
phone: +968 2673 1802

address: NFC Passenger Boarding Office Khasab

There is ferry service to/from Muscat (5 hr) and Dibba (2½ hr). From Muscat, the ferry departs every Thursday at noon, and returns every Saturday at 11:30. From Dibba, ferries depart on Sundays and Thursdays (departure 13:00), and return to Dibba on Tuesdays (departure 10:00) and Thursdays (departure 12:30). All ferries have free Wi-Fi, with lunch, snacks and beverages included in the ticket price. You should get your ferry ticket in advance to ensure your place on the boat.
By cruise ship
Passengers disembarking at the will find free shuttle buses to take them to the city centre, as well as tour operators who charge considerably less than the cruise line for organised excursions.
By road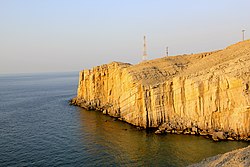 You can easily drive from Dubai or any of the other emirates by heading north on the
E11
motorway towards Ras al Khaimah, and then on to the , after which the road becomes the very scenic
02
, or the 'Khasab Coastal Road'. The road is in very good condition on the Omani side and the UAE RAK part is being upgraded.
If driving a hired car, be sure to inquire whether the company permits their cars to be driven into Oman, and if so which specific border crossings may be used, as not all crossings may be permitted. You should let the rental agency know at least a day beforehand, so that they can prepare the necessary documentation for the border officials. If you are driving your own car and do not have coverage for Oman, you can usually purchase third-party liability insurance on the Omani side of the border. This situation may change with little notice.
For the very adventurous, it is possible to take a taxi from Ras al Khaimah to the Al Darah border, but there are no taxis on the Omani side. Many trucks pass through this border daily, however, so you can ask an Omani police officer to get you a ride in one of these trucks and then hitchhike all the way to Khasab.
Get around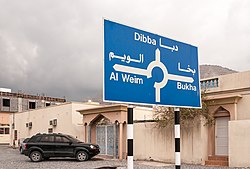 There are no taxis in Khasab; however most hotels offer free minivan transportation within the city. To go further afield, you'll have to have your own car, or hire one. Additionally a number of travel agencies in Khasab offer organized minivan city tours, for half- or full-day visits.
During the cooler months, it's possible to explore the city by foot, and to hike around nearby villages and the mountains. If by chance you live in the UAE and are visiting Khasab with your own car, you can bring along your bicycle. Dress conservatively if entering Bedouin or remote fishing villages.
Rental cars
Abdullah Masood Mohammed Al Shehi Trading Est

phone: +968 9159 0612, +968 9978 4020, +968 9254 0406

address: Muhafazath

Rahal Khasab Rent A Car

phone: +968 9132 3440, +988 9944 1700

They can deliver a car to the airport or ferry and serve customers within 30 km of Khasab. Cars with or without a driver are available.
See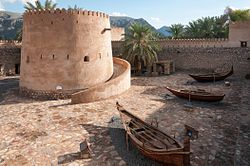 Khasab Dhow PortThe traditional port for dhow boats is a place where you can appreciate and enjoy typical photogenic boats from this region – nowadays most of them are motorised. You can easily find boats here to take you on a sea cruise.
Iranian smugglersKhasab is known for its Iranian smugglers. Daily hundreds of small jet boats cross the Strait of Hormuz from the southern Iranian cities of Bandar Abbas and Qeshm Island, bringing over goats and sheep destined for the UAE, and porting back such diverse items as televisions, cigarettes, and other goods in an effort to avoid Iranian import duties. The smugglers' fortunes fluctuate with the value of the Iranian currency and with the effects of international sanctions. It's a dangerous business, as they must avoid not only very heavy shipping traffic but also the Iranian Coast Guard, which has no qualms of shooting them on sight – spotters on the Iranian side help by tracking the coast guard's movements. Because Khasab is a free trade port the Omani authorities tolerate this practice, provided the activities only take place during daylight hours. Toward sunset the activity gets especially frenetic as they pack up their wares to leave again.
Khasab CastleThe Portuguese constructed this fortress in the beginning of the 17th century and occupied it until their withdrawal from the region. This castle, which housed the Wali and his family in recent centuries and once held prisoners, has been restored and transformed into a regional museum. In the courtyard of the castle are boats and houses representative of the unique heritage of Musandam.
Al Khmazera CastleThis fort is inside the city and it seems to belong to a specific tribe among the local people. The fort is taken care by the tribe's youngsters, who are proud of their ancestral possession.
Khasab palm grovesHidden inside Khasab's old city, you can visit and explore the beautiful palm groves, which supply local people with some dates.
Khasab Central MosqueThe central mosque in the south of the city was completed in 2009, and is an important landmark. It has a capacity of 1900 worshippers and, just like many other large mosques in Oman, is named after the current sultan.
Do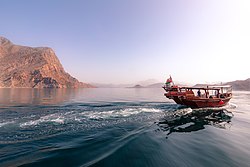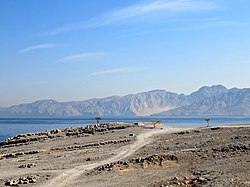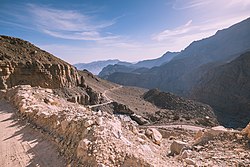 Dhow cruisesA great way to appreciate the dramatic coastline is to take a cruise in a dhow. Cruises depart from the main Khasab port and travel through Khor Ash Sham, the largest and one of the more scenic fjords. Highlights include dolphin-watching, visits to (Jazirat al Maqlab) with its abandoned 19th-century British telegraph station, and snorkeling in the surrounding waters. Full-day cruises continue on to (Jazirat Sibi), with possible detours to one or more traditional fishing villages, and more snorkeling.
The dhow operator will provide all snorkeling equipment, along with drinks and a snack for the half-day excursion, or lunch for the full-day outing. Any of the agencies in town can arrange this but possibly the easiest way to book a trip is through the front desk of your hotel.

DivingThe diving season runs from April through January, and the best time to see whale sharks is between May and October. Most dive spots are also suitable for snorkeling. In addition to the dive centres listed below, the Atana Khasab (listed under 'sleep') has its own dive centre.
phone: +968 9969 2932, +968 9393 9858

Offers diving courses, diving, snorkelling and fishing excursions, and rents out equipment.

phone: +968 9955 8488

Offers PADI courses and diving trips.
Al Hajar al Gharbi MountainsKhasab is a good base to stage a mountain safari and explore the rugged northernmost extremity of the Western Hajar Mountains. If you don't have your own 4WD vehicle, you can rent one or arrange a guided tour through one of the travel agencies in town. Highlights include the prehistoric petroglyphs of and the Musandam Peninsula's highest point, (2087 m). At the mountain top is a military radar station, so going to the top requires permission and most tours therefore stop at 1600 m above sea level near the military barracks.
Bassa BeachA pleasant beach popular with locals, with picnic and toilet facilities.
City walk by nightAs the temperature is far more pleasant during the evening, you can stroll around the city center along the avenue and center mosque. Also, there are a couple of gardens that are open by night, where you can see families playing with their children.
Tour agencies
For exploring the coastline, or for those without a vehicle, there are a half-dozen agencies in town which offer tours with English-speaking guides. Excursions include dhow cruises, kayak tours, mountain safaris, and camping trips. The most established are listed below.
Several tour operators offer day-long or overnight dhow trips to the very isolated village of , where inhabitants speak
Kumzari
, the only Persian language native to the Arabian peninsula. Visitors to Kumzar must have a permit, which can be arranged in advance by the tour company.
phone: +968 2673 0464

The oldest agency in Khasab has been operating since 1992. Also has a representative in the Esra Hotel Apartments as well as an office in Dubai.

phone: +968 9856 7886

address: Khasab Coastal Highway

Khasab Musandam tourism company.

phone: +968 9956 6672

phone: +968 92009440

address: Khasab Coastal Rd, Near Hotel Diwan Al Amir

Khasab Sea Tours is a professional & reliable tour agency based in Musandam Oman. We provide the most comfortable and attractive Khasab Musandam Dhow Cruise Deals.

Musandam Sea Adventure Travel & Tourism

phone: +968 2673 0424

address: Khasab Coastal Rd
Buy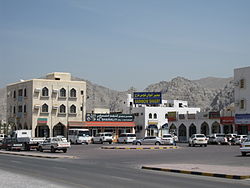 There are quite a few options of different supermarkets full with normal groceries, bottled water etc. LuLu Market is by far the biggest and offers the biggest variety, but small supermarkets have local products and niche products.
phone: +968 26 830100

address: New Souq area

Largest supermarket in Musandam with huge range of products (food/non-food).

Local Handicraft Shop

address: Khasab Castle

Many local Musandam handicraft and Omani souvenirs are for sale in the shop inside Khasab Castle. Very friendly staff.

Old SouqThe old souq is a good place to pick up hand-crafted walking sticks, the more elaborate of which are decorated with silver.

DatesAt the tiny Sikkit market in centre town you can buy fresh dates.
Eat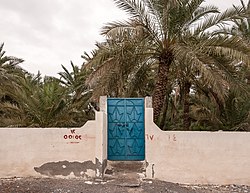 Most supermarkets have freezers with several types of ice cream, which is very welcome in the extreme heat.
Unsurprisingly the local cuisine is based primarily on grilled meats and seafood, with some Persian influences. Although most hotels have their own onsite restaurants, it is worth seeking out the handful of local establishments listed below.
Amjad Restaurant

phone: +968 26 830124

Specializes in grilled seafood.

Musandam Restaurant

phone: +968 2673 0569

Local meat and fish dishes in this restaurant located in center city. Expect to pay from RO 1-2 depending on what you eat. Some vegetarian/vegan options.

Al Shamaliah Grill & Restaurant

address: Bani Mohamed Obaid St

Very good grill restaurant at the main square. Popular for local fish and meat dishes.

Telegraph Island Restaurant and Cafe

phone: +968 26 730577

address: Khasab Lulu Hypermarket

Serves freshly cooked food, including grills, Indian and Arabic cuisine, tandoori, pizzas, fresh juices, and fresh brewed coffee.

Wadi Qada Restaurant

phone: +968 26 730399

address: Khasab Coastal Rd

A popular Persian restaurant which also serves some vegetarian and vegan options.
Drink
As elsewhere in the Gulf region, fruit juices and smoothies are a popular drink served in some restaurants. They are generally made with real fruit and often mixed with ice cream.
Black tea is the traditional tea from the region, served in all local restaurants; however nowadays it is usually Lipton Black Tea.
Alcohol is served only in a couple of licensed restaurants and bars attached to the Atana Khasab and the Atana Musandam Resort, and as it is imported, rather expensive (e.g. beer RO 3-4).

Sleep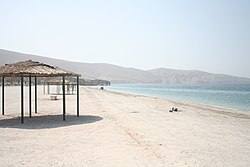 Khasab has six hotels and limited capacities for travellers, and during the weekend hotels are usually sold out.
Bassa Beach
(
Bossa Beach
), which is very popular with families, is an option for a single night of camping. The beach has only a toilet and no other facilities. It's directly on the road between Atana Khasab Hotel and Khasab and is very lively during the weekend. Non-Emirati/Omani travellers should expect to be seen as a tourist attraction with unwanted attention from kids or youths from the area.
Budget
Esra Hotel Apartments

phone: +968 26 730464

In essence two apartment buildings for up to 30 people in ca. 16 rooms. Rooms are non-smoking with kitchenettes and free Wi-Fi. There is an onsite coffee shop.

Lake Hotel

phone: +968 26 731664

address: Khasab Coastal Road

Very basic accommodation, cash only. Free Wi-Fi.

phone: +968 26 730267, +968 26 730271

address: Khasab Main Road

Double, triple, deluxe and family rooms. Swimming pool and restaurant. Free internet access and airport pick-up.
Mid-range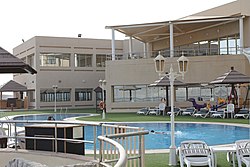 phone: +968 26 833991

address: Khasab Main Road

Has an onsite restaurant, free Wi-Fi, and free shuttle service.

phone: +968 26 730777

Sea view rooms, swimming and children pool plus play area, gym, WiFi. Licensed with an onsite restaurant. Offers free shuttle service between the hotel and anywhere in Khasab – they will also pick you up if you call. This is the default hotel for package tourists and larger groups, and generally is completely booked at the weekend.
Splurge
phone: +968 26 730888

Khasab's newest hotel has 110 rooms, each with private balcony or terrace. Other facilities include nonsmoking rooms, an onsite licensed restaurant, fitness and dive centre, pool, and free Wi-Fi.
Cope
Khasab city centre has a growing number of bank branches due to trading activities. Near the New Souq roundabout in the direction of the main square several banks operate ATMs, including , , and for international debit and credit cards.
Any of the banks in the city centre can exchange money during weekdays, and
Western Union
has a few agents in the city, most of them open daily.
phone: +968 2673 0580

address: Al Musaudia St
Respect
When visiting nearby villages, it is especially important to dress appropriately and behave respectfully (i.e. do not photograph villagers without their permission). This is not Dubai! For most of the 2010s all visits to Kumzar were suspended following villagers' complaints about outsiders' behaviour; only recently has the village been reopened to visitors (special permit required, see details above under 'Tour agencies').

Go next
Twice weekly ferry-boat from Khasab to
Muscat
. Minivan service to the border with United Arab Emirates from where you can call a taxi to pick you up and take you to
Ras al Khaimah
.
Flying to Muscat

address: Khasab Airport

Flights from Khasab to Muscat go daily for a 45 min flight. You have to buy the tickets at least the day before you fly.