Khasan
Khasan
(
Russian
: Хаса́н) is a small town in
Primorsky Krai
, near the tripoint of Russia, China, and North Korea, where their borders meet.
Understand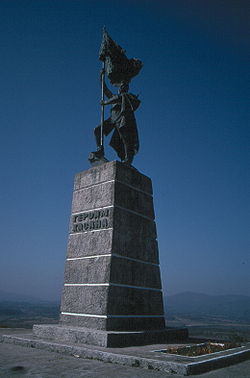 A battle near here in 1938 saw Russian forces inflicting a serious defeat on the Japanese.
Get in
Khasan is the last Russian station before the
North Korea
border on the route of bi-monthly
Moscow
–
Pyongyang
train, the longest continuous passenger train service in the world.
Go next
North Korea lies across the Tumen River. On the other side of the Friendship Bridge (the only border crossing the two countries) is the North Korean station of Tumangang. The port and the "special economic area" of Rason is further down the line. This crossing is often closed to foreigners (at least to those travelling on western passports), though, despite the fact that Tumangang is listed as a valid entry point on any standard North Korean visa.
China is nearby, but it seems there is no direct crossing from Khasan. For the record, the nearest major Chinese town is Hunchun.
Ussuriysk is the nearest station on the main Trans-Siberian Railway, along which you can travel east to Vladivostok or all the way west to Moscow.