Khashuri
Khashuri
is a town in central Georgia, the
Kartli
region.
Understand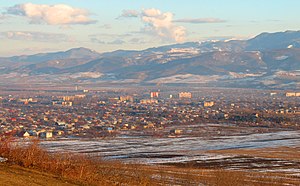 Khashuri is approximately midway between its two largest cities
Tbilisi
and
Kutaisi
and well connected to both. It is thus a convenient travel hub for
Borjomi
and
Akhaltsikhe
if a direct connection cannot be found.
While the town is not a major tourist destination in itself, it does see the occasional tourist as marshrutkas stop there on the way to the archaeological sites at Akhaltsikhe. The town is best known for the colourful array of hammocks lining its streets.
Get in
By marshrutka
Tbilisi – Takes approximately 2 hr one way and cost 5 lari (July 2018). They leave from Didube.
Borjomi – About 1 hr for 3 lari.
Get around
The town is reasonably small and navigable by foot. However, as with all Georgian towns, there are bus and marshrutka links across most of it.

See and do
Khashuri offers a few churches and a museum, but just wandering around the town is rewarding in itself as it's pleasantly free of tourists.

Buy
The main attraction of Khashuri is the hammocks (happily, 'hamak' in Georgian). Independent vendors scattered throughout the town sell variations on similar (though good quality) hammocks and woven garden swings. Cheaper closer to the centre, a good one-person hammock is 30 lari (July 2018). Difficult to haggle by Georgian standards. As of summer 2018 the widest selection of hammocks seemed to be sold by a couple of vendors under a bright blue tarpaulin quite near the centre of town.

Eat
The usual street food is good in Khashuri; go for a lobiani or a khachapuri. The town's local khachapuri speciality is a cheese-less variety (which you may be forgiven for thinking is just salty bread, but it is salty bread you won't find anywhere else).

Sleep
Options for sleeping in Khashuri are slim, but as ever, asking around should yield a local or two willing to offer up a spare room.
phone: +995 55559623

address: 37 Moscow Street
Go next
Borjomi – A picturesque small city with famous mineral water, a national park, and a summer mansion of the Russian Romanov dynasty.
Akhaltsikhe – The small capital of Samtskhe-Javakheti is near two popular tourist destinations: Vardzia and the Sapara Monastery.
Vardzia – A 12th century cave monastery overlooking a large river gorge.