Kherson
Kherson
is a major sea harbour town in
Southern Ukraine
. It sits in the river delta of the Dniepr river, where it mounts into the Black Sea.
Understand
About 350,000 people live in Kherson, many of whom work in the extensive ship-building industry and harbour activities.

Get in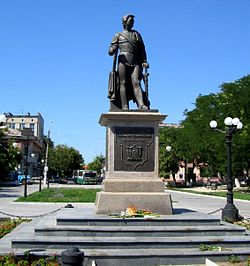 By plane
Airport serves scheduled flights to
Kyiv
(twice daily, operated by
Ukraine International Airlines
) and to
Istanbul
(daily, operated by
Turkish Airlines
). Both carriers provide connection flights to wide range of international destinations.
You can consider also using
Odessa International Airport
(
ODS
), 200 km away from Kherson.

By bus

Central bus station (1 Polkovnyka Kedrovskogo st.; old street name: Budionogo st.) serves both domestic and international routes. There are buses from Poland, Germany, Czech Republic, Russia, Moldova. Numerous bus routes connect Kherson with major Ukrainian cities as well as Kherson region destinations. Frequent private owned shuttle buses to Odesa, Mykolayiv, Kahovka, Skadovsk, Zaliznyi Port can be found on the opposite site of bus station in from of gas station. Shuttle buses usually don't have fixed schedule and depart when full.
Suburban bus station (or Kherson-2; 22 Mayakovskogo st.) serves routes around Kherson region, including rural areas.

By train

Kherson railway station is located in the city center and is easily accessible by public transport. There are trains to Kyiv, Odesa, Dnipro, Zaporizhia, Kharkiv, Lviv, Ivano-Frankivsk and many others. Train from Mykolayiv to Moscow, Russia stops in Kherson and runs on even dates. There are also number of suburban trains to Mykolayiv, Novovesela, Vadym, Brylivka, and Apostolove.
To travel from/to Kherson by train, be sure to buy tickets in advance. All train tickets - inscribed, while boarding the train need to show your ID. The national train company is state-owned Ukrainian Railways "Укрзалізниця/Ukrzaliznytsya". The tickets can be booked online. For more details see Ukraine page.

See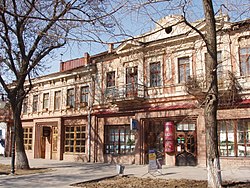 St. Catherine's CathedralBuilt in the 1780s, this was one of the first churches to be established after the Russians gained control over so-called New Russia, following the Russo-Turkish war. The domed church is made of sandstone and was constructed by General Ivan Gannibal, an African protegé of Peter the Great and grandfather of famous poet Alexander Pushkin, supposedly after a design by architect Ivan Starov. It's the final resting place of Prince Grigory Potemkin, Empress Catherine's lover and military leader, who played a major role in that Russo-Turkish War. Parts of his remains were previously kept in a monastery in present-day Romania, however, and are now lost.
Sleep
Dilligence Hotel

address: 39, Gogolya / 17, Gyrskogo

This hotel is one of the best options in the city centre, with 18 well-appointed, air-conditioned rooms. The English speaking staff is friendly and the restaurant is worth a visit too.

phone: +380 552-424731

address: Sovetskaya Street 10

A nice boutique hotel with helpful staff and fairly good free wireless internet in all rooms. Some rooms are rather modern in decoration, while others are more classic in style. The rates depend on the type of room you want.
Go next
Oleshky SandsOne of the largest deserts in Europe.