Khinalug
Khinalug
the highest (2250 m above sea level), most remote and isolated village in
Northeastern Azerbaijan
and among the highest in the Caucasus.
Understand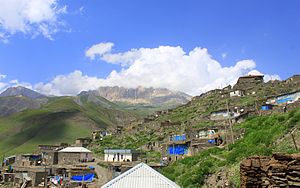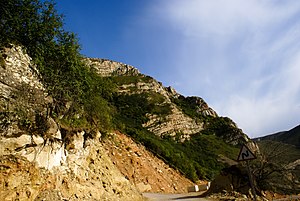 It has a population of about 2,000 people. Since its inclusion in Mark Elliott's guidebook, it is considered one of main attractions of Azerbaijan. The village inhabitants speak their own language, not spoken anywhere else.
Get in
It's 50 km from
Quba
, which can easily be accessed from
Baku
by bus (4 hr). The rest of the way requires hiring a car or a taxi.
By car
In 2006, the road was paved due to a visit from Azerbaijan's President. Now, a car can make the trip to Khinalig. Before paving an SUV was essential (but still recommended).
By Quba go straight on the main road from Baku, not crossing the river, after passing the roundabout look for signposts on
Qəçrəş
. The first 20 km is not that interesting, but it changes dramatically after entering the ravine. At km 41 from Quba there is a bridge, behind which you have to turn right, towards the village of
Cek
.
By taxi
Prices will be negotiable, but expect to pay around 40 manat from Quba. You may be quoted more, but haggling is acceptable.
By bus
No buses are available to this location.
Get around
Walk. There won't be many other options. It should not be a problem for a reasonably fit person though you might find yourself winded from the steep hills and high altitude. Khinalug is a very small settlement.

See
Surrounded by mountains and green valleys at summer, Khinalug offers fabulous natural
scenery
.
The houses in Khinalug are a visual example of the distinctive village. The houses are built like a staircase - each roof is another's house front door terrace. Pay attention to the cubes of dried fertilizer, serving as fuel in the winter. A half-hour walk among households should give a good impression of it.

Historical-Ethnographic MuseumA modest exhibition of vessels, weapons, medals and a "library". Usually you have to ask locals in order to find key-keeper – azeri: Açar var?

Good views over the village can be seen from the old upper road.
Do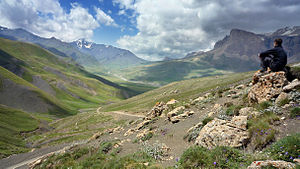 Khinalug boasts of some of the best hiking and camping in Azerbaijan. The surroundings of the village are wide open and include nearby caves with a waterfall. The water is actually filtering through the cliff rocks. More extensive hikes can be done by using a guide book or hiring a local guide. Horses can also be rented to carry gear and/or people.
Keep in mind that hiking is not considered a recreational activity for most Azerbaijani people, but Khinalugian people are more appreciative of the benefits of eco-tourism.
Hiking to the nearby village of Qalayxudat is possible via the old road connecting the two villages. Some shepherd roads branch off from this route, making for a good loop hike up the side of the mountain. The area is near the Russian border, so border guards regularly patrol it and will very likely stop all hikers to check for permits. Speaking Russian is advisable, as they're able to call their commanding officer to get you permission to continue.
Khinalig

ŞahdağAzerbaijan's highest mountain.

Heydər düzü

BaltagayaCliff mountain pass at 3,200 m. From here, great views of the valleys on Khinalug and Laza sides. Also a vantage point for Şahdağ.
Roundtrip Baku to Khinalug (Xinaliq)Leave day 1, arrive and sleep in Khinaliq or village of your request. Return day 2 around mid day. Many opportunities to stop and take pictures. All additional gas burning excursions from route can be negotiated. Contact a taxi a few days in advance to schedule service.
Horseback riding
phone: +994 169 49076
Buy
Buy some local products, such as socks or a hat. When someone offers you a tea, do not refuse, but expect that after finishing, the hosts will offer something for sale.
Shepherd's cap – Made from wool, these caps will keep your head toasty in the coldest conditions. The caps are very distinctive to this area. The caps come in several colours; from white to dark wool.
Eat
Mutton –: Khinalug is a vegetarian's nightmare. The high altitude won't allow many vegetables to grow.
Sleep
There is an official guest house but a number of local families offer home-stay arrangements from 5 manat. Either way, there will always be an option due the hospitality of the local population.
Zaur Lalayev

phone: +994 518309720

Runs a guest house from his family home. His family will offer you warm home cooked meals and hot tea. Zaur's late father Badal was featured in Mark Elliot's guide book. Zaur now took over and runs hiking and horse excursions adventures.

Agali Muradov

phone: +994 506426303

Same guy who also offers tours from Quba.

Rauf

phone: +994 169 49076

Rustam XinaliqliRustam and his family have a room they rent out to travelers with floor mattresses and warm blankets. Can also arrange transport to and from Quba.
Connect
Spotty GSM connection exist in some parts of a town (at least Azercell provider works). No other internet options except for aforementioned GSM is available (2008).

Go next
Quba – Probably the place where you started from.

Qizil Gaya

AteshgahA sacred, natural, eternal flame.
Cloudcatcher CanyonScenic landscape between Quba and Khinalig.